The Big Picture
Emily Procter's portrayal of Calleigh Duquesne brought warmth and light to CSI: Miami, complementing David Caruso's stoic character.
Procter's authenticity and dedication to detail made her character's expertise shine through, showcasing Calleigh's indispensable role in solving crimes.
Calleigh Duquesne challenged perceptions of women in law enforcement, with her expert knowledge and leadership skills serving as a trailblazer for female empowerment.
CSI: Miami, best known for designer sunglass-donning Horatio Caine (played by David Caruso) and his epic deadpan one-liners, debuted on September 23, 2002, as the first spin-off in the CSI franchise. Audiences first glimpsed the sun-soaked crime scenes and the cast of vibrant characters in a crossover episode with CSI: Crime Scene Investigation called "Cross Jurisdictions." From that moment, the stage was set for the would-be long-running fan favorite to reign supreme in the police procedural genre. Co-creators Anthony E. Zuiker, Carol Mendelsohn, and Ann Donahue made Miami's ultra-hip, life-of-the-party vibe an intriguing backdrop for the stark sterility of forensic science. As a veteran TV police detective, David Caruso made a conspicuous choice for the lead role of Lt. Horatio "H" Caine. However, first-cast Emily Procter's effortless transformation into Calleigh Duquesne stole the show with her vivacious energy and authentic Southern charm.
Before being cast as ballistics badass Calleigh Duquesne, Emily Procter was no stranger to strong female roles. She played the recurring character Ainsley Hayes in the beloved Aaron Sorkin political drama, The West Wing, where she traversed the waters of blonde bombshell stereotypes with depth and realism. Though Ainsley wasn't a regular, leaving The West Wing was a leap of faith for Procter that paid off big time. This Raleigh, North Carolina native's sweet Southern accent and winning beauty-queen smile were precisely what the co-creators were looking for in the crime-solving Southern belle, Calleigh Duquesne. Procter admits that aside from the Southern heritage, she had very little in common with Calleigh. Initially, she tried to add some irreverence to the role, but she quickly realized it wasn't suitable for the character. Instead, she leaned into the intense focus and understated brilliance that made Calleigh an unstoppable crime-solving force.
csi: miami
Follows the cases of the Miami-Dade Police Department's Crime Scene Investigation unit as they try to unveil the conditions behind mysterious deaths and crimes.
Emily Procter Brought Chemistry to 'CSI: Miami'
To recreate the success of CSI's strong female leads, Kim Delaney joined the cast as Horatio's partner, Megan Donner. Delaney left after ten episodes, and Sofia Milos was brought on to fill the void as Detective Yelina Salas, who then departed after Season 3. Through it all, Procter's shining portrayal of Calleigh gave much-needed warmth and light to David Caruso's stubbornly stoic and purposefully pensive Horatio. The on-screen chemistry between the two was unmistakable, and it was the magic spark that helped carry the series through ten memorable seasons.
It wasn't just Caruso who benefited from the cheerful presence of Procter. Her chemistry with other members of the CSI: Miami cast was palpable. Procter often remarked about how much fun the cast had behind the scenes. This affection for her cast mates translated seamlessly to the small screen, enabling Procter to truly connect with her peers while portraying Calleigh Duquesne as a confident, capable, and meticulous scientist. Her interaction with Adam Rodriguez's Eric Delko was especially compelling. Their will-they-won't-they vibe created moments of genuine connection that transcended the screen. Their most memorable moment came in Season 7 when Calleigh used her crime-solving prowess and fierce dedication to Eric to get him released from jail, after which their reunion culminated in an emotionally charged kiss that left audiences clamoring for more.
Emily Procter's Authenticity and Dedication on 'CSI: Miami' Were Undeniable
Though she may not have been a real-life ballistics expert, Emily Procter had no problem fitting into CSI's highly scientific, overtly over-dramatized world. Procter's enthusiasm for authenticity and detail is most vividly observed in episodes where Calleigh's skills are front and center. One particular moment that exemplified her standout performance was in Season 4's episode "Deviant," where she meticulously reconstructed a crime scene involving a complex ballistics trajectory. Procter delivered a masterclass in precision, her character's expertise shining through in a way that not only propelled the narrative but also highlighted Calleigh's indispensable role in the team, and unwavering dedication to solving crimes.
Procter's ability to convey depth and humanity turned Calleigh into a character that viewers could connect with on a personal level. For instance, in the aftermath of her ex-boyfriend John Hagen's (played by Holt McCallany) suicide in the Season 3 episode "10-7," Procter portrayed Calleigh's resilience and vulnerability in a way that resonated deeply with audiences, exemplifying her character's moral fortitude. This range of emotions endeared her to CSI: Miami viewers and kept them tuning in week after week.
One of the most authentic things about Emily Procter's performance was her Southern charm. It may seem like a trivial thing, but accents can make or break a performance (looking at you Kevin Costner in Robin Hood: Prince of Thieves). Being from the South herself meant that she didn't have to try to get it right; it just worked. With her shining smile and twang as sweet as peach pie, she was the epitome of a true Southern Belle. That, combined with her ability to capture the intense genius of Calleigh, made her performance stand out among the brilliance of her peers.
Emily Procter's Calleigh Duquesne Was an Emblem of Female Empowerment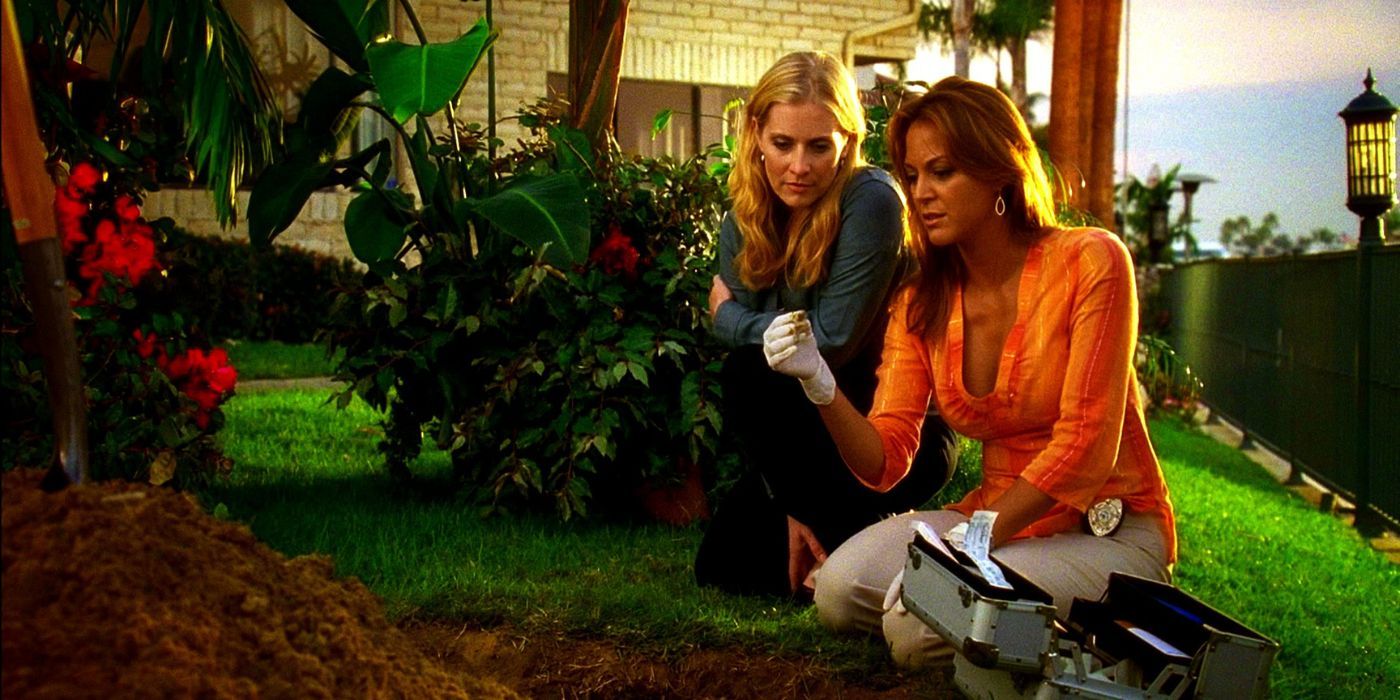 In the male-dominated world of police procedurals, where women are oftentimes side pieces to their masculine counterparts, Calleigh Duquesne challenged perceptions of women in law enforcement. With expert knowledge of all things firearms and a crime-solving intellect that could rival Sherlock Holmes, Calleigh was a beacon of female strength and determination. She was adept at solving crimes, and she was a widely admired scientist in a highly specialized field of study. A defining moment occurred in Season 9's "On the Hook," where Calleigh's leadership was tested. Procter navigated this challenge with grace and strength, demonstrating Calleigh's role as a trailblazer for women in a predominantly male field.
Calleigh's burgeoning romance with Eric Delko in the series added another dimension to her character, showcasing her ability to maintain a tender and genuine connection without compromising her autonomy or authority. Her emotional depth and professional acumen intertwined, portraying a woman who could navigate the complexities of the heart with the same precision she applied to her forensic analyses. In a setting where professional women are often singularly defined by their work or relegated to romantic interests, Calleigh stood out. Her relationship with Eric didn't overshadow her accomplishments or reduce her presence to that of a love interest; instead, it complemented her character's narrative, celebrating her as a fully realized individual.
'CSI: Miami's' Emily Procter Anchored the Show
In the realm of police procedurals, CSI: Miami stood out not just as a successful spin-off but as a well-executed crime drama in its own right. For ten seasons, the show entertained us with grisly crime scenes set against the vibrant glamour of Miami. We watched other characters come and go, but Calleigh remained steadfast as ever. Procter's portrayal of Calleigh Duquesne was the quiet anchor that held the show together. Procter brought depth, authenticity, and humanity to the series that went beyond the flashy sunglasses. Her character was a rich and complex personality, with an unwavering commitment to justice that made her the moral compass of the Miami crime lab. Procter's nuanced performance allowed viewers to connect with Calleigh on a personal level, and that is what made her the best part of CSI: Miami.
CSI: Miami is available to stream on Hulu in the U.S.
Denial of responsibility! TechCodex is an automatic aggregator of the all world's media. In each content, the hyperlink to the primary source is specified. All trademarks belong to their rightful owners, and all materials to their authors. For any complaint, please reach us at – 

[email protected]

. We will take necessary action within 24 hours.
Khushi Patel is a science fiction author who lives in Austin, Texas. She has published three novels, and her work has been praised for its originality and imagination. Khushi is a graduate of Rice University, and she has worked as a software engineer. She is a member of the Science Fiction Writers of America, and her books have been nominated for several awards.