The Big Picture
The beloved character Kirk in Gilmore Girls started out as a different character in the show's early episodes.
Kirk is known for his odd jobs and quirky charm, contributing to the lovable atmosphere of Stars Hollow.
The actor, Sean Gunn, almost didn't show up for his audition for the role of Kirk, but it turned out to be a monumental decision that fans appreciate.
Despite the show being called Gilmore Girls and its main focus being Lorelai (Lauren Graham) and Rory (Alexis Bledel), most fans will agree that the show wouldn't have half as much charm without the colorful characters that inhabit Stars Hollow. From Miss Patty (Liz Torres), to Babette (Sally Struthers), and even Taylor (Michael Winters), each townie plays a pivotal role in making Stars Hollow the quirky, lovable town we love so much. But one of the most popular townsfolk, who has become so synonymous with the show, interestingly started out as a completely different character.
Sean Gunn Wasn't Always Kirk on 'Gilmore Girls'
Kirk (Sean Gunn) may be beloved by fans of the series, but he's not exactly the most popular guy in the Hollow. Sure he's not actively disliked by anyone (well, maybe by Luke (Scott Patterson) sometimes) but he is a bit of an odd duck — which is part of his charm. He's often seen as Taylor's right-hand man, always involved in town events, and contributing to the town in his special Kirk way. But one of his most distinguishing traits is his work ethic. The man had 62 jobs throughout the show's run. 62 jobs! Are there even 62 businesses in Stars Hollow? His jobs are often a bit weird — he's been everything from a beauty product salesman, to a video store clerk, and perhaps the best job he's had was when he sold daily t-shirts that read notable things that happened in the town that day. Need a shirt telling you that Babette ate oatmeal? Kirk's your guy.
His job-hopping tendencies is one of the show's longest-running gags, and it goes back all the way to the beginning of the series. Except, in those first few episodes, Kirk isn't Kirk. In the show's second ever episode, he's Mick, a DSL installer, and in another episode, he's a man delivering swans to the Independence Inn. It isn't until Episode 5, "Cinnamon's Wake," that he finally becomes Kirk, as he'd stay for the rest of the series. In the episode, he's an assistant manager at Doose's Market, and when he catches Miss Patty sampling some of the fruit, reprimands her. She calls him "Kirk the Jerk," and he eventually apologizes, not having realized that she is "The Miss Patty" as he puts it.
RELATED: This Was the Hottest Moment on 'Gilmore Girls'
How Did Kirk Get a Bigger Role on 'Gilmore Girls'?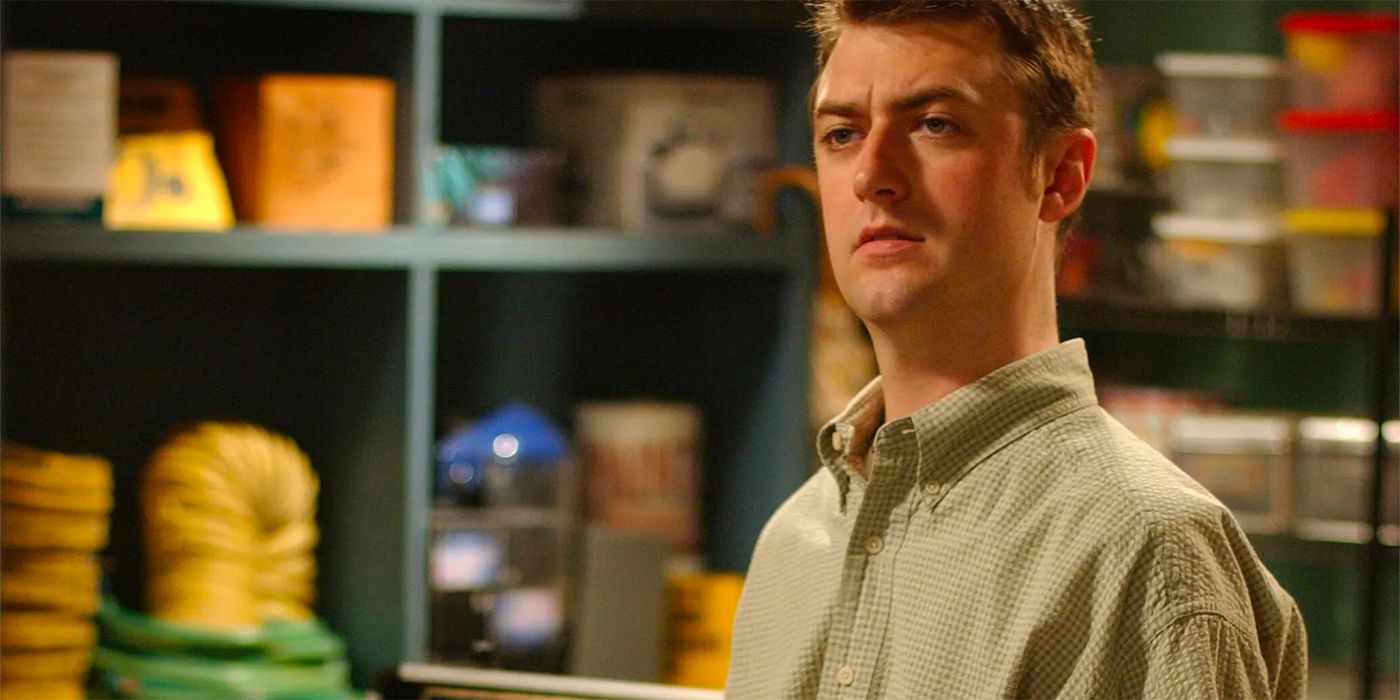 The role of Mick the DSL installer was intended to be a one-time guest spot, not something that was intended to be revisited. In an interview with Vulture, Sean Gunn spoke about how he came back and eventually landed the role of Kirk:
"A few weeks later, my manager called me and said, 'Hey, Gilmore Girls wants to book you.' And I was like, 'What? They're bringing the DSL installer back? Is he now installing DSLs all over the town? That doesn't make any sense.' . . . They wrote a character who was delivering swans at a wedding two episodes later. They looked at a couple of actors, and Amy Sherman-Palladino was like, 'No. I want someone like the guy who played the DSL installer.' Somebody said, 'Amy, why don't you cast him again?' She's from a show-business background, and her dad would do roles like that. He'd go on a program like The Lucy Show multiple times and play different characters. Something about that was funny to her. So they booked me as the swan delivery guy."
In an interview with Entertainment Weekly, Gunn said that he almost didn't show up for his audition, meaning we almost didn't get Mick or Kirk, and what a tragedy that would be.
"I was in L.A., grinding it out, doing some commercials here and there, doing a line or two on some TV shows. It was just one audition for the role of a DSL installer on one episode of Gilmore Girls. My agent at the time recommended that I pass on the audition. I guess it was because it was a 'costar' and not a 'guest star' role, or something silly like that. But I said, 'Let me read the scene, and if I like it, I'll go in.' What a monumental decision. I thought it was a good little scene, and I went in, and I did the job."
Gunn also went on to say that he was surprised when his character kept coming back. He thought the gag would grow old but the calls kept coming, which surprised him every time. But to fans, it's not surprising at all. Gilmore Girls wouldn't be Gilmore Girls without Kirk. It wouldn't be the same if he weren't somehow working at every business in the town. And what would the show be without him riding Luke's last nerve, or getting confused by Lorelai's incessant babbling? All the characters in Gilmore Girls are perfect and play a larger role than it may seem on the surface, but there would be a certain something missing had Kirk never come to be. From the get-go, when he's still Mick the DSL guy or a swan deliverer, Sean Gunn's performance is just weird enough to work. In his first appearance, he isn't even at full Kirk quirk level, and yet the essence of his future character is there and ready to be built upon. It was clear from the start that Gunn was meant to play a bigger role, and continuously bringing him back was one of the best decisions the showrunners made. The awkwardness of the character, and the innocent oddity that he is just works so well for the series.
Rewatching Gilmore Girls again from the start is always fun, as there are always little details to pick up and new things to appreciate. Kirk not being Kirk is one of the oddest yet greatest of those details. It's fun to see how the character first started out, and since Kirk became so synonymous with the show it can be easy to forget that he wasn't always the goofy oddball that we know and love. Thank goodness they brought him back because a Kirk-less Stars Hollow just feels wrong.
Denial of responsibility! TechCodex is an automatic aggregator of the all world's media. In each content, the hyperlink to the primary source is specified. All trademarks belong to their rightful owners, and all materials to their authors. For any complaint, please reach us at – 

[email protected]

. We will take necessary action within 24 hours.