The Big Picture
Class Act on Netflix tells the captivating story of Bernard Tapie, a French businessman whose genius and ambition propelled him to great success.
Tapie's rise from humble beginnings to owning major companies like Adidas and winning championships is awe-inspiring, but his involvement in a match-fixing scandal tarnished his reputation.
The series overlooks some details of Tapie's life, such as his sponsorship of a successful cycling team and his legal battles with Crédit Lyonnais bank, but it still highlights his incredible achievements and the controversies that surrounded him.
Following the larger-than-life adventures of French businessman Bernard Tapie, Class Act on Netflix fuses fiction and reality to create a cautionary tale about careerism and unhinged ambition. The seven-episode series captures everything from the man's initial entrepreneurial ventures to his rise to political office, extending a quick glance over the events that defined the life of the French businessman. Although his involvement in a match-fixing scandal tarnished his glorious rise, Bernard Tapie's genius and relentless pursuit of success made him a man who faced many failures but continued to climb French society's hierarchy, purely fueled by ambition. Class Act does a decent job of highlighting Bernard Tapie's meteoric rise while also outlining the mistakes that eventually led to his downfall. If the events portrayed in Class Act seem unbelievable, the true story behind it deserves all the credit.
Who Is Bernard Tapie?
Created by Olivier Demangel and Tristan Séguéla, Class Act focuses on the eventful life of Bernard Tapie from 1966 to 1967. During his life, Tapie wore many hats as he continued to seek greater milestones to achieve albeit his beginnings were humble. In 1943, Tapie was born as the son of a plumber. His early life involved selling TV sets and performing as a singer. Tapie married Michèle Layec (played by Ophélia Kolb in Class Act) in 1964. From the marriage, Tapie had two children — Nathalie and Stéphane. Later, he married Dominique Mialet-Damianos (played by Joséphine Japy in Class Act).
Remarkable success followed him when he decided to buy debt-ridden companies and turn them into money-making machines through his genius and charisma. As reflected through Laurent Lafitte's character, Tapie was always proud of his achievements and openly flaunted his wealth. The now-sporting giant Adidas became the crowning glory in the portfolio of companies Tapie owned. His ownership of a Tour de France-winning cycling team and the later Champions League-winning club Olympique de Marseilles further cemented the legend of his Midas touch.
RELATED: 'Dexter' Was Heavily Inspired by This Chilling True Story
Bernard Tapie's Popularity Propelled His Political Rise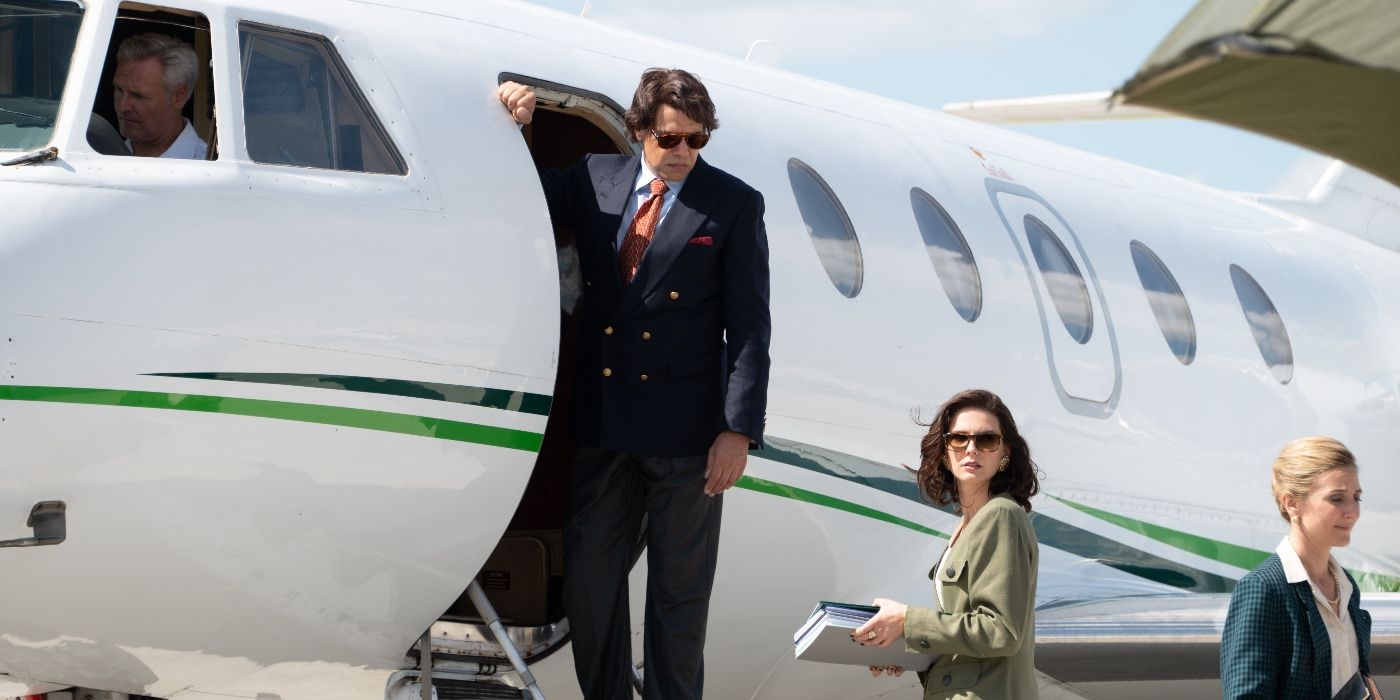 Tapie's entry into politics became another turning point in his career. After having achieved everything as a businessman, Tapie forayed into politics to bring social change. Much like French President Emmanuel Macron mentioned in his tribute to Tapie, he did become a source of inspiration for generations of French citizens. After being elected as an independent Member of Parliament in 1989, he served as urban affairs minister under the presidency of François Mitterrand. In 1994, as a member of the Mouvement des Radicaux de Gauche, Tapie became a Member of European Parliament (MEP). However, Tapie's political career was cut short by his legal troubles. This did not mean Tapie stayed away from politics for the rest of his life. His extensive support for later President Nicolas Sarkozy also led to some controversies later in his life.
What could have been an illustrious political career was cut short when Tapie's name came up in a match-fixing scandal, covered in detail in Class Act. The allegation and conviction in the case of bribing the minor club Valenciennes hit Tapie badly. His club, Olympique de Marseilles, was stripped of the French League championship and relegated to second division. The court case between Éric de Montgolfier and Tapie resulted in a two-year-long prison sentence for Tapie. Along with match-fixing charges, Tapie was convicted of tax fraud twice, in 1997 and 2005.
Class Act also focuses on the businessman's love for all things media. He released several pop songs starting in the 1960s. His stint as a television show host for the monthly economics television program Ambitions (named 'Success' in Class Act) further established his image as a visionary and inspirational personality. After his prison sentence, Tapie decided to explore his other interests including acting. As a theater actor, he re-enacted Jack Nicholson's role of Randle McMurphy in One Flew Over the Cuckoo's Nest, gathering positive reviews. He also appeared in the role of a police chief in the French television series Commissaire Valence.
'Class Act' Leaves Out Some Details of Tapie's Life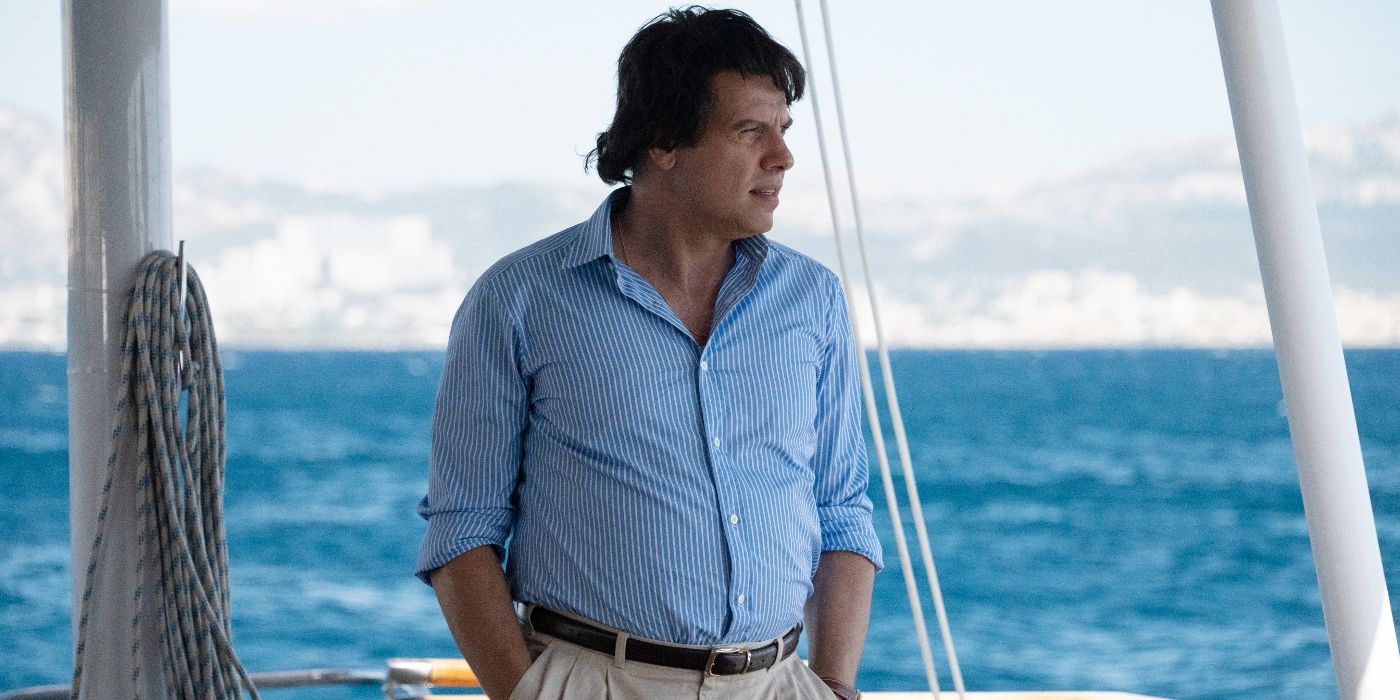 Class Act does not cover all the achievements and controversies of the businessman's life. One achievement that does not get much attention is that his company, La Vie Claire, sponsored the cycling team of the same name. The team was formed by Tour de France winner Bernard Hinault. The team went on to win the Tour de France twice, in 1985 and 1986. A possible reason why Tapie's involvement with the team did not get much focus could be rooted in the fact that it was Hinault who did much of the leg work to form the team before Tapie decided to invest.
Tapie's legal battle with Crédit Lyonnais bank, which continued much after the events of the series and until his death in 2021, was also not discussed in Class Act. But the event from which the battle originated was mentioned. In fact, the sale of Adidas was shown as a subject of rising tension between Tapie and Dominique. In Class Act, Tapie felt strongly against selling the sporting giant, which he called a family company. The bank was sued by Tapie for undervaluing the company at the time Tapie decided to sell it. The bank also used its offshore companies to buy Adidas on its behalf, breaching the agreement.
After a long-standing struggle, Tapie was awarded compensation to the tune of 404 million Euros, which came from France's Ministry of Finance. Later, in 2015, another court ruled that Tapie should return the public's money with interest. Multiple court cases and decisions later, the case was still an ongoing one at the time of Tapie's death. Possibly, in another season of Class Act, the entire controversy surrounding the sale can be fully explored, considering some big names, such as that of the current President of the European Central Bank, Christine Lagarde, popped up during the course of the events. In 2017, Tapie was diagnosed with stomach cancer. In April 2021, Tapie and Dominique became victims of a burglary at their Paris house, during which they were tied up and beaten. In October of that year, Tapie passed away at the age of 78.
As Tapie was himself against the idea of a biographical series on his life, it cannot be conclusively said how true to reality the Netflix series is, particularly the details pertaining to his personal life and decisions, although the major events covered in the series are not themselves a creation of fiction. His family has come out in strong opposition to the series that portrays Tapie with certain strong flaws. Tapie in Class Act is a man who, despite his internal struggle to do the right thing, often adopts the "all is fair in love and war" approach, which costs him greatly, as pointed out in various episodes of the show. To be fair to the creators of the series, Laurent Lafitte's Bernard Tapie stands tall as an inspiring figure in Class Act despite the potentially contentious nature of his transgressions, introducing the legend of the French businessman to a new generation unaware of his accomplishments.
All episodes of Class Act are currently available to stream on Netflix.
Denial of responsibility! TechCodex is an automatic aggregator of the all world's media. In each content, the hyperlink to the primary source is specified. All trademarks belong to their rightful owners, and all materials to their authors. For any complaint, please reach us at – 

[email protected]

. We will take necessary action within 24 hours.