The Big Picture
Season 7 of Selling Sunset amps up the drama with personal conflicts interfering with the professional lives of the Oppenheim Group agents.
The feud between Nicole and Chrishell continues, leading to tensions and unresolved conflicts that could have been avoided with established workplace ground rules.
Chrishell also faces tension with Jason's new girlfriend, Marie-Lou, highlighting the need for Jason to establish boundaries and diffuse awkward situations.
Million-dollar listings and high-end looks aren't the only things that Selling Sunset delivers in Season 7. The new batch of episodes amps up the drama, with Chrishell Stause's continued feud with Nicole Young and Bre Tiesi's off-putting interactions with another agent eyeing a spot at the brokerage. Although in-office fights aren't uncommon on Netflix's popular reality TV show, it is clear that some of the tensions this season are related to personal conflicts that interfere with the Oppenheim Group real estate agents' professional lives. Although there were multiple arguments onscreen involving Chrishell this time around, some of the fights could've easily been prevented if broker Jason Oppenheim had established ground rules in the workplace.
Nicole's Feud With Chrishell Is Made Worse After Jason Assigns a New Listing
Season 7 continues to expand on Nicole and Chrishell's feud from Season 6, establishing that the two haven't made amends thus far. As Chelsea Lazkani celebrates her birthday party with a few colleagues, the tension between them reaches a boiling point when Chrishell, Emma Hernan, and Amanza Smith confront Nicole about her referring to Emma as a "social climber". The situation escalated to Nicole leaving the party early and crying on her way home because she felt "ganged-up" by her peers. Although the conflict didn't get a proper resolution, Jason decided to give a listing to Chrishell while she was still recuperating from surgery and included Nicole in the project as a helper. When the broker talked about the new listing with the agents at the office, none of them seemed to understand why he chose to have these two colleagues working together, since there was a clear rift between them.
Despite their animosity, Nicole did help Chrishell get the listing ready for sale and the latter even went to check on the property in-person. Although Jason might've considered the idea of them on the same task as a possibility for his two exes to make amends, the situation only got worse when Chrishell tried to apologize to Nicole and didn't get a positive response back. Instead of considering a clean slate, Nicole left the property in silence, neither accepting nor reciprocating the apology. This lack of resolution to their internal conflict made way for even more drama later in the season. If Jason hadn't paired them for this listing, the repercussions could've easily been avoided.
Contrary to Marie-Lou's Wish, Jason's Ex-Girlfriend Doesn't Have to be Friends With His Latest Partner
The tension with Nicole wasn't all that Chrishell had to deal with in the reality TV show this season. Jason's new girlfriend, Marie-Lou Nurk, was also on bad terms with the real estate agent. After the two had a few interactions here and there, Marie-Lou was bothered by the fact that Chrishell wasn't as nice to her as Jason's former girlfriends, Nicole and Mary Fitzgerald. The two met for a drink to discuss the matter and Chrishell said that she didn't feel like she needed to have a friendship with Marie-Lou just because she is dating her friend and former partner. Their conversation gets to awkward lengths when Jason's girlfriend calls him and twists the story, saying that Chrishell didn't want to be her friend because she was jealous. Instead of taking a stance to ensure that Mary Lou and his ex-girlfriend didn't get into an argument, Jason questions why he needed to be on the call in the first place. As someone who interacts with both of these women on a daily basis, he should've been the one to establish a boundary at this exact moment. In fact, the broker only intervenes in the season finale as him and Mary-Lou get ready for the launch party for the new LA office. In the same way that his conversation with his current partner before the party enabled her and Chrishell to not proceed with the fight, Jason should've spoken to the two of them when that unnerving conversation was taking place.
The Trip to Cabo Makes Things Worse on 'Selling Sunset'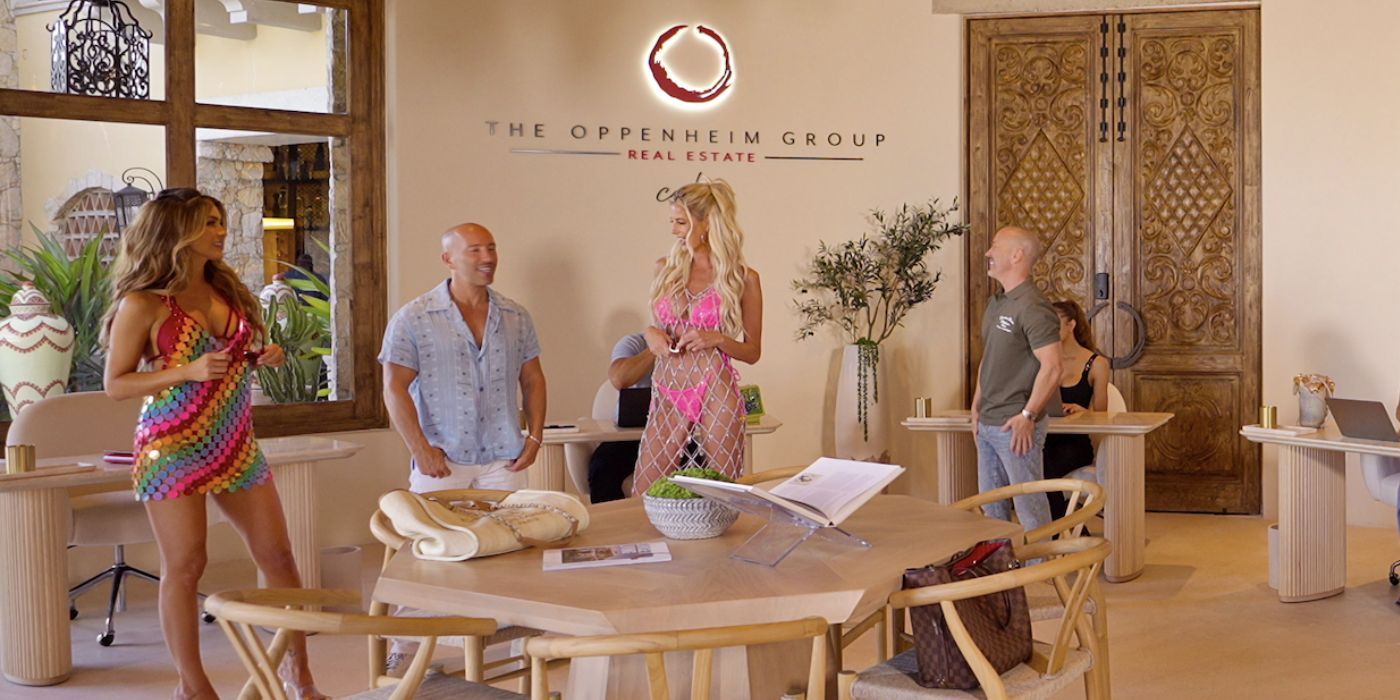 As fans of Selling Sunset know well, a trip with the agents of this team never ends well. In Season 7, the Oppenheim siblings are preparing to open another office outside of LA. Their new location is in Cabo, and they invite all the agents to go to Mexico and visit the new space in-person. The team reluctantly agrees to leave their work aside and spend some days by the beach and sipping margaritas while they cherish yet another accomplishment from the O Group. In an effort to prevent drama from getting in the way, Chrishell and Emma decide to invite Chelsea and Amanza to fly with them to Cabo. While on the plane, they reveal that instead of staying at the house that Jason and Brett booked for all the agents to stay in, Chrishell and Emma booked their own place to stay. Although Amanza feels uneasy about their decision, it is clear the two real estate agents were trying to come up with a solution to the lack of boundaries between their personal and professional lives.
Instead of understanding their concerns, Jason isn't at all happy that Chrishell and Emma won't stay with the rest of the group during the entire trip. After everyone reunited for dinner in Cabo, the broker shared that he would love for them to stay at the gigantic house that was booked for everyone to stay in. Once again establishing boundaries, Chrishell says that her and Emma will join the group for work gatherings, but they would feel more comfortable staying on their own for the remainder of the trip. Although there was still a lot of conflict that stemmed from the agents' short stay in Cabo (much due to Amanza's video), more issues were prevented because Chrishell and Emma decided to take the smart route of keeping it professional. They went to a few dinners, viewed properties, and visited the new office, but didn't engage in other activities that often led the group to get into exhausting feuds. These agents have come up with a solution that should be more appreciated by the brokers, since it is a better way to keep the work environment at the O. Group less toxic. Although the petty fights make for interesting reality TV, Jason and Brett must keep the office space as civilized and drama-filtered as possible in order for the agents to want to remain there.
All seasons of Selling Sunset are available to stream on Netflix. The Season 7 reunion special will come out on November 15.
Denial of responsibility! TechCodex is an automatic aggregator of the all world's media. In each content, the hyperlink to the primary source is specified. All trademarks belong to their rightful owners, and all materials to their authors. For any complaint, please reach us at – 

[email protected]

. We will take necessary action within 24 hours.