Editor's Note: The following contains spoilers for Lessons in Chemistry.
The Big Picture
Brie Larson delivers a charismatic and challenging performance as Elizabeth Zott in Lessons in Chemistry, showcasing her range as an actress.
The adaptation slightly differs from the source material, adding suspense and emotional depth to Elizabeth's journey through unique plot developments.
Larson's portrayal of Elizabeth effectively balances her character's anxiety, resilience, and scientific mindset, highlighting her ability to bring depth and nuance to her roles.
Although Brie Larson is only occasionally associated with rather dramatic roles, 2023 gives us some new performances to spotlight. The Marvels, the MCU's newest addition to its massive testament of dynamics, spectacle, and excess, emphasizes that Larson's Captain Marvel has been affected by recent personal loss, making her more vulnerable and multi-layered. On the small screen, however, a highly anticipated show on Apple TV+ has finally premiered, becoming a massive hit within a few days.
Lessons in Chemistry, the adaptation of Bonnie Garmus' best-selling novel of the same name, tells the story of Elizabeth Zott (Larson), who dreams of being a respected chemist before life changes her plans — which include her own TV show, unexpected infatuations, and some sad life catastrophes. The show has already earned critical acclaim that praises the way it navigates the book's story, but it is also a testament to Brie Larson's performance and the way she inhabits this belligerent and fearsome heroine.
Lessons In Chemistry
In the 1950s, Elizabeth Zott's dream of being a scientist is challenged by a society that says women belong in the domestic sphere; she accepts a job on a TV cooking show and sets out to teach a nation of housewives way more than recipes.
Release Date

2023-00-00

Main Genre

Drama

Genres

Drama

Seasons

1
Brie Larson Is the Perfect Elizabeth Zott in 'Lessons in Chemistry'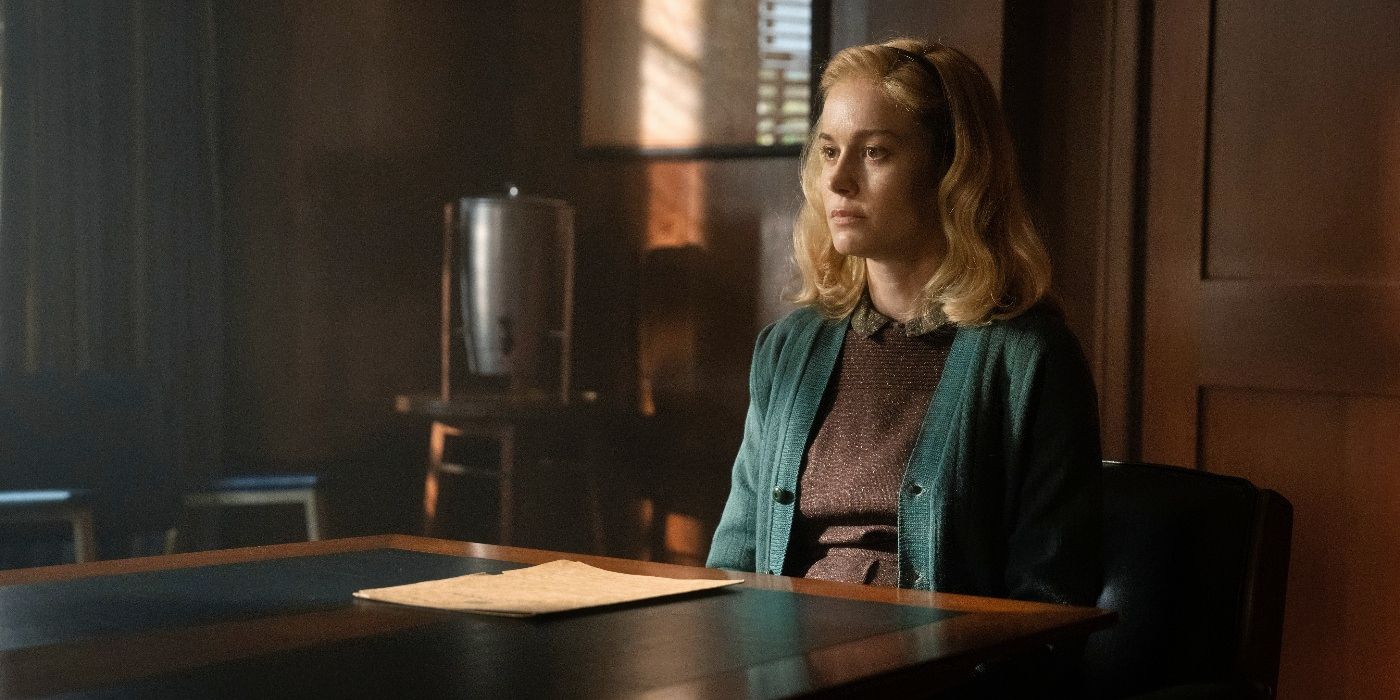 Elizabeth Zott has become one of the most beloved literary heroines in modern pop culture, so watching her on a small TV screen became rather a big deal for most of the novel's fans. It's a charismatic and challenging role, due to the plot's complexity as well as Zott's traits of resilience and fragility. The book spans at least four different chapters of Elizabeth's life, meaning that Larson has to play the same heroine through four unique moments of her life — or, if we go further with the interpretation, Larson has to play four heroines in the body of one Elizabeth. Such acting in Hollywood requires an A-list thespian, and Apple TV+ found one.
Larson is actually playing against most recent type, even if her filmography does include mother and child dynamics. In Lessons in Chemistry, she redefines her acting, as her strength finds its source in Elizabeth Zott's nuances. Larson isn't a superhero here who uses power against power, in the most effortless manner, just like that. Throughout the entire show, Elizabeth is undermined by both her male colleagues and life itself, not to mention dealing with some traumas, which are grounded in her childhood upbringing and the sexual assault Elizabeth has experienced, while trying to complete her PhD program. When she believes that she has finally found a small light in a colossal, dark tunnel of life (i.e. Lewis Pullman's Calvin Evans, her love interest and the future father of her child), Elizabeth suffers all over again. Calvin dies in a tragic accident and, emotionally, Elizabeth has to start from the same place she had been earlier.
As a consequence, being Elizabeth Zott is not a run-of-the-mill role. Thus, becoming her feels even more and more challenging. Visualizing Larson playing both this self-determined and slightly lost figure may have seemed unimaginable in the first place. Readers imagined Zott with Elizabeth Olsen's allure or Emma Stone's self-assurance, so there was a fear of Larson being completely miscast by the show's producers. But Larson deliberately maneuvers between her heroine's insecurity, lack of emotional comprehension, grief, and anger towards the entire world, wearing the mask of a confident chemist who privately deals with misunderstandings and constant, unmoored feelings.
'Lessons in Chemistry's Biggest Difference From the Book Lets Brie Larson Shine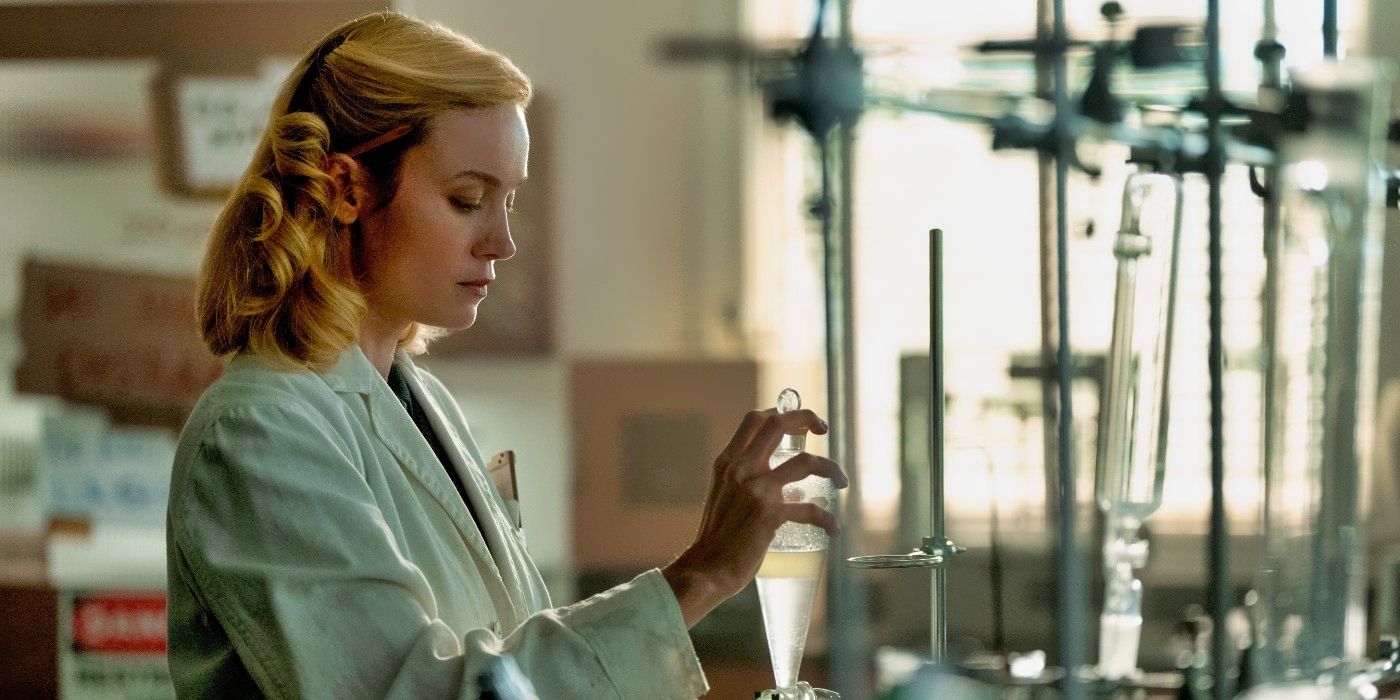 For fans of Garmus' novel, it is apparent that the adaptation slightly differs from the source material. One of those moments appears in the third episode of the show when Elizabeth thinks that she might be pregnant in the wake of Calvin's death. To increase the suspense, the show rewrote the way Elizabeth learns about her state. To check if she is correct in her assumptions, Larson's character decides to conduct a peculiar experiment. Bizarre, as it requires her to collect her own urine and inject it into a laboratory frog. After a couple of hours, she discovers that the urine-injected female frog produces eggs, which tells her that she is pregnant. However, this leads to the on-screen eruption of all her emotions, fears, and frustrations. Larson's Elizabeth just cannot believe that she is left on her own with another issue she will need to resolve in the future. In the moment, she cries, shouts, and destroys some parts of the kitchen with her sledgehammer. Although drastic, it is the only way for her to physicalize her aggression and get rid of it. It's a difficult art to convey inner sadness through such a vital sequence.
This little scene encompasses every element needed to make the entire sequence work. There is anticipation, and there is a massive amount at stake, but it is also one of Brie Larson's best moments in the entire show. She juggles her heroine's anxiety, incredulity, indignation, and nuanced manner, yet the highlight of this particular scene is Larson's gloomy countenance and how it resonates with Elizabeth's consciousness. Although Elizabeth decides to check her current situation, her anxious approach towards it implies that she – even subconsciously – knows that the result is going to be positive. This scene is not about the outcome of the experiment and learning that Elizabeth is, indeed, pregnant. Somehow we know what the answer will be already, even if we've never read the book.
What is substantial is how this sequence sensibly corresponds with Elizabeth's nature, because it's the mind, not the heart, that needs to be sure. Elizabeth carries out an experiment because she believes in scientific truth and this action gives her complete control over her life. If she is going to learn about her pregnancy, it has to be purely on her terms — and this is what Larson powerfully displays through her performance. Hopefully, Larson's future roles will offer a similar balance of heart and mind — ones that not only rely on pop-cultural clichés but also allow the actress to find her personal voice.
Lessons in Chemistry is available to stream on Apple TV+ in the U.S.
Denial of responsibility! TechCodex is an automatic aggregator of the all world's media. In each content, the hyperlink to the primary source is specified. All trademarks belong to their rightful owners, and all materials to their authors. For any complaint, please reach us at – 

[email protected]

. We will take necessary action within 24 hours.