Editor's Note: The following contains spoilers for Episode 5 of Ahsoka
The Big Picture
Ahsoka's realization that she can be her own person without carrying the burden of Anakin's legacy is reflected in her decision to wear white robes.
The significance of the color white for Ahsoka is tied to her association with the Light Side of the Force, her connection to the Daughter from the Mortis arc, and her own bright aura.
Ahsoka's white cloak and lightsabers symbolize her acceptance of her own legacy and her identity as a beacon for the Light Side of the Force.
Ever since Ahsoka Tano's (Rosario Dawson) debut in live-action in The Mandalorian, something didn't feel quite right about her portrayal in the Mando-Verse. Instead of the white cloak she sports in the epilogue scene of Star Wars Rebels, she has always been wearing dark tones of brown and gray in her clothes, and even black. Now, Episode 5 of Ahsoka, "The Shadow Warrior," finally sees her take up her white clothes after her encounter with Anakin Skywalker (Hayden Christensen) in the World Between Worlds. While this wardrobe change may feel a little like Gandalf (Ian McKellen) in Lord of the Rings, for Ahsoka there's actually a lot more lore behind it with a lot of ties to The Clone Wars and Star Wars Rebels, so let's see why that happened.
Why Does Ahsoka Take up the White Cloak After Her Encounter With Anakin?
Ahsoka has been on a roll since its series premiere with each episode better than the last. Anakin's appearance in Episode 4, "Fallen Jedi", and now in "The Shadow Warrior" is something the fans have long wanted to see, and something that Ahsoka herself was desperately in need of. Her Stoic approach to her mission and being a master surprised everyone who was expecting the old witty Ahsoka from The Clone Wars back. It seemed like there was something weighing on her shoulders, and now we understand what.
Being the former apprentice of Anakin Skywalker can't be easy, especially knowing what he did and became. During Ahsoka's duel with Baylan Skoll (Ray Stevenson) in "Fallen Jedi," he taunted her repeatedly by saying that her legacy is one of "death and destruction," just like her master's. What Baylan did was merely put into words what Ahsoka herself had been feeling, and we know that feeling something is one thing, but hearing it out loud has a different effect on anyone's morale.
We've known Ahsoka for a long time, and we know her legacy isn't one of death and destruction, but this is clearly something that Ahsoka has been battling internally. She needed to confront the fact that her master was a flawed person and allow herself to forge her own path outside of Anakin's shadow. His lesson, "live or die," may seem harsh, and that's his way, but it really means that she can either let go and sink into the ocean, or accept that she isn't her master and can choose her own path without Anakin's legacy weighing on her shoulders. She isn't Anakin, so she shouldn't feel the burden of his actions.
So, in the context of this episode, Ahsoka's return wearing her white robes is tied to this realization — that she can be her own person without having to deal with Anakin's legacy or atone for any of his dark deeds. Also, she can be a master for Sabine Wren (Natasha Liu Bordizzo) without fear of falling into the same pitfalls Anakin sometimes fell, because, deep down, Ahsoka is a capable teacher. It's nice how the whole color palette changes after she comes back and is rescued by Hera Syndulla (Mary Elizabeth Winstead) — her headpiece is a new shiny one, the weather on Seatos clears up, the skies are as white as her cloak, and even the interiors of the starships seem brighter. White really suits her, but there's still more to this than just accepting who she is.
RELATED: 'Ahsoka's Biggest Problem Is Cutting the Show Off at the Knees
What's the Significance of the Color White for Ahsoka?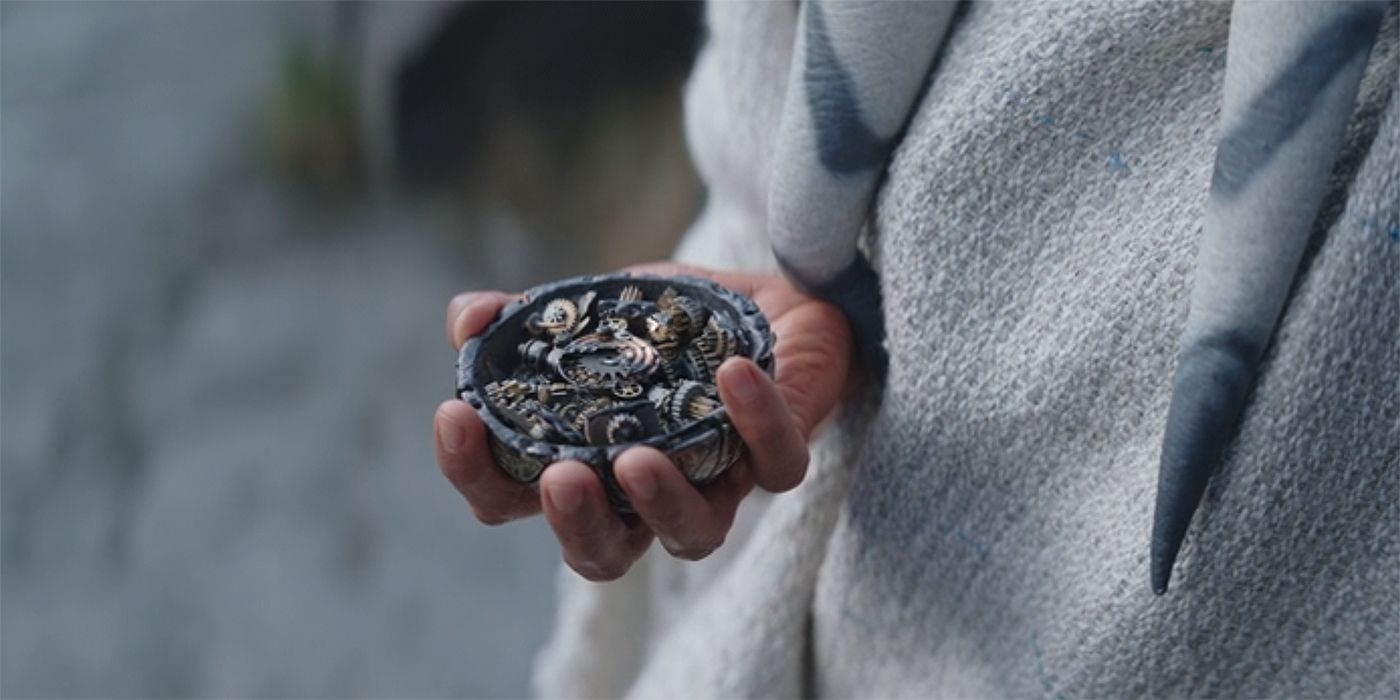 We've known Ahsoka since her early Padawan years, and she has a whole iconography to herself, from her face tattoos becoming the symbol of the Fulcrum agents in the Rebel Alliance to her two iconic katana-inspired lightsabers (which are also white, but more on that later). She also has special abilities and a faithful companion who's beside her most of the time, a Convor named Morai, who's directly tied to one of the best (and weirdest) parts of The Clone Wars: the Mortis arc.
This arc has an aura that almost feels reminiscent of David Lynch's dreamy and ethereal approach to the supernatural, and it's in this context that we meet three of the most powerful beings in Star Wars: the Father (Lloyd Sherr), the Son (Sam Witwer), and the Daughter (Adrienne Wilkinson), who are embodiments of three different aspects of the Force. The Son is the Dark Side, vicious and growing more powerful with the chaos of the Clone Wars. The Daughter is the Light Side, a noble entity that, despite being very powerful, tries very little to display it. And the Father is the balance between these two. Together, they lure Anakin (Matt Lanter), Obi-Wan Kenobi (James Arnold Taylor), and Ahsoka (Ashley Eckstein) to their planet to test whether Anakin, the Chosen One, could replace the Father, who's dying of old age.
Of course, none of that goes as planned. The Son betrays everyone and kills Ahsoka, and later stabs the Daughter, too, as she attempts to shield the Father from an attack. Her last action is to transfer what remains of her powerful life essence to Ahsoka in order to revive her, and that makes Ahsoka herself a sort of beacon in the Light Side. From that moment on, Morai, who was a companion to the Daughter, becomes a companion to Ahsoka, and appears in key moments of her story to show how important they are. We see her circling over Darth Vader (James Earl Jones) in the final episode of The Clone Wars, calling Ezra Bridger (Eman Esfandi/Taylor Gray) to save Ahsoka in the World Between Worlds in Rebels, and even in The Mandalorian, watching Din Djarin (Pedro Pascal/Brendan Wayne/Lateef Crowder) before he meets Ahsoka for the first time.
Although the Daughter is effectively dead, Ahsoka carries her life essence, and that makes her a beacon for the Light Side of the Force. Her whole posture changed after the Mortis arc, becoming more assertive, patient, and wise, while still keeping her wit. When we meet her again in Rebels, she's more serious than in The Clone Wars, too, which may be an effect of her being older but is surely tied to the Daughter. More than a regular character, Ahsoka holds some cosmic importance due to her place in the never-ending battle between Light and Dark. The Daughter always wore white and emanated a bright aura all around her, with gentle movements and elegant posture.
Ahsoka may not be that elegant nor emanate a bright aura, sure, but she doesn't have to — just like she doesn't have to be like her master. But her journey in "The Shadow Warrior" sees her coming to terms with her own legacy, which is of light. The white cloak and shiny headpiece are perfect reflections of her own bright aura, as are her white-bladed lightsabers, which she purified herself with her powers. That's who she is, and the white cloak suits her perfectly.
Denial of responsibility! TechCodex is an automatic aggregator of the all world's media. In each content, the hyperlink to the primary source is specified. All trademarks belong to their rightful owners, and all materials to their authors. For any complaint, please reach us at – 

[email protected]

. We will take necessary action within 24 hours.