Posted in: Comics, Comics Publishers, Current News, DC Comics | Tagged: amazons attack, wonder woman
---
Today's relaunch of Wonder Woman #1 by Tom King and Daniel Sampere from DC Comics represents a radical reinvention of the DC Universe.
---
A common narrative in the United States of America is that the government is lying to its people, and it needs to go back to the principles established by the founding Fathers. But what if that was just as much a lie, and the government has always acted in that fashion since its earliest days? That's the narrative established by Wonder Woman #1 by Tom King and Daniel Sampere to today's relaunch of the series from DC Comics. spoilers ahead of course.
Wonder Woman #1 sees a mistreated Amazon kill someone harassing her in an American pool hall. And then eighteen other men in the pool hall around her. Just the men. There is a visceral public and government reaction to this. All Amazons begin to receive prejudiced reactions to their presence, both from individuals, the media, and government figures. The Amazons having an "anti-male agenda" is highlighted. And too many people say the words "pool hall". Sergeant Steel, rival to Amanda Waller, who is coming for all of America's superheroes, is there to enforce the mandatory detention and deportation of all Amazons in the USA.
Wonder Woman #1 takes place in modern-day America, where there are Amazons living among us. It is not just Diana who lives amongst the world of men; since her first journey before World War II, many other Amazons have also followed her example. Some have emigrated, some have married, and some have work visas. They are hard-working immigrants among us. Until now.
All Amazons are banned from American soil until a determination can be made about their threat to the US. And yes, this absolutely mirrors the reaction in the US to Muslims after 9/11 and specifically then President Donald Trump's attempts to impose a Muslim ban "until we can work out what's going on". The same language is used here. A government task force AXE is established, the Amazon Extraction Unit, who will also take their naturalised children into custody. The parallel to ICE is clear. Over three hundred Amazons are captured this way… or killed. Because, yes, AXE is fitted with anti-Amazonian weapons led by Sergeant Steel. Wonder Woman isn't leaving, however. She has a battle to fight. And she is going to take on the entire American Army to prove a point. Literally.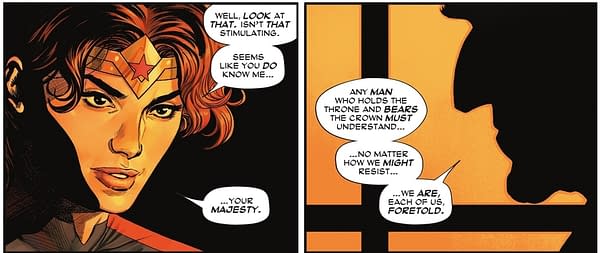 But who is really behind this? Just as the Iraq War against Saddam Hussein needed 9/11 to justify it, so this action against Amazons needed the pool hall incident to justify it. People were just waiting for it. Because America is a lie, and behind the facade, there is something, someone, pulling all the strings and has done for centuries. In the previous future-set story by the same creative team for Wonder Woman #800, we saw the future 19-year-old daughter of Wonder Woman, Trinity, use the future Superman, Jon Kent and future Batman, Damian Wayne, to make her way through a mystical prison in the Greek legend style to confront a certain prisoner. Who she refers to as "his majesty", while wielding a second lasso of power, the black lasso. One of three that she is known to wield, hence her name, Trinity.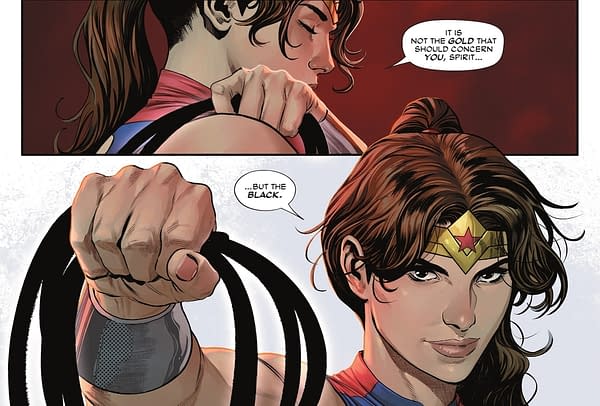 Because this is a king… but a king of who? Of what? Or when? And how does he tie in with the Amazon's own royal structure?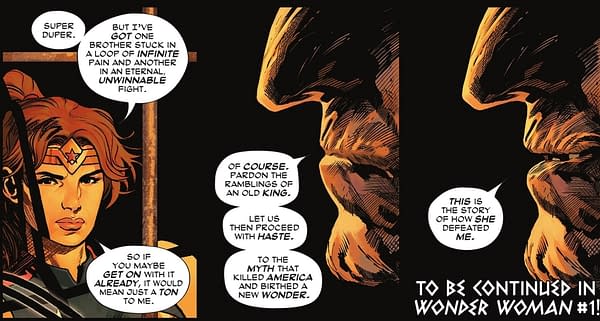 Because we learn that the original Wonder Woman defeated hin, but at what cost? This may now be that story, playing out in the present day.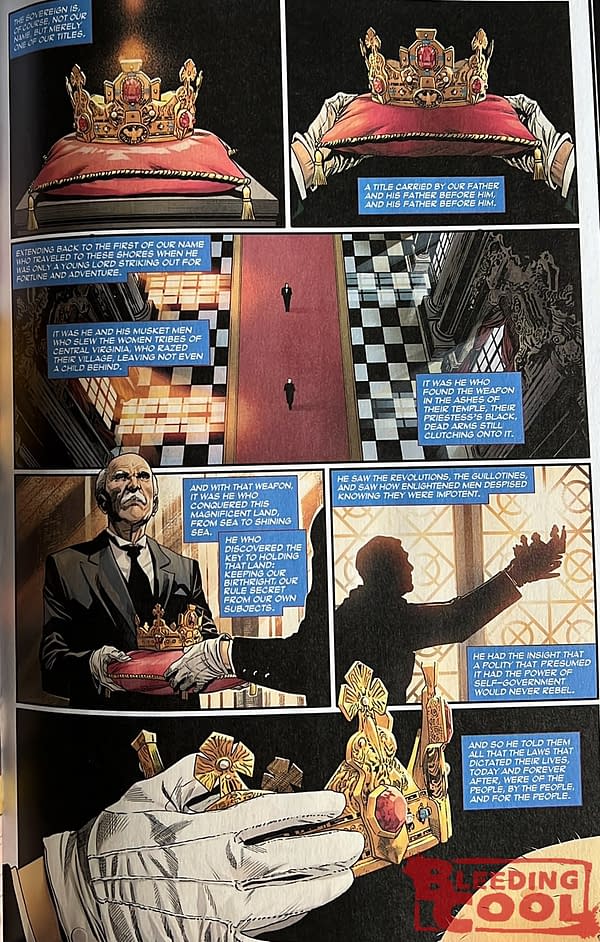 A mystical power seized from Native Americans by European settlers. And who used it to establish an American monarchy, who used the Founding Fathers to give people the illusion that they were the engineers of their fate. "We the people" was a lie from the holder of the Lasso Of Lies.
Meet The Sovereign. The true king of America, the true man in charge of everything that happens. And part of a lineage that has always established this, since the earliest days of the country. And yes, that is the lasso we saw in Wonder Woman #800, the Native American power now being wielded, one of three, by Trinity. Eventually. After twenty years… Bleeding Cool previously called this the Dark Knight Returns of Wonder Woman, initially at least.  This is why. Here are the solicits for Wonder Woman and its spinoff title ,Amazons Attack. With Trinity returning in Wonder Woman #4…
WONDER WOMAN #1 CVR A DANIEL SAMPERE
(W) Tom King (A/CA) Daniel Sampere
THE AMAZON WARRIOR IS NOW A WANTED OUTLAW! A NEW ERA FOR THE AMAZON WARRIOR BEGINS, FROM THE SUPERSTAR TEAM OF TOM KING AND DANIEL SAMPERE! After a mysterious Amazonian is accused of mass murder, Congress passes the Amazon Safety Act, barring all Amazons from U.S. soil. To carry out their plans, the government starts a task force, the Amazon Extradition Entity (A.X.E.), to remove those who don't comply, by any means necessary. Now, in her search for the truth behind the killing, Wonder Woman finds herself an outlaw in the world she once swore to protect! Writer Tom King (Batman, Mister Miracle, Supergirl: Woman of Tomorrow) and superstar artist in the making Daniel Sampere (Dark Crisis, Action Comics) join forces for this action-packed relaunch and the beginning of what will undoubtedly become a groundbreaking run on the character. Retail: $4.99 In-Store Date: 9/19/2023

WONDER WOMAN #2 CVR A DANIEL SAMPERE
(W) Tom King, Josie Campbell (A) Daniel Sampere, Vasco Georgiev (CA) Daniel Sampere
AN ARMY OF ONE! Now a wanted fugitive, Wonder Woman readies herself for battle against Commander Steel and his soldiers, her former love Steve Trevor being one of them! What could this face-off mean for her position in the world of heroes? Will it further her quest for the truth about the rogue Amazon or end in bloodshed? Find out as this demigoddess takes on an entire army! Plus, the prelude to Amazons Attack! Retail: $4.99 In-Store Date: 10/17/2023

AMAZONS ATTACK #1 CVR A CLAYTON HENRY
(W) Josie Campbell (A) Vasco Georgiev (CA) Clayton Henry
AMAZON WARRIORS FIGHT FOR A WORLD THAT'S MADE THEM OUTLAWS! After the shocking events in Wonder Woman, the Amazons are now fighting for a world that no longer wants them! Led by their fearless Queen Nubia, a ragtag group of Amazons featuring Wonder Girl and Faruka II frantically searches for answers as their existence and way of life are threatened. Will the tribes survive their new reputation? Find out in this roller coaster of a debut issue! Brought to you by rising stars Josie Campbell (The New Champion of SHAZAM!) and Vasco Georgiev (Batman: Urban Legends), this series promises to be an action-packed adventure featuring the greatest warrior women in the DCU! Retail: $3.99 In-Store Date: 10/24/2023

WONDER WOMAN #3 CVR A DANIEL SAMPERE
(W) Tom King (A/CA) Daniel Sampere
The Lasso of Lies' true power is revealed as the Sovereign continues his campaign against Wonder Woman! Could one unsuspecting soldier be the key to defeating our hero? Find out as Diana uses her own lasso in search of the truth about the Amazon massacre. Plus, the return of Trinity! Wonder Woman's daughter makes her backup story debut in the first of many awe-inspiring adventures from the future. Retail: $4.99 In-Store Date: 11/21/2023

AMAZONS ATTACK #2 CVR A CLAYTON HENRY
(W) Josie Campbell (A) Vasco Georgiev (CA) Clayton Henry
As rumors of the Amazons' true nature spread far and wide, our heroes take Manhattan! Turns out the Big Apple isn't the only apple to worry about as fruits from the Goddess of Discord enter the scene and poison the minds of men. Will our ragtag group of Amazons ever be able to find shelter from the cruel world that prays for their downfall? Retail: $3.99 In-Store Date: 11/28/2023

WONDER WOMAN #4 CVR A DANIEL SAMPERE
(W) Tom King (A) Daniel Sampere, Belen Ortega (CA) Daniel Sampere
With the world losing trust in the Amazons, Wonder Woman takes a moment to grant the wish of a dying boy and gives him the perfect day. Meanwhile, the Sovereign constricts his grip on the government. Will Wonder Woman be able to hold out hope as the world around her grows darker? Plus, Trinity spends the night at the Fortress of Solitude with her babysitters, the Super Sons! Retail: $4.99 In-Store Date: 12/19/2023

AMAZONS ATTACK #3 CVR A CLAYTON HENRY
(W) Josie Campbell (A) Vasco Georgiev (CA) Clayton Henry
THE WAR ON WARRIOR WOMEN CONTINUES! As Mary Marvel and the splinter group of Amazons search to find asylum, they uncover the history of something much darker. Will they be able to stop the impending wave of discord before it's too late? Retail: $3.99 In-Store Date: 12/26/2023
---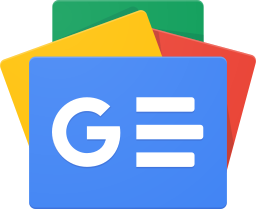 Stay up-to-date and support the site by following Bleeding Cool on Google News today!
Denial of responsibility! TechCodex is an automatic aggregator of the all world's media. In each content, the hyperlink to the primary source is specified. All trademarks belong to their rightful owners, and all materials to their authors. For any complaint, please reach us at – 

[email protected]

. We will take necessary action within 24 hours.