The Big Picture
Family Matters started as a spin-off of Perfect Strangers and focused on the Winslow family, played by a talented cast of predominantly Black actors.
The introduction of Steve Urkel, played by Jaleel White, quickly shifted the show's focus to his hilarious and iconic character, causing some tension among the rest of the cast.
The cast, including White, faced challenges and conflicts behind the scenes, but ultimately formed a strong bond and have expressed a willingness to reunite for a potential reunion show.
When Family Matters first debuted on ABC in 1989 as part of their Friday night TGIF lineup, it was a far different series from the show it would become. It started as a spinoff to another TGIF series, Perfect Strangers, giving viewers a wholesome look at the Winslow family. It was a cute and funny enough series, but it quickly changed with the introduction of a character named Steve Urkel (Jaleel White), whose presence instantly changed the show. In no time, he became the star. While it helped Family Matters grow its audience, the overindulgence of Steve Urkel and the young actor playing him caused some hard feelings with the rest of the cast.
'Family Matters' Was a Spin-Off of 'Perfect Strangers'
Harriette Winslow was a supporting character on Perfect Strangers. Played by Jo Marie Payton, Harriette was an elevator operator at The Chicago Chronicle newspaper where Balki Bartokomous and Larry Appleton (Bronson Pinchot and Mark Linn-Baker) worked. She was only on the series through Seasons 3 and 4, but audiences, and most importantly, producers, loved her character. At times her husband, Carl (Reginald VelJohnson), would appear as well. While he didn't do a lot during his appearances, he did it at the right time, for the late 80s saw VelJohnson's popularity rise thanks to his role in Die Hard. It was then decided that Harriette and Carl should have a show of their own.
Family Matters premiered in the fall of 1989. It was your traditional wholesome, non-threatening, a bit sappy, 80s sitcom. Carl was a Chicago cop. Harriette still worked at The Chicago Chronicle, but she would be fired from her elevator operator job very early in the first season. While the series would follow husband and wife at work sometimes, it was the matters of the family that the show revolved around, specifically their home life. Carl and Harriette had two teenaged kids, a son named Eddie (Darius McCrary) and a daughter named Laura (Kellie Shanygne Williams). There was also a younger daughter named Judy (Jaimee Foxworth) who strangely disappeared as if she never existed in Season 4. The family included Carl's mom, Estelle (Rosetta LeNoire), and Harriette's younger widowed sister, Rachel (Telma Hopkins), and her young son, Richie (Bryton McClure).
All of these people lived under one roof of your traditional sitcom house setup. Family Matters, with its all Black cast, was refreshing to see, not just because it was a rarity, but for how the characters were portrayed. While non-white characters weren't uncommon in the 1980s, they were usually the token friend, the sidekick, the comic relief, or fell into uncomfortable stereotypes. The Winslows weren't the only Black family on TV, obviously. The Cosby Show was the biggest sitcom on TV at the time. But Family Matters was simpler. While The Cosby Show had no problem discussing race, Family Matters, though not afraid to bring it up every now and then, didn't address it a lot. It aimed to just show us a family who happened to be Black and could do anything a white family could do, while having the same problems as well. That simpleness gave us episodes where Eddie might lie about his grades or Rachel upsets the family by writing a story about them. There'd be drama and conflict, but at the end of the half hour, after a heart-to-heart talk, music swelling in the background and the in-studio audience clapping, the family would come together.
RELATED: This Was the Best '80s Sitcom
Steve Urkel Becomes the Star of 'Family Matters'
Carl and Harriette were the leads of Family Matters, but there was no true single star. It was an ensemble where everyone got a chance to shine. Then came the 12th episode of Season 1, "Laura's First Date." In this episode, as the title states, Laura goes on her first date. The boy taking her out is named Steve Urkel, the stereotypical nerd with an annoying personality and nasally voice. Laura is not into him, but Urkel is immediately in awe. Audiences were too. Urkel was hilarious with his huge glasses, high energy, weird laugh, and suspenders. Whenever he appeared on-screen, he stole whatever scene he was in. By Season 2, he was part of the main cast.
Family Matters quickly became not about matters of the family but matters of Steve Urkel, with him constantly bursting in to the family home uninvited, obsessing over Laura and frustrating Carl, while doing pratfalls and throwing out catchphrases like "Did I do that?" He was funny, but he also at times came off as a caricature rather than a real person. From Season 2 until the end of the series, this sweetly sentimental show about a family became all about Steve Urkel's antics and the Winslows' reaction to them. Much of the cast didn't like it. What had been their show had been taken from them and given to some kid out of nowhere.
The 'Family Matters' Cast Didn't Get Along With Jaleel White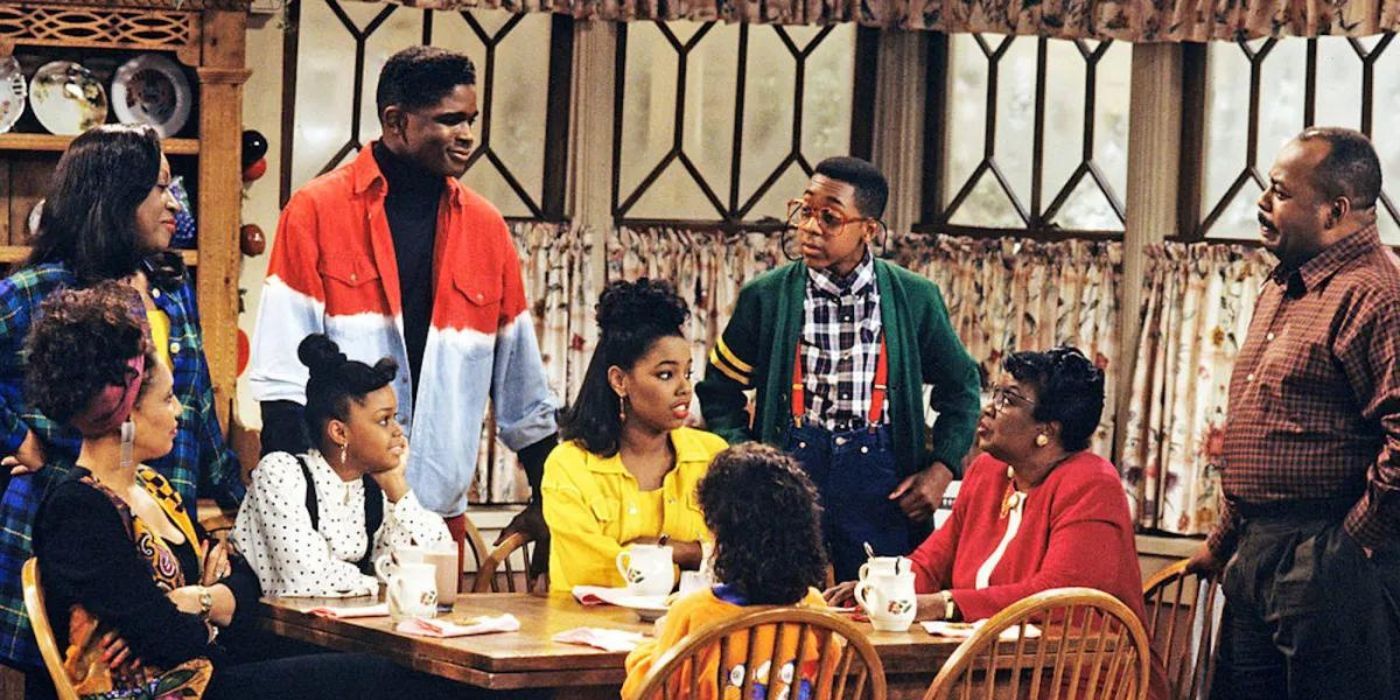 In a 2021 interview for TVOne, Jaleel White spoke about some of the difficulties he faced on Family Matters.
"I didn't see how I was stepping on anybody's toes, I was taking anybody's shine. It's very important that I say this: I was not very well welcomed to the cast at all, okay? And I don't need to rehash that with the adults over and over again. They know what it is… It was what it was. They knew more than I did about the business… at that age. They understood how the dynamic was changing. But I do think they do deserve credit at times for having helped foster a more harmonious environment by season 3, by season 4, by season 5. And we did become very much a family."
Reginald VelJohnson talked with Entertainment Tonight last year about Jaleel White, telling them:
"He was a wonderful kid, [but] I think working with him was a challenge. Working with everybody was a challenge, and there were some moments where he was a little difficult. But overall, I have nothing but good memories from him… I think, you know, a lot of the kids grew up on the set and we had to deal with children… and that was an interesting experience, dealing with children as they grew up. I went to my dressing room and locked the door when I [rehearsed] my scenes because that was the only way. Because kids have a lot of energy… [and] you couldn't deal with it. I remember one incident, he [and] the kids were playing basketball on the set, and I just couldn't take it. I said, 'Please, please stop the basketball!' And they wouldn't stop. I said, 'Listen, you either stop the basketball playing or I'm gonna leave.' And I left. But there was no more basketball after that."
While VelJohnson admitted that there were issues with White, he didn't go into great detail. There have been rumors over the years that the increasing fame went to White's head, making him hard to work with. For White, it went even deeper. In his same TVOne interview, he brought up an uncomfortable exchange he had with the mother and father of Family Matters when he began playing the character of Myrtle Urkel, a Southern belle girl with big dresses and pigtails. She would appear off and on through the series' run, starting in Season 2 when White was just 14. He talked about what happened the first time he played Myrtle:
"I did run into an issue. Jo Marie and Reggie at that time were very sensitive to putting Black men in dresses. And they heaped that on me, and they let me know I was not doing our race a service by putting on that yellow dress. But everybody has a default. Do you crumble? Do you wilt under pressure? Do you rise? Do you surprise yourself? My default tends to be to take it up a notch. That evening I felt like a girl… playing Myrtle Urkel. But I cried like a baby at the end of that take. I just broke."
White remembers his father also having to step in, with White paraphrasing his father saying, "He shouldn't have to carry the burden of some adults making a child feel bad for playing a girl just in fun."
Jo Marie Payton — who would eventually leave the show in its final season, partly due to frustration with the decision to write off Foxworth's Judy to make more room for Urkel — has spoken out on her issues with White as well. On E!'s True Hollywood Story, Payton talked about her reaction to finding out that the show was going to be more about Steve Urkel.
"And we said 'Okay.' We weren't happy about it. I think along the way it got to be a little resentful but it was just an adjustment that we had to make."
Payton went into more detail with an Entertainment Tonight interview when she told a shocking story about how Jaleel White, who was 22 at the time, tried to fight her during Season 9.
"There was one time he actually wanted to physically fight me. [There was a scene where] I said we can't do that, standards and practices will not let that pass, it's not gonna happen. He wanted to do it anyway… He was so mad, he started kicking and screaming and stuff. He said something about, 'She must want to melee.' I said, 'What's a melee?' He said, 'a fight.' I turned around — if he wanna fight, I would. . . Darius [McCrary] grabbed me. I was gonna whip his behind."
Despite the drama the cast felt with White over the years, they made up in the end. They've even gathered for reunions from time to time, including in 2017, again for Entertainment Tonight, when Payton talked about a recent exchange she had with White.
"Jaleel and I were talking just a little while ago and he said, 'You know, we can do this.' And I said, 'If they dropped a script at our feet when we walked out of here, we would come back in tomorrow, and the next day we'd have a show shot."
While a reunion show has yet to happen, in this age of nostalgia, where so many shows from the past have come back for one more run, a Family Matters comeback isn't out of the realm of possibility. With Reginald VelJohnson on our TVs right now as "TV Dad" for the Progressive commercials, we're part of the way there already.
Denial of responsibility! TechCodex is an automatic aggregator of the all world's media. In each content, the hyperlink to the primary source is specified. All trademarks belong to their rightful owners, and all materials to their authors. For any complaint, please reach us at – 

[email protected]

. We will take necessary action within 24 hours.