The Big Picture
Billie Jenkins was brought into the show Charmed in Season 8 to lighten the load on the main stars and infuse fresh energy into an aging show.
Billie's character became an antagonist as she was manipulated by her older sister Christy and the Triad to turn against the Halliwell sisters.
Billie's tragic ending, where she kills her own sister, was thoughtless and undeserved, as she was a young and eager witch in need of guidance and family.
Throughout all eight seasons of the original Charmed, the Halliwell sisters — Prue (Shannen Doherty), Piper (Holly Marie Combs), Phoebe (Alyssa Milano), and Paige (Rose McGowan) — were assisted by many friendly faces. Most notable, of course, are Piper's husband and neighborhood Whitelighter Leo Wyatt (Brian Krause) and Inspector Darryl Morris (Dorian Gregory), the latter of whom used his position to cover up many of the Halliwells' magical antics around San Francisco. But, to step into the Charmed Ones' lives meant opening yourself up to danger, as we see very early on with Prue's longtime love Andy (Ted King) dying at the end of the first season. While many of the Charmed characters met a brutal and tragic fate over the seasons, there were explanations (such as pushing the story forward or actors choosing to leave). But one character in particular, Billie Jenkins (Kaley Cuoco), had a terrible, undeserved, and quite haunting ending for seemingly no reason whatsoever.
Charmed (1998)
Three Halliwell sisters discover that they are descendants of a line of good female witches and are destined to fight against the forces of evil, using their combined power of witchcraft known as the "Power of Three."
Release Date

October 7, 1998

Cast

Holly Marie Combs, Alyssa Milano, Rose McGowan, Shannen Doherty

Genres

Drama, Fantasy, Horror

Rating

TV-14

Seasons

8
Billie Jenkins Joined 'Charmed' in Season 8
Behind the scenes, as showrunner Brad Kern later revealed to TV Line, Kaley Cuoco was brought in "to lighten the load, screen-time wise, of Alyssa, Holly and Rose. [They] needed to give someone else some of the work; [the] stars were dog tired after seven years. Just as Rose was brought in after Prue died to infuse fresh energy, Kaley's character was supposed to try to bring new blood to an aging show." In the same interview, he also shot down rumors that Billie was brought in to set up a spin-off, though confirmed there were talks of it after the fact.
In the show, after the Charmed Ones fake their deaths in the Season 7 finale, which saw them facing off against the supposedly unvanquishable Zankou (Oded Fehr), Charmed Season 8 began with them living under new, magically-created identities — "cousins" of the Halliwells. However, while Piper and Phoebe were somewhat easily able to move on from their witchy duties, Paige's Whitelighter side made it clear almost instantly that she could not. A strange ringing in her ear, explained to her by Leo as a Charge calling for her help, led her to a witch in a bad, black wig and skin-tight leather sloppily fighting demons around the city (and had no idea she was calling for her Whitelighter's help). That witch, as we would come to learn, was Billie Jenkins, who had just started classes at college and discovered her powers, quickly learning everything she could about the craft. In exchange for training Billie on all things Wicca, she would take up their demon-hunting duties to allow them to continue faking their deaths, and later, after the Halliwells revealed themselves to the world once more, to allow them to continue trying to lead normal lives.
Billie Is One of the Charmed Ones' Final Threats
After the Charmed Ones begin to tackle vanquishing on their own again, Charmed Season 8 switches gears a little with Billie as she starts investigating her older sister's disappearance. When Christy was seven and Billie was only five, Christy was kidnapped by a demon. As such, there were no leads for the police to follow and their parents subsequently shut down any talk of Christy. When Billie finds a now-adult Christy (Marnette Patterson), their bond grows as Christy begins to try to separate Billie from the Charmed Ones' influence. As we later learn, Christy's disappearance was masterminded by the infamous Triad, who knew that the sisters would become the "Ultimate Power," the only hope for defeating the legendary Charmed Ones.
As Christy was brainwashed by demons for most of her life, unable to see the lies they were telling, she began to manipulate Billie and turn her against the Halliwells. (Of course, her methods didn't exactly prove the Charmed Ones needed to be stopped as Billie eventually comes to hesitantly believe, but not enough consideration is given by fans to Billie's state of mind and how open she was to her older sister's manipulation, especially considering her upbringing after Christy's disappearance.) Paired with the demonic Dumain (Anthony Cistaro), the sisters' so-called imaginary friend, the two turned Billie and the final season built to the major battle between the Charmed Ones and the Ultimate Power.
However, the fight did not go as either set of sisters planned — though it went almost exactly as the demons who arranged it had. Only Piper and Billie survived, stumbling through the wreckage of the manor. But, using their respective methods, both went back in time to save their sisters. Piper successfully saved Phoebe and Paige. On the other hand, Billie was unable to convince Christy that her vendetta against the Halliwells was wrong, a result of the Triad's manipulation of her. Instead, Christy used her pyrokinesis to launch a giant ball of fire at Billie and the Halliwells, which Billie shot back at Christy. Thus, Christy died, the final battle had been won, and Billie was left to live forever with the guilt of killing her older sister.
Why Billie Deserved a Better Ending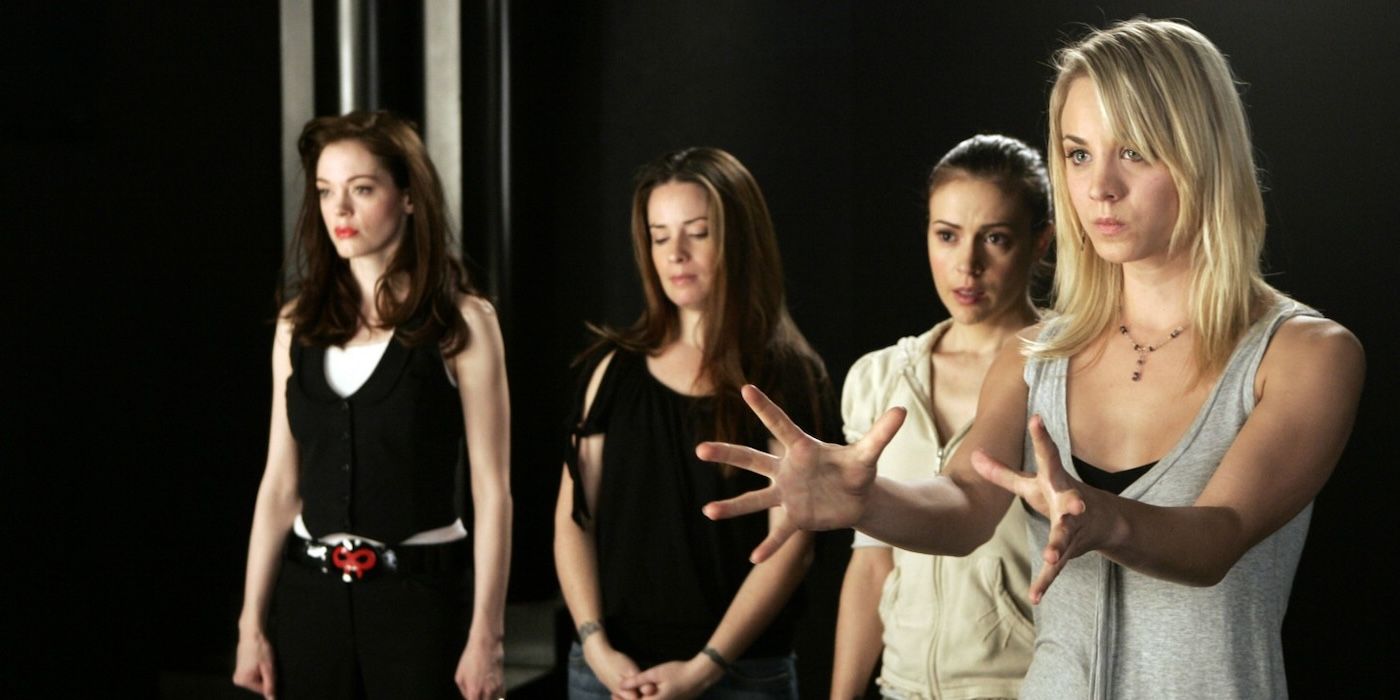 After Christy's death, the only glimpse we get of Billie is a shot of her with Phoebe's kids in a montage of the sisters' respective futures. Killing Christy, and being left sobbing and overwhelmed with grief as the Halliwell sisters return from the past, is her final act on Charmed. While there are understandably some conflicting feelings surrounding Billie, given her actions throughout her one and only season of the show, nothing she did warranted such a horrible ending. Billie was a young, eager, enthusiastic witch, desperate for some guidance and family after being neglected by her parents for much of her childhood. At first, she tried to find it with the Halliwells and did so in a way. But, her relationship with Christy was understandably more important to her; given their dynamic growing up, with Christy being Billie's protector, Billie was easily put under Christy's spell (not literally) as she convinced Billie the Charmed Ones were selfish and needed to be stopped.
Billie deserved consequences for turning on the Halliwells, sure, but killing her own sister? Given the significance of sisterhood on the show, this feels like a decision without much thought being put into it. That's something Billie would never truly recover from, nor would she consider in the first place. Could you imagine Piper or Phoebe being forced to do something like this to Paige, even back in Season 4 when they first discover their long-lost sister? Absolutely not. Even the one time when Piper is forced to choose between them, in "Y Tu Mummy También" (Season 5, Episode 10), she doesn't because she can't.
Ultimately, Christy's death isn't the problem. The problem is Billie is the one to kill Christy and this is her final act in the series. She was a fun character who brought back the freshness of both Charmed Season 1 and Season 4, as Phoebe and Paige, respectively, had a great deal of fun while learning the craft. She became an integral part of the story, which is why the sisters facing off against each other worked and provided some compelling storytelling. At the very least, the arc with Christy should have had a different conclusion. The Halliwells could have killed her, or she could have been killed by Dumain as she turned her back on the Triad. Better yet, she could have even survived as she was a victim who needed help. The planned, but scrapped spin-off about Billie and Christy would have been an even better ending had it moved forward, differing enough from the original series while still relying on what made it so great: sisterhood. In short, Billie (and even Christy) deserved better than this thoughtless, tragic ending.
Every episode of Charmed is streaming on Peacock.
Denial of responsibility! TechCodex is an automatic aggregator of the all world's media. In each content, the hyperlink to the primary source is specified. All trademarks belong to their rightful owners, and all materials to their authors. For any complaint, please reach us at – 

[email protected]

. We will take necessary action within 24 hours.