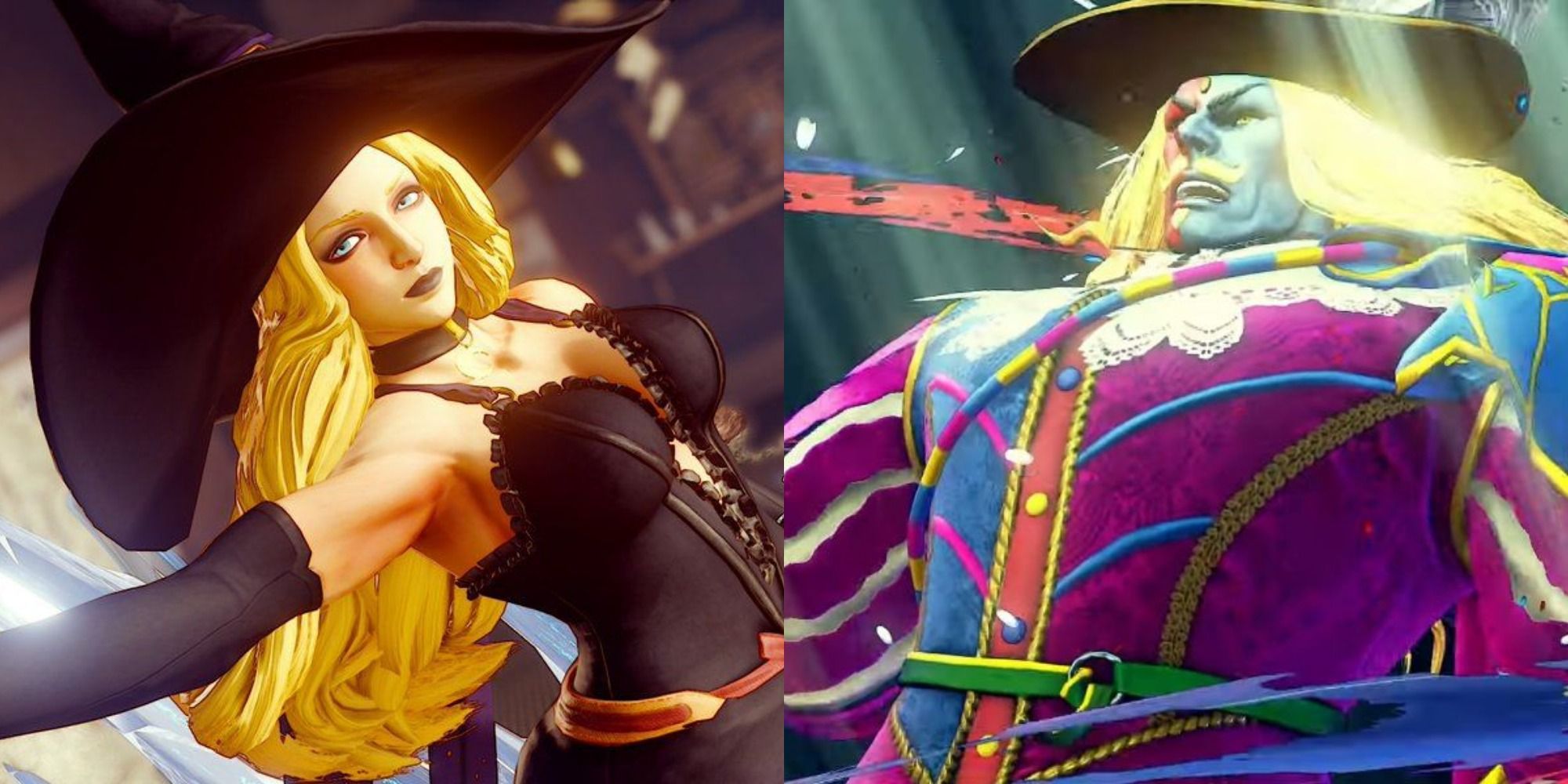 The 10 Best Alternate Costumes, Ranked
The fifth and latest entry in the legendary Street Fighter franchise is a game with an exceptionally diverse cast of characters, all with different personalities, playstyles, and appearances. With more than 40 characters and counting, there's something for every type of player.
RELATED: Street Fighter (1994): 10 Things That Make Absolutely No Sense About The Movie
Gamers also have the option to customize the look of their chosen characters through dozens of different alternate costumes, which range from fanservice heavy to outlandish, ornate, and also hilarious. With such a wide selection of costumes available, it can be difficult to pick a favorite, but this helpful list will distill some of the best choices available to make the decision process smoother.
10

Mech Abigail
Abigail is without a doubt the tallest character in the game, and he takes up an impressive amount of the screen simply by existing with his outrageously large body. His stature combined with his playstyle, which requires him to close into grab range for maximum damage, makes him an imposing presence in Street Fighter V.
With all that in mind, turning him into a giant robot makes a good degree of sense. Abigail owns an in-universe mechanic's shop as well, so it isn't hard to imagine that he might have constructed a suit of mechanical power armor for himself.
9

Special Forces Chun-Li
Chun-Li is one of Street Fighter's most iconic characters, and as such she has an enormous array of costumes to pick from in Street Fighter V which can make it hard to select a favorite. When choosing a costume, however, it's important to consider what the outfit conveys to the audience about a character's personality.
Despite Chun-Li's day job being an Interpol agent, most of her costumes have her looking more like a kung fu warrior than a cop. That's why it's nice to see the special forces costume in the selection, reminding Street Fighter fans that Chun-Li has seen an impressive amount of action over the years.
8

Gutsman Balrog
The classic Mega Man series is one of Capcom's oldest and most respected franchises, so it's great to see it getting some love in the form of Balrog's Gutsman costume. Gutsman was one of the robot masters Mega Man was tasked with defeating in the original Mega Man, but his super strength makes the fight a tough one.
RELATED: 10 Things You Never Knew About The Street Fighter II Animated Movie
Gutsman and Balrog also seem to have a lot in common. They both appear to have a predisposition towards punching things, which is especially appropriate for Balrog, given that he's a boxer.
7

Story Blanka
There's not really much to say about this one, as it quite evidently speaks for itself. If a player can't immediately see the appeal of Blanka's hilarious story costume, then it calls into question their judgment when it comes to picking costumes in general.
Blanka's whole schtick has always been that despite his fearsome appearance, he really is a nice guy on the inside. His story costume reflects this well; it keeps the elements of Blanka's design that make him iconic but also softens him up a bit to appear friendlier.
6

Story Rose
Rose is the Street Fighter series' pre-eminent fortune teller and a master of the mystic arts. Her fighting style is as elegant as it is overwhelming, and her outfits have typically reflected that in the past. Her standard costume includes an iconic scarf, which adds a floaty grace to every attack.
RELATED: But For Me, It Was Tuesday: 10 Of The Best Quotes From The Street Fighter Movie
Rose's story costume is a perfect encapsulation of everything that makes the character so cool. It exudes the refined grace that a master fortune teller ought to have, and the more ornate approach to the outfit really does wonders to give the audience a sense of her personality.
5

CPT 2020 Gill
Gill is a fearsome fighter of nearly godlike power and is a villain with a serious claim to fame as one of the Street Fighter series' most powerful antagonists. This is further evidenced by the fact that he looks absolutely outstanding with a villainous goatee and an overall lavish outfit.
With this costume, Gill looks like he wouldn't be out of place in a period-specific Shakespeare adaptation, or as a guy who would attempt to thwart the ambitions of a princess from a Disney movie. Regardless, this is a great costume for players who want to have a little fun with Gill's appearance.
4

Arthur Ryu
Capcom's old-school side-scrolling platformer Ghosts n' Goblins features a lone night named Arthur challenging a seemingly impossible onslaught of ghosts, goblins, and other malevolent creatures. The series has a reputation as being punishingly difficult, testing the nerves and patience of any gamer who dares to challenge it.
RELATED: Street Fighter: 5 DC Heroes Ryu Could Defeat (& 5 He'd Lose To)
Aside from the fact that it's always nice to see a nod to Ghosts n' Goblins, one of the things that makes this costume work for Ryu is his tendency to tirelessly pursue his goals against all odds, which makes him a little bit like Arthur. It's also nice to see Ryu in a knight costume — something about that just seems to work.
3

Story Dan
Dan is Street Fighter's most beloved joke character. He was developed to be a parody of certain characters from SNK's various fighting game franchises, as a friendly jab at the competition from Capcom. Dan believes himself to be among the strongest fighters in the series, despite not having been trained in anything resembling a reputable fighting style.
Dan's patently ridiculous story costume is therefore perfect. Dan is a guy who demands to be taken seriously despite everything, so seeing him earnestly challenge some of the strongest warriors of the series in such a goofy outfit is more than appropriate.
2

Halloween Kolin
Kolin is a fighter with an icy demeanor, and that's meant in the most literal sense possible. She has a no-holds-barred fighting style, breaking down her opponent's defenses with a barrage of difficult-to-predict ice attacks and jabs. Ice puns aside, Kolin really does have a frosty demeanor that's conveyed through her appearance and gameplay.
Suffice to say that the witch-themed costume she got for Halloween suits her well, and it's one of the costumes you see Kolins wearing online most frequently. It might be a little harder to make ice jokes when she's dressed like a witch, but the sheer stylishness of the costume makes up for that downside.
1

CPT 2021 G
It's hard to say if hippie G is a theme that anyone saw coming, but the far more important question at hand is why does it work so well? Perhaps as the self-proclaimed "president of the world," G wanted to get in touch with his constituents and decided to take up the spirit of the '60s.
The huge variation across color choices make this costume great as well, and they totally change up G's look depending on which a player decides on. This is also a great costume for mind games since nobody expects to be beaten down by an aging hippie.
NEXT: Street Fighter V: 5 Advanced Tips & Tricks the Pros Use

Next
10 Things You Didn't Know About Skyrim's Argonians

About The Author
Denial of responsibility!
TechCodex is an automatic aggregator of the all world's media. In each content, the hyperlink to the primary source is specified. All trademarks belong to their rightful owners, all materials to their authors. If you are the owner of the content and do not want us to publish your materials, please contact us by
email –

[email protected]
. The content will be deleted within 24 hours.