When I first encountered the WH-1000XM3 back in 2019, I didn't have any preconceived notions about their greatness, but I walked away imminently impressed. Here were headphones that somehow managed to impact me emotionally via their rendering of songs I've enjoyed for 20 years, while delivering class-leading app functionality and features so robust and complex they felt as much like an addition to my smartphone as they did my ears. The fact that they did all this in a form factor sleek and lightweight enough to forget I was wearing them at times put the 1000XM3 on an entirely new plane.
So when the new XM4 showed up from Sony, I felt a mix of excitement and consternation. Could they live up to their predecessors?
To be sure, Sony has not reinvented the wheel with the 1000XM4 (the fourth version of this mighty model), but in my estimation so far, the company managed to keep everything that was great about the previous version while adding feature flourishes and software shuffles that make them highly worthy of their price tag. If you want the most polished consumer headphone options on the market in 2020, you owe it to your ears to check these out.
Editor's note: This is a first impressions review of the Sony WH-1000XM4 after about 24 hours of use. Check back in around a week for the full review update, as well as additional information about functionality and features.
About the Sony WH-1000XM4
New for summer of 2020, Sony's WH-1000XM4 now occupy the tippy-top spot in the company's rather vast lineup of consumer headphones. For their asking price of just shy of $350, you're getting wireless over-ear headphones with incredible sound, advanced features, and some of the best noise-canceling tech in the business.
Here are the specs at a glance:
Cost: $349.99 MSRP
Colors: Black, Silver
Style: Over-ear
Noise-canceling: Adaptive Noise Canceling (with dual sensors) via QN1 chip
Battery life: ~30 hours
Audio/BT codecs: DSEE HX/DSEE Extreme, LDAC, AAC
Frequency response: 4Hz – 40kHz
Passive operation: Yes (3.5mm cable included)
Essentially, Sony has taken the already flexible XM3 model and made it even more flexible with this year's XM4. There are a handful of new or improved features and functionality that combine to make for a seamless wireless experience over Bluetooth, and cancel oodles of noise no matter what you're doing.
After complaining last year that the (at the time) pricy XM3 didn't include a 3.5mm audio cable, there's one in the box this year (I'm not taking credit for the inclusion, but you never know). Here's everything you're getting for your $350:
The WH-1000XM4 headphones
A hardshell carrying case
A (still very short) USB-C charging cable
A 3.5mm analog connection cable
An airplane adapter
This is just about everything most people need. Am I being greedy for hoping that a 3.5-to-1/4″ adapter is included with the XM5? Maybe—but some of us musicians would like to plug these into a digital audio interface, Sony!
Initial impressions
Can I just wear them forever?
It's been around a year since I reviewed the XM3 model that debuted in 2019, and I still look back on them fondly from time to time, especially when testing heavier, less comfortable headphones. With little change in design, the XM4 are just as comfortable and plush, if not even more so. I started using them (following the app installation and software updating) last night, and have continued to wear them this morning while I write this out—and I really don't want to take them off.
One major reason these are so pleasurable to slip over your ears is the efficacy of the noise-canceling—but more on that shortly. Even without music playing or noise-canceling engaged, the WH-1000XM4 are a dream for my ears. They're light and compact for over-ear headphones, barely registering gravitational downward pressure or clamp force, yet gripping tightly enough that I can wobble my head around like a muppet and they stay put.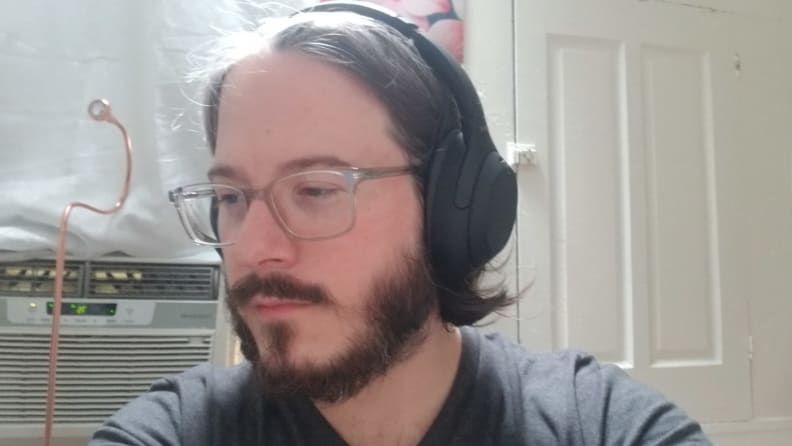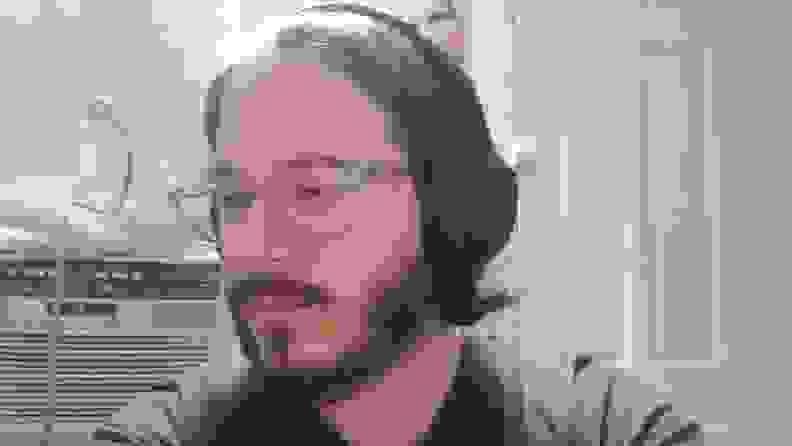 Like the previous model, the band and ear cups are well-padded, but the padding is not so heavy-duty as to incur excessive heat buildup (and I'd know—Philadelphia is steaming hot right now). The cups swivel and pivot enough to adjust to a variety of temple/jaw shapes, and though my glasses are not the thickest spectacles you could wear, they're thick enough that they sometimes don't get along with highly clampy over-ears. No problems here.
The XM4 also fold up into a compact, ball-like shape for stowing in their case or taking up minimal surface space. I'm doing my best to think of a complaint when it comes to wear—something for the more sensitive crowd to mull over—but am just drawing a blank right now. Check back in a week or so.
Controls are still flawless
If you read a lot of my reviews (I'm flattered), you're probably aware that I've a bit of a penchant for tactile, on-set buttons. One major design implementation of the XM4 (like the XM3 before them) is that they don't have many buttons at all. You've got buttons for power and multi-function (which you can program in the app) for toggling between noise-canceling and ambient sound. Otherwise, the controls are entirely tap-and-swipe.
All of that action happens on the rear of the right ear cup, and there's a bit of a learning curve if you want to use these headphones in a smooth, seamless kind of way. Double-tapping the center of the cup plays/pauses music (holding will activate voice assistants, something I haven't tried yet). A full upward swipe raises volume, while a full downward swipe lowers it. Likewise, you can skip forward/backward through tracks on an album (or playlist, if you aren't stuck in the 1970s like me) via forward/backward swipes. Just like last year, it all works without issue.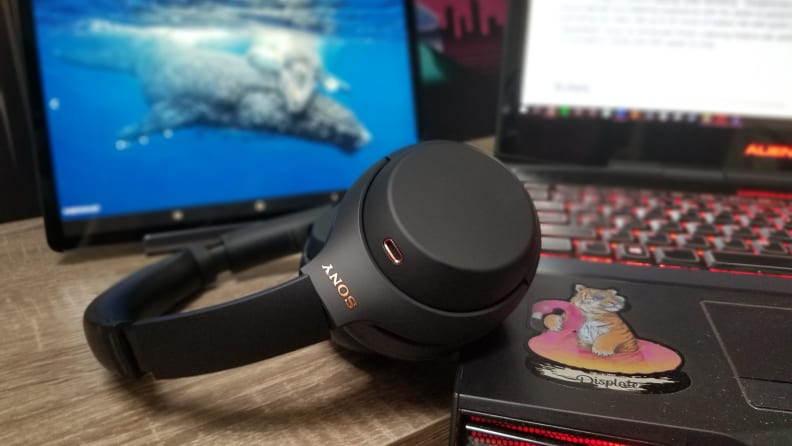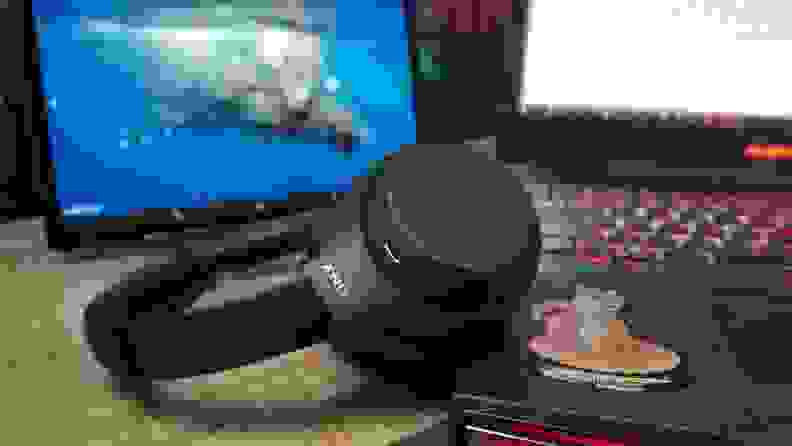 One of my favorite control metrics is the ability to quickly check your ambient surroundings by placing your fingers over the cup: music gracefully fades down, allowing you to easily have a conversation or listen to what's going on around you, while the music continues playing in the background. It's a great way to have a brief conversation or listen to a loudspeaker announcement at the airport without full-on stopping whatever music or podcast you're listening to. When you lift your fingers away, the audio climbs back to full volume.
However, Sony has a new feature this year that iterates on that functionality in an intelligent way. It's called "Speak-to-Chat," and can be toggled in the Sony Headphones Connect app. At first, I was dubious about how well this would work. Cue me shouting "Hello?" and the music failing to stop. However, after I paused what was playing (which was admittedly really loud), the headphones seemed to learn to hear/recognize my voice.
Whenever I speak, a chime plays and whatever's playing pauses automatically.
Now, whenever I speak, a chime plays and sound pauses automatically. It's one of the best ways I've seen to get around that awkward situation where you're fumbling with your phone, trying to pause music because someone has started talking to you despite the obvious headphones on your head. If the headphones don't hear you talk for a few seconds, music automatically resumes. It's simple, but also kind of awesome.
Naturally, the audio quality is still top notch
While most of what's new with the XM4 can be found in its software or more highly-tuned external microphones, you wouldn't want to buy headphones with poor audio quality, even if they had the best noise-canceling in the business (which, ahem, these do).
Fortunately, the XM4 sound as awesome as expected. I've spent the last of many hours listening to a bunch of my favorite stuff—70s prog rock, dream pop, classical music, lo-fi beats, and so on—and all of it sounds great. Admittedly, I'm probably more prone to fiddling with the app's suite of EQ options than the average person. I very much enjoy the distinct presets that Sony has designed for various equalization aims: "Relaxed" for low-key stuff, "Bright" for more exciting music, and so on.
It's easy to find an "ideal" setting for all kinds of music, in my experience so far. The flat, standard frequency response is is not "flat" from a studio mixing perspective—there's pretty decent emphasis on bass and midtones. However, nothing's ever muddy or masked. I tend to listen to albums that were not mixed to today's peerless and computerized standards (we're talking tape reel transplants on some of these), so if headphones don't give the frequency range proper due, it's usually very audible as you end up with too much mellotron. And if there's one thing nobody wants, it's too much mellotron.
The XM4 seem particularly well-tuned to avoid excessive sibilance.
While we haven't confirmed this in the lab yet, I can say from my time listening that the XM4 seem particularly well-tuned to avoid excessive sibilance—the uncomfortable hiss that can sometimes plague treble frequencies. Even on the very treble-forward "Bright" EQ at almost maximum volume, cymbals don't make me wince or recoil. Bass hums warmly in the background against overdriven guitars and warbling drawbar organ, everything cohesive and preserved in the aural space. In short: I really, really love listening to these.
Great Bluetooth and app functionality
One of my favorite things about Sony's top-tier headphones is how well implemented their Bluetooth functionality is. The connection made between the Sony Headphones Connect app and the headphones seems nigh unbreakable. I can leave my smartphone on one end of my apartment and go all the way to the other side (probably close to 40 feet) without so much as a single stutter in music playback. I wish that was the case with most Bluetooth headphones, but plenty of them still struggle with such range.
One new feature that folks may find really useful—especially in the Zoom/work-from-home era—is the ability to connect to two devices at the same time over Bluetooth. If you have two devices you want to use in succession, you can pair with both of them, and accessing their audio is as simple as playing music (or initiating an app or program with some element of playback) on one or the other. The LDAC codec is disabled during this feature, meaning you won't be able to stream high-resolution audio from two devices, but it works just fine for something like Spotify.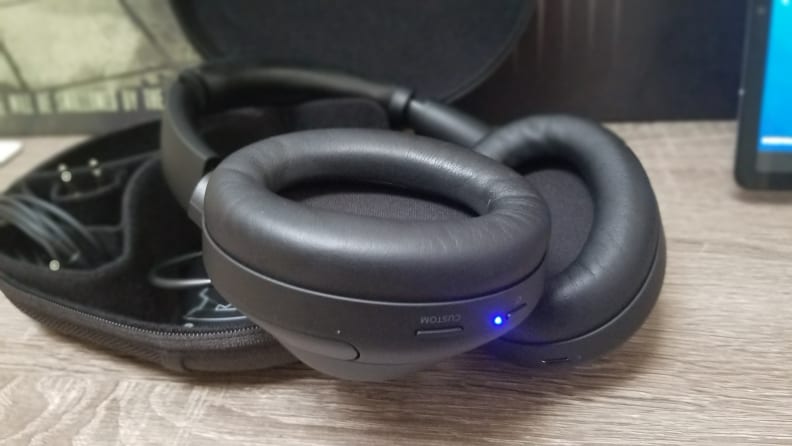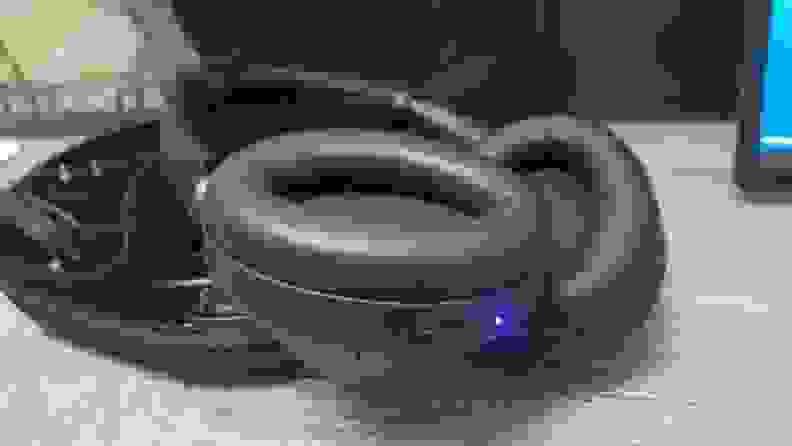 Like almost everything about these headphones, implementing simultaneous pairing is done in the Sony Headphones Connect app. In fact, the app is your gateway to such a range of features and functions that using these headphones without it would be akin to only listening to one side at a time.
There's a learning curve here, and some of the XM4's features may make novice users balk. Around the Reviewed office, we often joke good-naturedly about Sony's penchant for software complexity, especially when it comes to the company's TVs (where multiple picture modes are available across multiple "scenes") and game consoles (I can't wait to see how HDR/8K optimization is handled on the PS5). Well, the XM4 fall into that camp.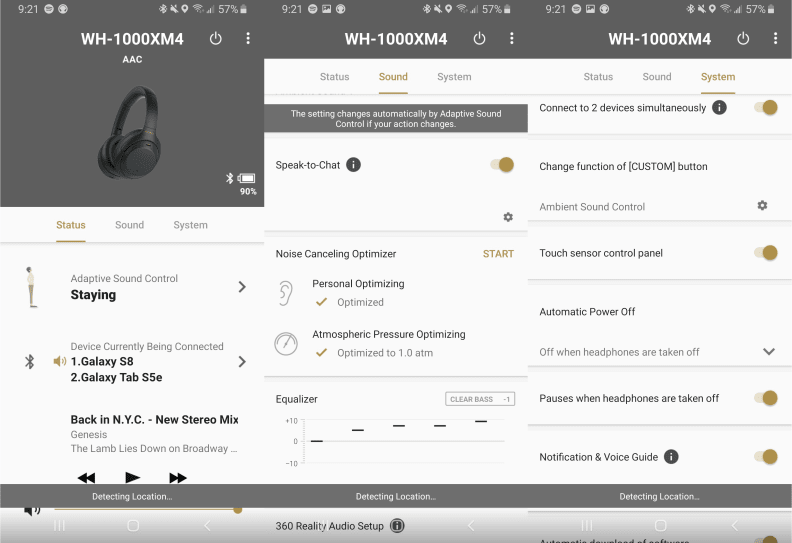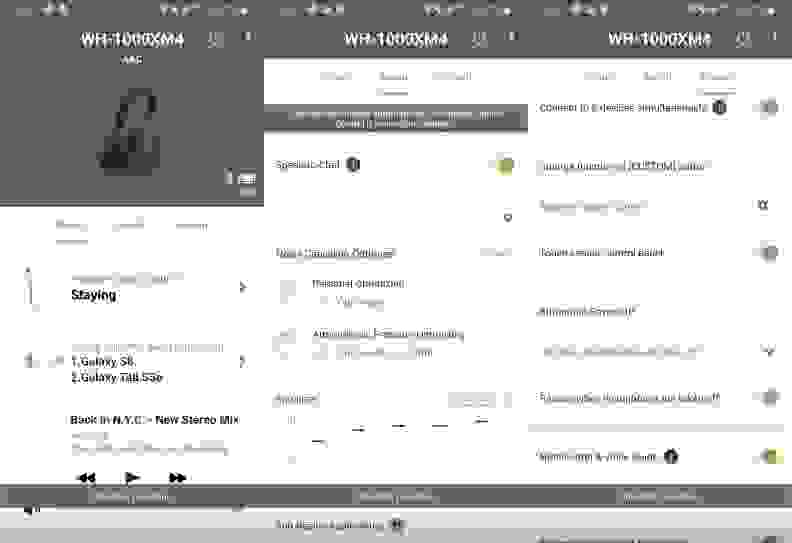 Upon opening up the app, you'll be prompted to connect with your XM4 headphones. On the Status tab, you can check your battery life, the status of Adaptive Sound Control (a noise-canceling function that adjusts to what it guesses you are doing—mine says "Writing too much"), which device (or devices) you're currently connected to, what music or podcast is currently playing (with OTT track selection and pause functionality for exterior apps), and the current volume level.
On the Sound tab, you can toggle Ambient Sound Control settings (on/off, amount of canceled noise), Speak-to-Chat, and run settings for the Noise Canceling Optimizer, which you can optimize for your ears whenever you like, as well as measuring atmospheric pressure—particularly good for flights. This is also where you'll find the Equalizer settings, which allow you to select from flat (no EQ), a number of your own custom settings, and Sony's distinct presets, including "Bright," "Excited," "Mellow," and so on.
This is also where you'll find another touted feature (which also now works with Sony's 1000XM3)—360 Reality Audio. To fully integrate it, you'll need additional apps, not to mention the downright silliest thing these headphones offer: take and upload photos of your own ears. I haven't had time to fully try this feature yet, but check back in a week or so for more information on how well it works.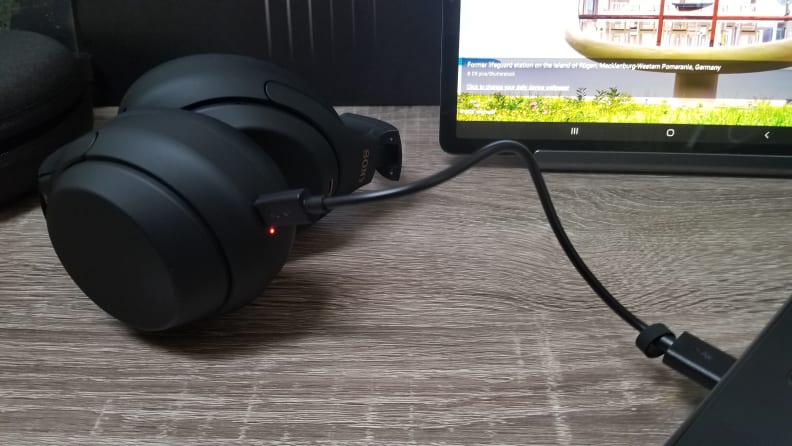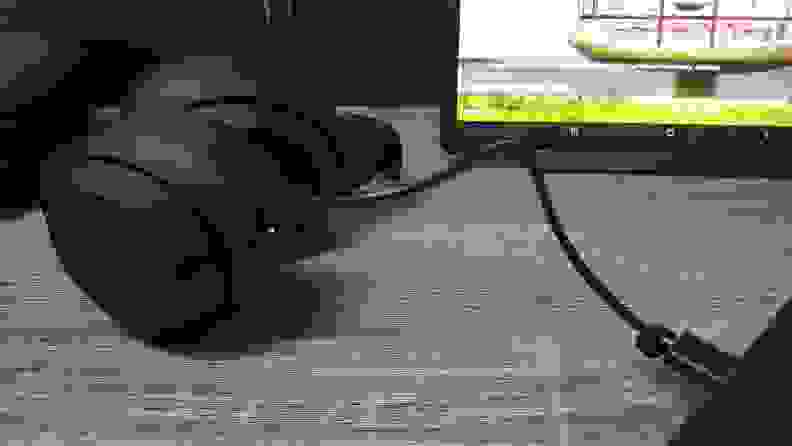 And there's more, too. Like I said, there's a learning curve. You could probably spend hours tweaking different functions, trying out whether you like them, optimizing the way you use the XM4 depending on whether you're at home, commuting on a noisey bus, or flying somewhere (someday). While such advanced features and noise-canceling functions might not seem as necessary in this time of pandemic lockdown, they'll make themselves useful eventually, and the noise-canceling is just as handy for working from home.
May I interest anyone in an anechoic chamber?
Finally, let's talk about the noise canceling—one of the chief reasons to purchase these headphones. Sony is one of, if not the most successful implementer of noise canceling in headphones, alongside heavy hitters like Bose.
To really convey the efficacy of the noise cancellation, let me set the scene. My apartment in stuffy southwest Philly has been a symphony of whirring fans and window unit ACs for weeks. It gets very warm and muggy here, so there's nary a moment of true silence to be found. For days and hours, we've accepted the fact that at any given moment, one or both window units would be whirring at full blast; my upstairs neighbors would be putting on another home rendition of Stomp; and my landlord would be hammering away at a pipe (or something?) in the basement below us. We are surrounded and beset by noise.
When I first put these on, even with no music playing and before any optimization, the level of anxiety-reduction was palpable—I could feel it somatically. After a moment of enjoying it, I handed them to my fiancee to try out. After putting the XM4 on her ears, she exclaimed, "Wow, I feel like I'm in a vacuum." It's easy to just accept the incessant noise when you can't really do anything about it, but it makes truly useful noise-canceling really land.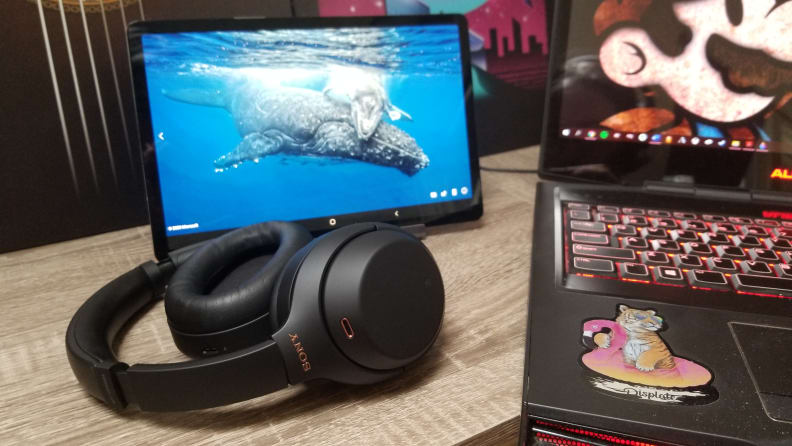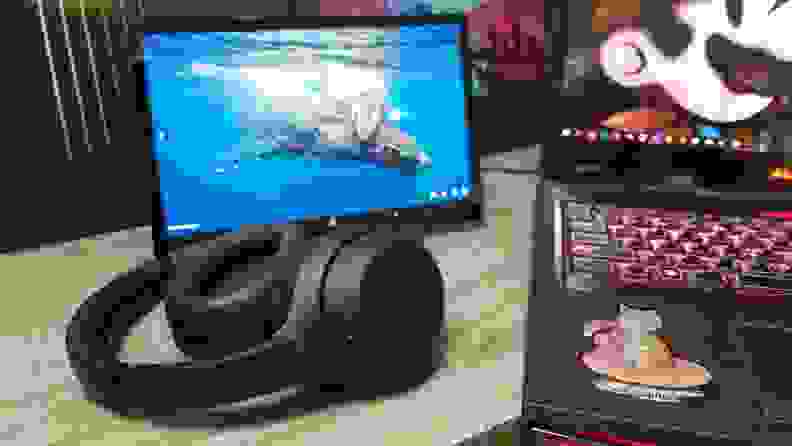 I work remotely, and my laptop is mere feet from an old, loud window AC. Just now, I took the time to re-optimize the XM4's noise cancellation, and I literally can't hear the droning mechanical wind sounds at all right now. Sure, I'm playing music loud because that's how I roll, but the fact that such ubiquitous noise is so cleanly quashed is nonetheless impressive.
I'll have more to say in a week or so when we update this review with more impressions (and possibly some cons), but for now I feel fairly confident in saying that Sony continues to deliver some of the best (if not the best) noise canceling around.
Should You Buy It?
If you can afford it—yes, absolutely
Even though we've only got a day with these headphones, this is a very easy answer. The biggest barrier for entry here is simply the price. Especially with the previous model, the WH-1000XM3, available for around $100 less, it's basically Sony competing with itself at this point.
Obviously, these headphones are magnificent in basically every area. They're comfortable for long periods, cancel noise like nobody's biz, sound amazing, and have more features than I've even had time to experiment with in the last day. If I didn't already own like six pairs of headphones, I'd probably just pre-order them right now—heck, I might anyway.
However, I'm not certain yet that I'd buy them if I already owned the XM3, which do many things with just as much panache. The new stuff you're getting with the XM4—primarily Speak-to-Chat and multi-device connection—are certainly great, but I'm not sure yet if there's enough new functionality or performance to justify a full-price upgrade from the XM3 to the XM4. If only headphone manufacturers had trade-in offers a la smartphones.
We're not sure yet if there's enough new functionality to justify an upgrade from the XM3 model.
However, if you don't own the XM3 already and have the money, I don't know if there will be a better set of wireless over-ear headphones to hit the market in 2020. I'm looking forward to fleshing out even more details over the next week, but for now, I can't think of a single reason anyone wouldn't enjoy owning these. If you're so inclined (and your ears may thank you), here's how you can pre-order the Sony WH-1000XM4, which launch in a week or two.
Pre-order the Sony WH-1000XM4 from Amazon for $349.99
Pre-order the Sony WH-1000XM4 from Best Buy for $349.99
Meet the tester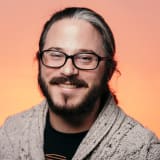 Lee Neikirk
Editor
Lee has been Reviewed's point person for most television and home theater products since 2012. Lee received Level II certification in TV calibration from the Imaging Science Foundation in 2013. As Editor of the Home Theater vertical, Lee oversees reviews of TVs, monitors, soundbars, and Bluetooth speakers. He also reviews headphones, and has a background in music performance.
See all of Lee Neikirk's reviews
Checking our work.

We use standardized and scientific testing methods to scrutinize every product and provide you with objectively accurate results. If you've found different results in your own research, email us and we'll compare notes. If it looks substantial, we'll gladly re-test a product to try and reproduce these results. After all, peer reviews are a critical part of any scientific process.
Shoot us an email
For the latest tech news and updates, Install TechCodex App, and follow us on Google News,  Facebook, and Twitter. Also, if you like our efforts, consider sharing this story with your friends, this will encourage us to bring more exciting updates for you.