Snapchat's Landmarkers Feature Finally came to India, Lens Studio 2.1 Released With New Templates
Pic Credit: Snapchat
At the Snapchat Partner Summit in Los Angeles in April this year, the company released a next level Augmented-Reality feature called the Landmarkers. 
Landmarkers is basically a set of lenses aimed to give a new life to some of the world's most famous locations. This lens works on some of the structures like the Eiffel Tower in Paris, Flatiron building in New York, and the Capitol in Washington DC, Buckingham Palace in London. Now, Snapchat has finally taken this feature to India as well. You will see the Gateway of India and Taj Mahal having a new animation with AR. 
Snapchat Landmarkers
Still wondering what Snapchat Landmarkers is? Snapchat Landmark is basically a Snapchat lens that transforms the famous monuments into animation. For instance, you can add the Indian Flag's ribbon hovering from the Gateway of India with a flower tiara at the top. You can refer to the GIF below to understand it better.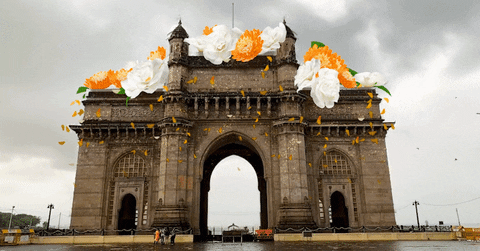 Snapchat Lens Studio 2.1
You might be thinking how actually this technology works? Well, the mechanism behind the scene is the Snapchat Lens Studio 2.1. Snapchat recently updated the Snapchat Lens Studio from version 2.0 to v2.1 adding six new templates fourteen new Landmarkers spread across the globe, including the two in India, and additional tools that support an even wider range of creators.
The new templates in Lens Studio 2.1 include:
Face In Video: Track your face onto a video.

Portrait Particles: Jazz things up with customized particles that segment behind the user's head – decorate with headers, footers, and post-effects.

Countdown: Ready, set, customize! Create Lenses that count down to specific dates and add celebratory 3D hats and glasses.

Skeletal: Track 2D images to heads, necks, shoulders, elbows, and hands to create sweet joint collaborations.

Hair color: Modify your hair color with fresh styles and tones from root to tip.

Make-up: Put your face on the easy way with AR lip gloss, blush, eyeshadow and more.
If you are going to use the Snapchat Lens Studio for the first time, you will see a tutorial as soon as you open the app for the first time. At that tutorial, you will be guided step by step to use every feature of the Lens Studio. And for existing users of the platform, Snapchat says it has added start screen content that highlights new templates and features and showcases Lenses from the community.
For the latest tech news and updates, Install TechnoCodex App and follow us on Facebook and Twitter. Also, if you like our efforts, consider sharing this story with your friends, this will encourage us to bring more exciting updates for you.