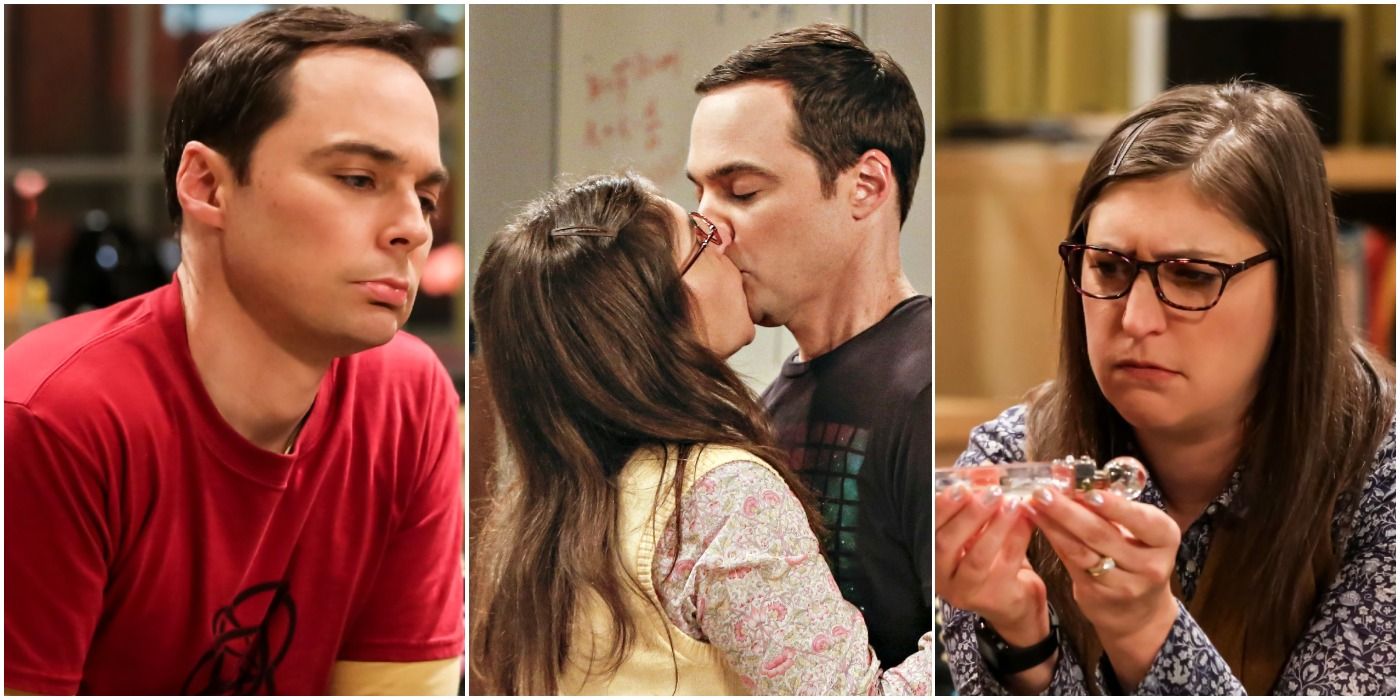 Sheldon & Amy's Relationship Timeline, Season By Season
Neither Sheldon nor Amy were looking for love when they first met – in fact, both agreed to a blind date purely to make someone else happy. However, by the end of The Big Bang Theory, Shamy was the fan-favorite couple, and both Sheldon and Amy grew immensely through their love for each other.
RELATED: The Big Bang Theory – Unnecessary Lies The Gang Told Sheldon
Seeing them move in together, get married, and start a life together was incredibly heartwarming, and while their relationship wouldn't suit many people (coming as it did with a contract and scheduled intercourse), it was perfect for Shamy. From the first season that Amy appears, to the finale of the series, here's how their love story unfolded. (seasons one and two are not included, as Amy first appears in season 3)
10

Season 3 – The First Date
Sheldon and Amy first connect in the season three finale, after Raj and Howard create a dating profile for Sheldon as a bit of a joke. However, when they end up setting up a date with Amy, they realize that they may have actually found the perfect match! The two have only a single scene together this season, but it's one that definitely sets the groundwork for their future relationship.
9

Season 4 – A Girl, A Friend, But Not A Girlfriend
It's obvious that Sheldon and Amy are phenomenally well suited for each other, but they are struggling to define their relationship in this season. Neither (at this point) want a romantic relationship, but they are clearly in something approximating that. They break up a couple of times, over silly things, with quick resolutions to their misunderstandings – and Amy starts to bond with Penny and Bernadette.
8

Season 5 – A Girl, A Friend, And An Actual Girlfriend
This season, Amy and Sheldon start out still ostensibly not dating, but all that changes when Amy goes out with Stuart from the comic book store. Turns out, Sheldon is jealous, and when he realizes that he does actually want to be in a relationship with Amy, he asks her out, and she accepts. The two then start a new stage in their relationship, one where they actually date. However, physical affection is still pretty much nonexistent at this point.
7

Season 6 – Starting To Get Serious
Amy is now an established member of the gang, and Sheldon's girlfriend, but their relationship is still a little bit unusual – and this causes some friction throughout the series.
RELATED: The Big Bang Theory – 10 Times Sheldon Should Have Been Fired
Whether it is Sheldon inviting Raj on a date or Penny and the gang using a D&D game to poke fun at the dynamic, it's clear that Amy is starting to get frustrated with the relationship that they have, and that she wants something more.
6

Season 7 – The First Kiss
After so long dating, Sheldon and Amy finally share their first kiss this season, after Amy arranges a train tour for Valentine's Day. It's an incredibly sweet moment, as Sheldon really starts to understand how much he loves and relies on Amy. She also realizes that she would be incredibly lonely without him, and it seems like all is going well. However, when Penny and Leonard get engaged, and Amy suggests that perhaps she should move in with him, he gets completely overwhelmed, and decides to run out on everyone, going on a train journey by himself.
5

Season 8 – Sheldon Says 'I Love You', & Amy Ends Things
This may be the saddest season for Shamy, as things just keep going wrong. In the beginning, things are pretty solid, and Amy and Sheldon are happy together. For a while, it also seems like things are moving forward in some amazing ways. They spend the night together (although without 'coitus', just a sleepover) because they have so much fun together. Sheldon even says 'I love you'. However, in a shocking moment at the end of the season, Amy breaks up with Sheldon, exhausted at how much work their relationship is… and Sheldon sadly reveals to the audience that he had bought an engagement ring.
4

Season 9 – Back And Forth, And Finally, Coitus
This is definitely the most tumultuous season for Shamy, as it starts with Amy breaking things off. She tries to date a little bit, culminating in Sheldon seeing her kiss another man when he turns up at her door, intending to apologize and propose.
RELATED: The Big Bang Theory – Leonard & Sheldon's Friendship Timeline, Season By Season
Later, they manage to become friends again, but when Amy then wants to get back together, Sheldon is the one to turn it down, upset at how hard things were to get past. In the end, though, the two do reconcile, and manage to become better than ever. They even, for Amy's birthday, finally get physical – starting their 'once a year' dynamic.
3

Season 10 – Moving In And A Proposal
This season, Amy and Sheldon take some major steps forward. First, they end up moving in together when Amy's apartment floods, and she needs a place to stay. They decide to move into Penny's apartment (with Penny and Leonard living in the apartment across the hall) as an 'experiment'. In the end, it's a successful one. However, Amy ends up leaving when she gets a summer program opportunity at Princeton – and worries that it may cause issues. She shouldn't worry, though, as Sheldon ends up flying out to her after Ramona kissed him – and he proposes on the spot.
2

Season 11 – A Shamy Wedding
This season is all about the engagement and the wedding, as it starts with Amy accepting Sheldon's proposal, and ends with their wedding day. Of course, the engagement and the wedding are truly unique, and definitely fit the two of them! It's an incredible season for the two, though, especially because they are both so wholeheartedly happy to be marrying each other – and to be working together, too.
1

Season 12 – Bow Ties And Nobel Prizes
In the season 11 finale, Sheldon and Amy are distracted on their wedding day thanks to a breakthrough with the project they are working on together – and this season sees them publish a paper, deal with people attempting to steal credit, winning a Nobel Prize, and on top of it all, figuring out how to be married to each other. In the end, though, it's clear that Sheldon and Amy are pretty perfect for each other, and they couldn't be a cuter couple.
NEXT: The Big Bang Theory – 10 Things Fans Missed In The Theme Song

Next
Seinfeld: The 10 Best Jerry & Elaine Scenes

About The Author
Denial of responsibility!
TechCodex is an automatic aggregator of the all world's media. In each content, the hyperlink to the primary source is specified. All trademarks belong to their rightful owners, all materials to their authors. If you are the owner of the content and do not want us to publish your materials, please contact us by
email –

[email protected]
. The content will be deleted within 24 hours.