No one in Hollywood was bigger in the 1980s than Michael J. Fox. In the same decade, he was the biggest TV star, thanks to his Emmy award-winning turn as Alex P. Keaton on Family Ties, and then the biggest movie star, after Back to the Future and its sequels became pop culture phenomenons. With his boyish good looks, his humble personality, and how nice he was to everyone, it was impossible to not root for Fox.
He had everything going for him when his personal life took a sudden turn. In 1991, at just the age of 29, Fox was diagnosed with Parkinson's disease. He kept working, knowing his career now had an expiration date, but refusing to let the news ruin his life. In 1998, Fox was the star of another hit TV series, Spin City, when, with his Parkinson's symptoms becoming worse, he announced to the world his disease. Fox retired shortly after, but a decade later he returned. He had a plethora of mostly TV roles, but one, a single episode part on Curb Your Enthusiasm, took Fox somewhere he hadn't been. Larry David wanted to take Fox's Parkinson's and use it as a source of comedy.
Larry David Convinced Michael J. Fox To Act on 'Curb Your Enthusiasm'
In his 2002 memoir, Lucky Man, Michael J. Fox wrote about how a doctor told him he could work for the next ten years before his Parkinson's symptoms got too bad. Fox took this to heart, making himself a busy man in the '90s with roles in films like Life With Mikey, The American President, and The Frighteners. In 2000, Fox stepped away from acting and faced retirement. He did voice the titular mouse in the Stuart Little films, but he spent the early 2000s focusing on Parkinson's activism and his family. In his 2020 memoir, No Time Like the Future: An Optimist Considers Mortality, Fox wrote about how his Parkinson's disease during this time was more tolerable than he thought it would be. With the right medication, he was able to handle it, so he decided to get back into acting.
In the 2000s and 2010, Fox appeared on several TV series, including Scrubs, Boston Legal, and Rescue Me, as well as a long run on The Good Wife. Fox could no longer hide his Parkinson's symptoms, so any character he played had to have the disease. It was never exploited for a joke, but Fox, Hollywood's nice guy, didn't always play someone so lovable. Then came a call in 2011 from Larry David, the man who co-created Seinfeld and now had his own hit HBO series, Curb Your Enthusiasm. David suggested using Parkinson's as something that could produce laughs. Larry pitched an idea that Fox thought could be hilarious, though also possibly seen as offensive.
RELATED: 'Back to the Future's Time-Travel Device Wasn't Always a DeLorean
The Curb Your Enthusiasm episode would include Larry repeatedly running into Fox, and each time the Back to the Future star would do something mean to Larry, only to blame it on his Parkinson's. The episode would revolve around Larry trying to find out whether Fox was using his disease as a way to get away with being a jerk. Fox wrote that it was "the most ridiculously funny pitch ever," but was worried that those with the disease could take it the wrong way. However, Fox was so moved and excited by the idea, that he was eager to dive in. "After all those years of hiding my symptoms… I could let it go. After Larry's pitch, I not only wanted to be in the show, I couldn't wait to watch it."
Larry David Is Skeptical of Michael J. Fox on 'Curb Your Enthusiasm'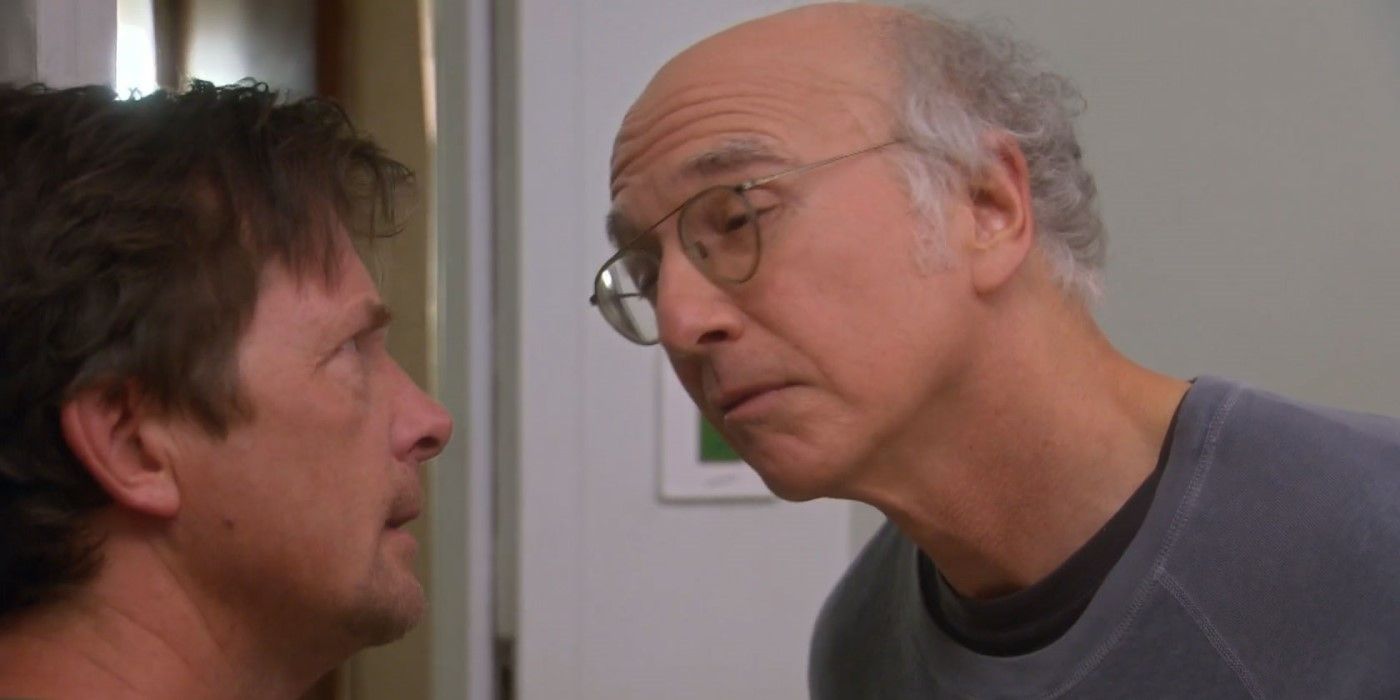 Larry David and Michael J. Fox faced off on the Season 8 finale of Curb Your Enthusiasm on September 11, 2011 in an episode titled "Larry vs. Michael J. Fox." What a weird night for HBO viewers, who were spending the tenth anniversary of 9/11 laughing at a guy with Parkinson's disease. It was a brilliant episode, one of the series' best, that went just the way David had pitched it. Larry and Michael are new neighbors and run into each other at a fancy restaurant where Larry's new girlfriend is playing the piano. Michael is talking loudly and won't quiet down when Larry tells him to shush. When Michael later leaves the restaurant he looks over at Larry and shakes his head. Larry notices this and is shocked. Was that Michael being rude and upset with him, or as Larry puts it, was it "a Parkinson's shake?"
The Feud Between Larry David and Michael J. Fox Escalates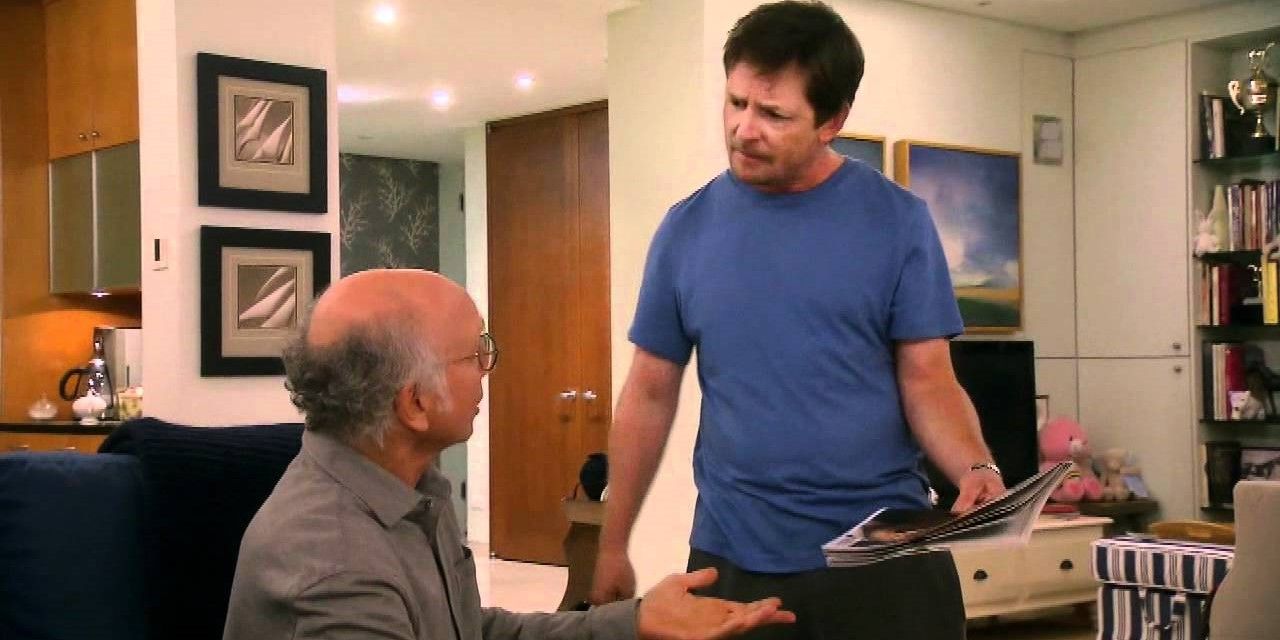 Larry decides to go to Michael's place to apologize for shushing him. He brings up the head shaking, but Michael tells him it was the Parkinson's. "I'm a head shaking fool." Larry wants him to make it clear that he isn't upset with him, but Michael doesn't answer. He instead looks off to the side, saying nothing, before going to answer a ringing phone, telling Larry, "I'll be back in two shakes." Larry David just makes things worse for himself, as he's known to do, by drawing a Hitler mustache on the cover of a magazine, not knowing it's Michael's father-in-law in the photo. He goes to throw it away and offers Larry a soda. When Larry opens it, the soda explodes and so does Larry. "Did you shake that up on purpose?!" Michael looks innocent, simply saying, "Parkinson's."
Back at home, Larry is telling Leon (J.B. Smoove) about the incident, which he doesn't believe is an accident. It's then that they hear loud stomping coming from upstairs where Michael lives. "What's that? Is that Parkinson's?" Larry asks. "He's pissed," Leon tells him. Michael stomps around again when Larry is trying to sleep. He blames it on the boots he has to wear for foot cramps because of, you know, the Parkinson's. Larry tells him that he thinks it's all bullshit, that Michael's doing it all on purpose "under the guise of Parkinson's." Michael denies it all. Everything he did was because of Parkinson's.
Wanting to keep the peace, Larry goes to a Michael J. Fox Foundation event. There, he's talking to Jeff (Jeff Garlin) about a violin he bought for a present, but wanting to be quiet, he makes a hand gesture of him playing the violin. Michael J. Fox is giving a speech at this moment and calls Larry out, thinking he's making fun of him. Mayor Michael Bloomberg is there and takes to the podium to reprimand Larry as well. Larry later apologizes to Michael again. To make it up to him, Michael tells Larry he can go to a children's hospital event he's hosting. Larry doesn't want to do that, so he lies to Michael about how he has to go to Paris for two months, and then he does just that. We know Larry's a liar, but we never find out if Michael is, too.
Was Michael J. Fox Telling the Truth on 'Curb Your Enthusiasm'?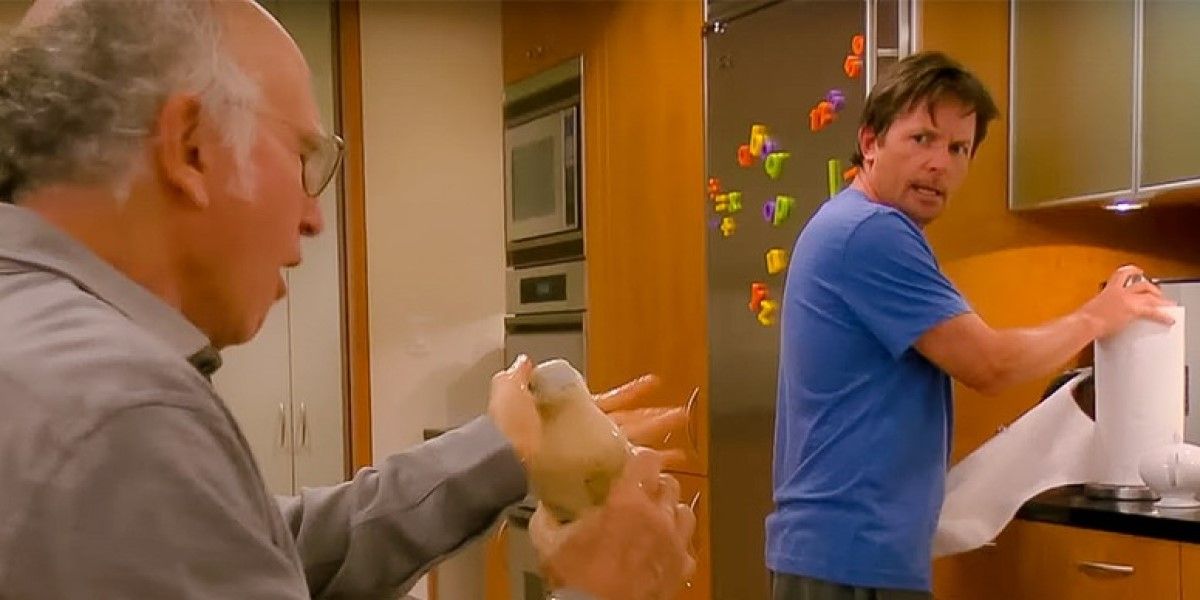 This episode of Curb Your Enthusiasm isn't cruel. It doesn't turn into bad physical comedy, with Michael J. Fox falling and exaggerating his symptoms. We don't see Larry or anyone else genuinely mocking him. Larry might not believe Michael, but he cares about him. Better yet, he sees him as a normal person. Larry doesn't pity Michael J. Fox for having Parkinson's. That's why it had to be so liberating for him. He wasn't being treated as a hero or a sympathetic figure for once. Larry David treated him like a human being, one fallible and capable of doing bad things, even exploiting his disease to annoy someone who pissed him off.
We do finally get our answer to whether Michael was doing those things to Larry on purpose or not in the Season 9 episode "Never Wait for Seconds!" Season 9 sees Larry having a fatwa issued against him (don't ask), and when his friends are asked to vouch for him, Michael J. Fox reappears. He's one of many interviewed by a Muslim man named Morsi (Navid Negahban) to see if the fatwa against Larry should be lifted. Michael is asked if he clomped on purpose and embellished the shaking of the soda. He admits that he did. "May I offer you some refreshment?" Michael asks Morsi, putting a can of soda on the table. When Morsi declines, Michael calls him a "pussy." Curb Your Enthusiasm executive producer Jeff Schaffer talked to The Hollywood Reporter about Fox, saying, "He was totally game to do it and was so funny. The whole idea of having another soda was his — that's 100 percent Michael J. Fox. It really was the perfect way to end that montage, with Michael J. Fox admitting that it wasn't just Parkinson's in their season eight finale fight — he was pretty pissed."
The Big Picture
Michael J. Fox was diagnosed with Parkinson's disease at a young age but refused to let it ruin his life.
He took a break from acting in the early 2000s to focus on activism but returned to acting when he realized his symptoms were manageable with medication.
Larry David approached Fox to do an episode of Curb Your Enthusiasm, where they used Parkinson's as a source of comedy, and Fox found it liberating to embrace his symptoms for comedic effect.
Denial of responsibility! TechCodex is an automatic aggregator of the all world's media. In each content, the hyperlink to the primary source is specified. All trademarks belong to their rightful owners, and all materials to their authors. For any complaint, please reach us at – 

[email protected]

. We will take necessary action within 24 hours.