Intro
Hot off the presses, the Google Pixel 7-series aims to build upon everything that made the Google Pixel 6-series such an important landmark for Big G. 
Why? Well, just because it marks such an important paradigm shift for Google, which finally settles on proper flagships after an experimental hiatus with the Google Pixel 5. The Pixel 7-series aims to reiterate that Google is back and is willing to find its own niche in the flagship market, from which it could comfortably deliver well-timed punches to Samsung and Apple.  
So far, so good, but which among the new Google Pixel 7 and Pixel 7 Pro is a better fit for you? It's clear that the Pixel 7 Pro is the more advanced device and also the one that most people would lust over, but that might not be necessarily true for just about anyone. If anything, the Pixel 7's newfound more compact size in comparison with yesteryear's Pixel 6 and the Pixel 7 Pro means that it would be a much better fit for those wanting for a more compact device. 
Google Pixel 7 Pro vs Google Pixel 7 in a nutshell:

6.7-inch (Pixel 7 Pro) vs 6.3-inch (Pixel 7) display
1440p 120Hz (Pixel 7 Pro) vs 1080p 90Hz (Pixel 7) display
5,000mAh (Pixel 7 Pro) vs 4,270mAh (Pixel 7) battery
48MP 5X optical camera (Pixel 7 Pro) vs n/a (Pixel 7)
Table of Contents:
Design and Display Quality
Shared DNA
The main difference between the Pixel 7 Pro and Pixel 7 is their overall size, which stems a few important differences from itself. First up, the Pixel 7 Pro is the larger one here, with a 6.7-inch display and a larger 5,000mAh battery in comparison with the 6.3-inch entry-level Pixel 7, which also has the smaller battery. 
From a pure design standpoint, both phones look pretty similar, though the Pixel 7 Pro is most likely getting a stainless steel frame unlike the Pixel 7, which is coming with an aluminum frame. Otherwise, both phones feature rather similar design, almost identical to last year's Pixel 6-series. Unlike the 2021 Google flagships, the newest Pixel come with colorful camera strips at the rear, a move away from the understated black bars that graced the Pixel 6-series. This makes the camera lenses at the back clearly visible, which is a bold design statement and immediately makes the Pixel 7 lineup more discernible. 
The Pixel 7 and Pixel 7 Pro also drop the dual-tone back design. Speaking of Pixel 7 colors, another difference between the duo are the colors in which they will be available. The all-time classic Obsidian (black) and Snow (white) colors will be available on both devices, but the Pixel 7 Pro will score a unique Lemongrass color option (gray/green) with a gold camera bar, while the regular Pixel 7 will score a playful Hazel color option (very soft green). 
Both phones have IP68 water- and dust-resistance, stereo speakers, and dual SIM capabilities (nano SIM + eSIM). The biometric security of choice is a under-display fingerprint scanner on both devices, and there's a convenient but not very secure 2D face unlock.  
Google Pixel 7 Pro color options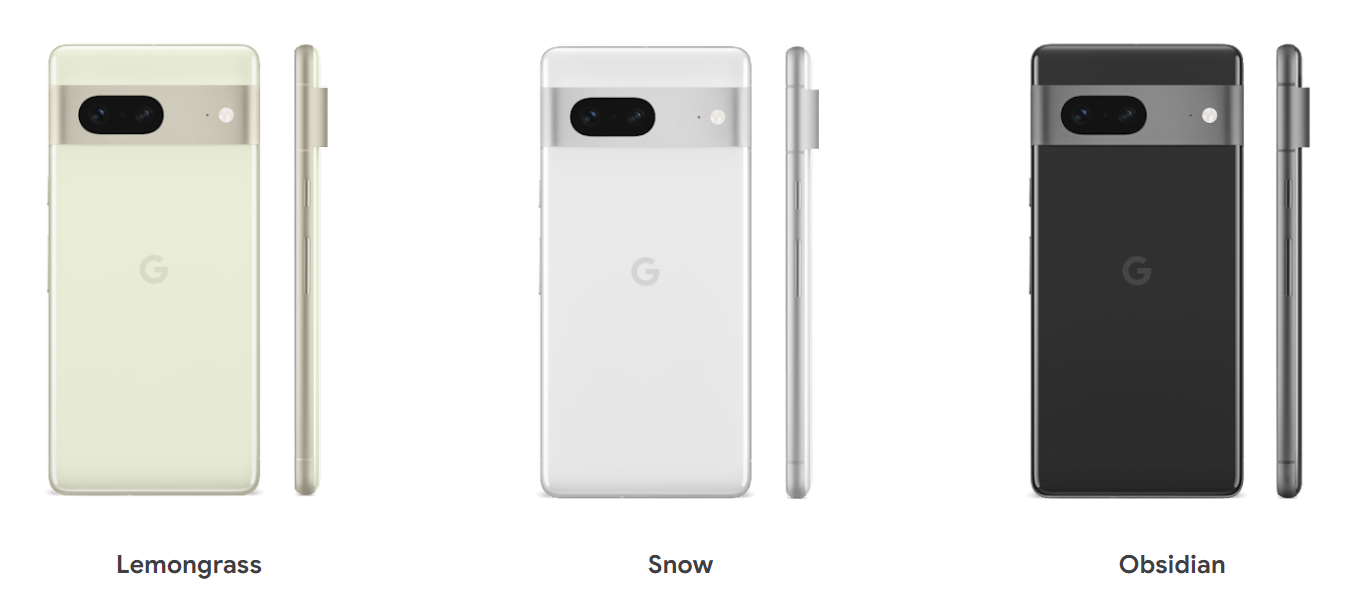 Google Pixel 7 colors options
Display-wise, the mainstay difference from the Pixel 6 family will be carrying on. The Pixel 7 Pro comes with a large, 6.7-inch QHD+ OLED display with a 1-120Hz refresh rate, with an ever-so-slight curve near the edges, while the Pixel 7 arrives with a 6.3-inch FHD+ OLED display with a 60/90Hz refresh rate. The latter is completely flat, similar to the one on the Pixel 6. We expect the quality properties of the Pixel 7 and Pixel 7 Pro to be better or at least similar to the very good Pixel 6 and Pixel 6 Pro, with decent color reproduction, brightness, and good viewing angles. 
Performance and Software
Tensor G2 runs the show
Both the Google Pixel 7 and Pixel 7 Pro are powered by the second-gen Tensor G2 chipset, which builds upon the Tensor G1 in a meaningful way. Well, it's not that much of a dramatic powerhouse, and it will still lag in terms of raw performance in comparison with its closest Qualcomm and Apple rivals, but the Tensor G2 is said to be scoring a 10% performance increase over the Pixel 6-series. 
That's not where the chipset's strength lies, though. See, the deal with the custom-made Google Tensor is that it relies rather heavily on artificial intelligence and machine-learning, a different approach in comparison with, say, the Qualcomm Snapdragon 8+ Gen 1 or the Apple A16 Bionic, which are more of raw performance ordeals. Thanks to its AI and ML capabilities, the Tensor allows for some intriguing camera features to be available on the Pixel 7.
Some other functionalities that the Tensor unlocks are better efficiency in comparison with the Tensor G1 in the Pixel 6-series, which should lead to better battery life, Cinematic Blur that is processed in real-time, intelligent speech recognition and better text dictation, as well as great on-device security ensured by the Titan M2 security chip. 
Memory and storage-wise, we get 12GB of RAM on the Pixel 7 Pro and 8GB of RAM on the Pixel 7. Those figures are pretty standard and should be more than sufficient for just about any Pixel user. 
Storage-wise, we have another key difference between the Pixel 7 and the Pixel 7 Pro. See, the small Pixel 7 will be available with either 128GB or 256GB, whereas its big brother will get an additional 512GB version on top of that. Alas, none of Google's new phones get microSD card expansion slots, so there are no additional options for hardware storage expansion. Google Photos is a great alternative to hardware photo storage, but you will likely have to opt for the premium storage tiers. 
Camera
To telephoto or not to telephoto?
The big difference in the camera department stems from the 5X telephoto camera found on the Pixel 7 Pro. It heavily relies on the AI and ML capabilities of the Tensor G2 to deliver unprecedented (for a Pixel) levels of zoom that don't compromise the image quality. Thanks to the 48MP 5X telephoto camera, the Pixel 7 Pro allows for a 30X hybrid zoom. The telephoto camera offers preset zoom levels at 2X, 5X and 10X zoom levels.
Another Pixel 7 Pro-exclusive feature is Macro Focus, which uses the ultra-wide angle camera's extremely narrow focusing distance to achieve super-detailed images.
Meanwhile, the hardware restrictions only allow the Pixel 7 to employ up to 8X hybrid zoom. This one uses information from the main 50MP camera of the smaller phone and uses pixel-binning to achieve image quality equivalent to 2X optical zoom. As we mentioned, up to 8X digital zoom can be achieved on the Pixel 7.
Common features of both the Pixel 7 and Pixel 7 Pro are the following:
Photo Unblur

 — Thanks to this feature, the Google Photos app on both new Pixels allows the user to quickly unblur and sharpen an image with just a tap.

Magic Eraser 

— This well-known AI-driven software feature gets rid of distractions and photobombers in your images. You can also change the colors and brightness of a subject so that it fits better into your existing image.

Real Tone

— Google 's quest of making its hardware more inclusive has led it to take thousands of pictures of people of color so as to fine-tune the camera and correctly represent non-white skin tones. The new Pixels will recognize a broader set of faces, correctly represent skin color in photos, make skin brightness appear more natural than before, reduce washed-out images, sharpen face even in low light, and provide you with a smarter auto enhance in Google Photos.

Cinematic Blur

 — Similar to the iPhone's Cinematic mode, the new Pixels let you take videos with artificially blurred background while keeping your subjects in focus for that much-coveted dramatic effect. 

Wider front camera

 — Both devices now have wider 10.8MP selfie cameras with faster f/2.2 aperture. 
When it comes to the pure hardware side of things, here's a complete rundown of the Pixel 7 camera specs:
50MP wide, f/1.85
12MP ultra-wide, f/2.2
48MP 5X zoom telephoto (only on Pro model)
10.8MP f/2.2 front camera
Battery Life and Charging
While it may seem that the larger battery of the Pixel 7 Pro would give it much better battery life in comparison with the Pixel 7 (5,000mAh vs 4,270mAh), we wouldn't be too quick to draw such conclusions. 
After all, the Pixel 7 has a smaller display with a lower resolution, which could definitely help with evening out the battery capacity disparity with the larger Pixel 7 Pro, which has a large QHD+ display. 
Officially, Google says that both the Pixel 7 and the Pixel 7 Pro should both have "beyond 24-hour battery life", though it also admits in the footnotes that the two devices actually achieved a median battery life of 31 hours during the company's tests. While Google doesn't go into too much detail as to what those tests are, it says that these battery life estimates were achieved using a "median Pixel user battery usage profile across a mix of talk, data, standby, and use of other features". Sounds promising, doesn't it?
We expect at least a full day of regular usage with both devices, and it seems that Google is keen on giving users the software tools to achieve much more than that. The new Extreme Battery Saver feature promises future Pixel users up to 72 hours of combined usage, and while this sounds awesome, the feature will essentially disable most features and functionalities of the phones (5G included) and only allow a slew of pre-defined apps to work normally. 
Specs Comparison
How does the Pixel 7 Pro and Pixel 7 stack up against one another? Let's check in our dedicated Pixel 7 vs Pixel 7 Pro specs comparison:
Specs
Pixel 7 Pro
Pixel 7 
Dimensions
162.9 x 76.6 x 8.9 mm
155.6 x 73.2 x 8.7 mm
Weight
212gr
195gr
Screen
6.7-inch, 1-120Hz, QHD+ OLED, Gorilla Glass Victus
6.3-inch, 90Hz, FHD+ OLED, Gorilla Glass Victus 
Processor
Tensor G2
Tensor G2
RAM & storage
12GB LPDDR5, 128GB/256GB/512GB UFS 3.1
8GB LPDDR5, 128/256GB UFS 3.1
Rear Cameras
50MP wide-angle f/1.85 main (30X Super Res Zoom)
12MP ultra-wide angle f/2.2
48MP 5X telephoto F2.2
Laser auto-focusing 
50MP wide-angle f/1.85 (8X Super Res Zoom)
12MP ultra-wide angle f/2.2
Laser auto-focusing
Front Camera
10.8MP f/2.2
10.8MP f/2.2
Battery Size
5,000mAh, >24-hour battery life, Up to 72 hours with Extreme Battery Saver
4,270mAh, >24-hour battery life, Up to 72 hours with Extreme Battery Saver
Charging Speeds
23W fast wired charging (50% in 30 min), 23Wfast wireless charging, battery share
20W fast wired charging (50% in 30 min), 20W fast wireless charging, battery share
Price
$899
$599
Summary and Final Verdict
Overall, we remain quite optimistic about the Pixel 7 Pro and the Pixel 7. Both devices seem to be reiterating Google's desire to carve a niche for its flagship wares, with the Pixel 7 and the Pixel 7 Pro improving most of the key aspects that made the Google Pixel 6 and Pixel 6 Pro such noteworthy devices.
Well, good news is that if you've liked the Pixel 6 and Pixel 6 Pro, the Pixel 7-series seem to be more of the same, but better, which can never be a bad thing! With a refreshed Tensor chipset on deck, which shows us Google's commitment to its custom silicon, tons of camera improvements, dedication to battery endurance, and at the same time—unchanged pricing—the Pixel 7 and Pixel 7 Pro definitely look like moral winners. 
Which one should you choose? Surely, if you're looking for a larger and sharper display, bigger battery, and that sweet, sweet 30X Super Res Zoom, as well as the complete flagship experience, it makes perfect sense to go for the Google Pixel 7 Pro.
On the other hand, if compact Android phones are your Achilles' heel and you don't really care about zooming, then the smaller size (and price tag) of the Google Pixel 7 could definitely tip the scales in its favor. Surely, it shares the majority of new features that the Pixel 7 Pro also boasts, sans the exclusive camera ones. And overall, it looks like a pretty capable compact device.
Denial of responsibility!
TechCodex is an automatic aggregator of the all world's media. In each content, the hyperlink to the primary source is specified. All trademarks belong to their rightful owners, all materials to their authors. If you are the owner of the content and do not want us to publish your materials, please contact us by
email –

[email protected]
. The content will be deleted within 24 hours.