Editor's Note: The following contains spoilers for Season 5 of Disenchantment.
The Big Picture
The final season of Disenchantment concludes with Bean choosing to return to Dreamland and embracing her responsibilities to protect her friends and family, while also pursuing love with Mora.
Elfo learns the value of friendship and finds new love with Mop Girl, realizing his past mistakes and embracing a new perspective.
Dagmar achieves her goals but is left alone and imprisoned in a cave, while characters like Mop Girl, Zog, and Oona find their own happiness and solace after overcoming personal challenges.
The series finale of Netflix's Disenchantment ends the story of hard-drinking princess Bean (Abbi Jacobson), her feisty elf companion Elfo (Nat Faxon), and personal demon Luci (Eric André). After tackling modern satire with The Simpsons and science-fiction adventures with Futurama, Matt Groening's latest show focuses more on a fantasy setting aimed toward adults. Bean, Elfo, and Luci go on misadventures where they encounter the likes of ogres, sprites, trolls, and human fools. As the series progressed during its five-season run on Netflix, the show often alluded to a larger plot involving Bean's biological mother, Dagmar (Sharon Horgan), and her connection to a mysterious prophecy. The final season leads to Bean's epic confrontation, aided by her friends and family, against Dagmar, with one of them paying the price of being Bean's prophesied "lost love."
After Dagmar pushes Bean off of a balcony, she is rescued by her love, Mora the Mermaid (Meredith Hagner). Bean cannot let Dreamland fall into Dagmar's rule, so she and her friends organize a revolt as she searches for her father King Zog (John DiMaggio) in Steamland. Bean and Zog's return to Dreamland is halted by a trip to Maru and confinement in a psychiatric hospital. In Maru, Bean masters her lightning powers and frees the city from the rule of Dagmar's siblings. In the Twinkle Town Asylum, she learns more about her power and understands that killing her mother will not come without personal sacrifice. Bean and her friends fight against Dagmar and Bad Bean (Abbi Jacobson), Bean's evil doppelganger, which results in the death of Mora, Bad Bean, and the activation of Dreamland's magic, which Dagmar takes for herself.
RELATED: 'Disenchantment' Season 5: Cast, Trailer, Release Date, and Everything We Know So Far
While Bean mourns Mora and Luci's deaths, she fights her now magically-empowered mother by destroying the caves beneath Dreamland, which house the source of magic. Mora is soon resurrected by a wish from the late Luci. Zog renounces his kingship to live with his love Ursula (Jeny Batten) and their son Bear Boy in the woods. Bean gives Dreamland back to the elves, who put Mop Girl (Lauren Tom) in charge. Then Bean and Mora run away from their wedding together. Many of the show's characters find solace following the ordeal and build more loving lives for themselves.
Bean, Elfo, and Luci Disband For The Last Time
After being rescued and reunited with Mora, Bean is presented with the choice to abandon Dreamland and spend the rest of her life with the one she loves, but Bean still has unresolved connections to Dreamland and decides to return. She rescues Zog while he is at his lowest point, rectifies the damage caused by Dagmar's family in Maru, and embraces the magical part of herself while protecting the place many of her friends and family call home: Dreamland. Bean is able to build a life of love with Mora after she confronts the responsibilities she has been avoiding. However, Bean is not the only one to find a new appreciation for love in the finale.
Believing Bean to be dead, Elfo realizes he should have valued and respected the friendship he had with someone who did not see him the way he desired. Once Bean comes back, Elfo is grateful to have one of his closest friends return. After Bean and Mora leave for Steamland, Elfo, Luci, Mop Girl and others organize a revolt against Dagmar. Elfo believes undoing his death from Season 1 may have the same effect, but he finds out in a twist from a science-fiction adventure, he was the one who killed his past self. Mop Girl comforts him with the knowledge that regardless of what happened previously, he can still choose what happens now. Elfo is soon able to find new love with Mop Girl once he understands the value of friendship.
The season gives Luci opportunities to undermine powerful figures and present amazing solutions for those he loves. Luci meets and outwits his father Satan (Richard Fulcher), as they learn more about each other, like when Luci overpowers Satan's hypnosis. Luci gives Elfo the idea to time-travel hoping it would improve things. He is able to hold off the resurrection of Bad Bean by hiding her head. Once Luci dies a second time with no way to return to life, he witnesses God's (Phil LaMarr) death and figures out a way to bring God back to life – forgoing his original plan of becoming the new god and carrying out the safest solution for the existence he now cherishes. After the final battle between Bean and Dagmar, God gives Luci a wish. Luci uses the wish to bring Mora the Mermaid back to life out of his love for Bean and wanting her to be happy.
'Disenchantment's Self-Destructive Characters Destroy Their Own Lives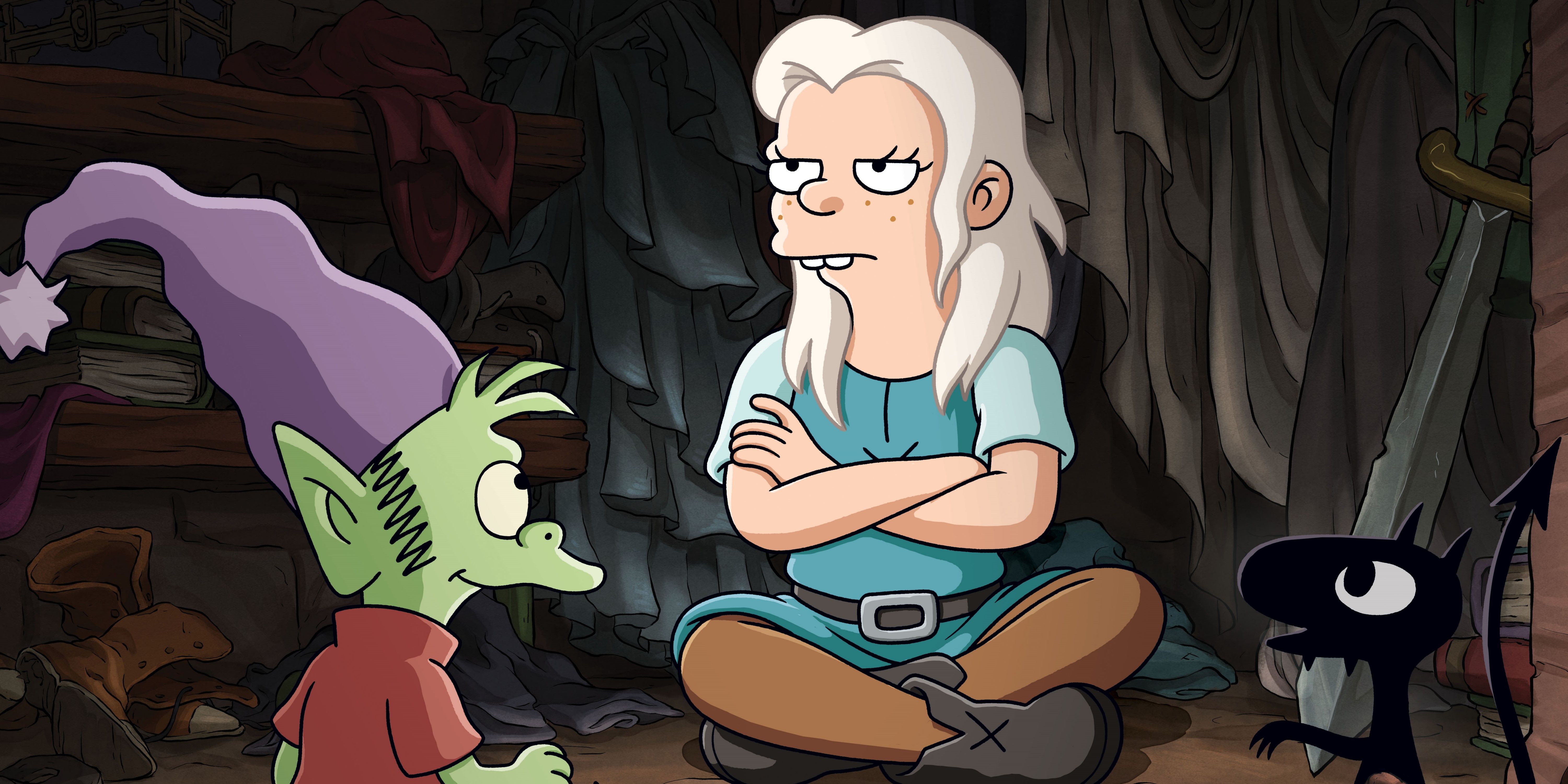 Dagmar achieves all of her goals and is left alone after pushing away and killing everyone around her. Dagmar is closer than ever to achieving her goals, she has the power of hell at her side, the opportunity to resurrect a version of her daughter she can manipulate, and has taken over Dreamland, which holds the source of magic. She resurrects Bad Bean, allows her siblings to die, and becomes immortal. After her last battle with Bean she is left to suffer in a cave until Satan offers his help. Infuriated, she wishes to be away from all manner of people and animals, so she is placed in a cage with Freckles (John DiMaggio) the animated puppet for all eternity. Dagmar does not die, but gets what she deserves after acquiring immortality, power, and beauty — a life of solitude, away from people who loved her.
Alva's (Richard Ayoade) misplaced feelings put him in an unsustainable predicament. He continues to be obsessed with Bean and with having magic for himself. Alva tries to capture and steal Bean's magical powers, but after a deal with the trøgs he uses their goo to power a rocket ship to the moon. He desired to go there with Bean, but the trøgs betray him by taking over the rocket with Alva and the Arch Druidess (Tress MacNeille) as its additional passengers. All of them crash on the moon where the trøgs seem to happily live while Alva is forced to spend the remainder of his life with the Arch Druidess who is obsessed with him. A grim reflection of the self-destructive nature of a one-sided relationship and an ambitious obsession.
Does 'Disenchantment' Have a Happily Ever After?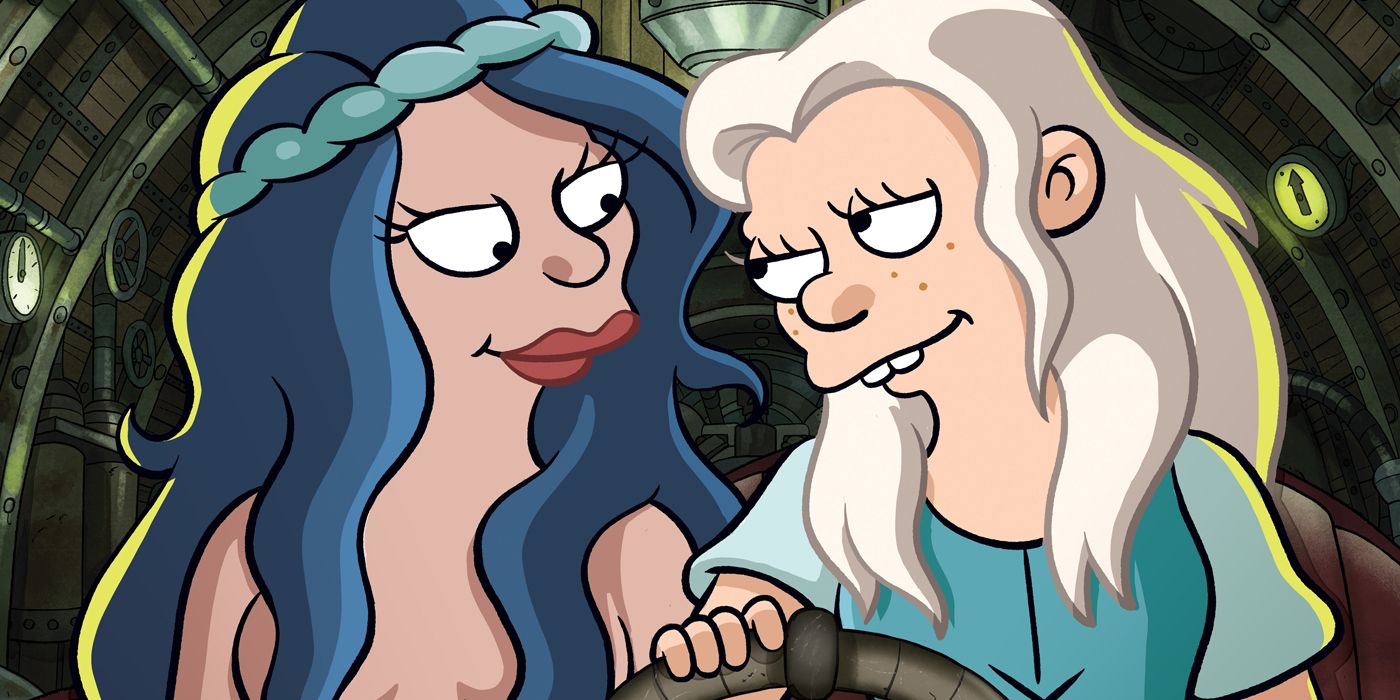 Mop Girl, a background character, becomes the leader Dreamland deserves. She occasionally helps and bonds with Bean, Elfo, and Luci during the course of the series. In the final season, she is given the opportunity to utilize her knowledge of the Dreamland castle and steps up as a leader to bring Dreamland's elf and human residents together. While spending more time with Elfo, it is revealed she is likely an elf/human hybrid who often passes for human by covering her elf ears. She strategizes that a sneak attack is the best way to fight Dagmar and coordinates with Dreamland citizens: the humans, elves, and trøgs. Once crowned the new ruler of Dreamland, Mop Girl goes by Queen Mop Girl Miri and starts a romantic relationship with Elfo, as Dreamland gains the ability to become invisible on demand, like Elfwood.
Zog embraces who he is and finds happiness with Ursula and Bear Boy in the woods. Dreamland's formerly hot-tempered ruler, Zog, is forced on a path of self-reflection and understanding who he is beyond his role as a king. While in Steamland, he realizes that being king has been a source of conflict when it comes to finding love and connecting with others. During his journey with Bean to return to Dreamland, the two are able to bond over their tendency to lash out at things as a coping mechanism. They both desire to be with those they love. Zog aids Bean during the battle, proud of the person Bean has become, knowing that it's time for him to focus on his happiness and give up the throne to someone else.
Oona (Tress MacNeille) becomes the loving mother Bean deserves. Although Oona became a pirate captain in Season 2, she made occasional appearances throughout the series and would help Bean as a more nurturing and insightful mentor. In the show's third season, she helps Bean through an existential crisis by guiding her to be more proactive in Dreamland's politics. During Bean's last battle with Dagmar in the final season, she helps her strike the final blow against Dagmar with words of encouragement. Although her character arc progressed earlier in the series as she pursued her dream of becoming a pirate, Oona is able to aid Bean and demonstrate that she is the loving mother Bean wanted while Oona goes on new adventures with her son Derek (Tress MacNeille) as pirates.
Unlike many of Groening's previous work, this series follows a narrative progression with characters and a story that is charming to fans of The Simpsons and Futurama while being something with a conclusive and satisfying beginning, middle, and end. The entire series of Netflix's Disenchantment is available to stream on Netflix.
Denial of responsibility! TechCodex is an automatic aggregator of the all world's media. In each content, the hyperlink to the primary source is specified. All trademarks belong to their rightful owners, and all materials to their authors. For any complaint, please reach us at – 

[email protected]

. We will take necessary action within 24 hours.