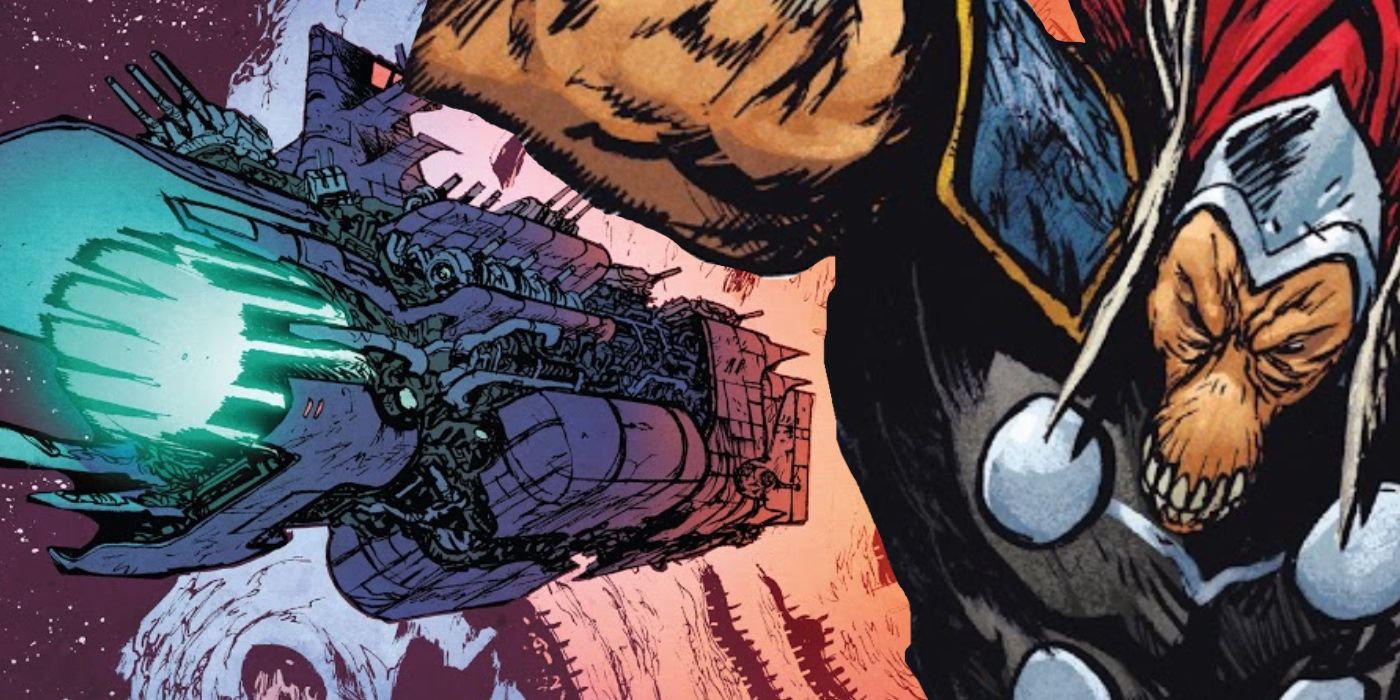 Beta Ray BIll's Skuttlebutt Is The Coolest Spaceship In Marvel Comics
In the latest issue of Beta Ray Bill, an amazingly detailed cross-section of his ship Skuttlebutt is revealed, proving that it's incredibly awesome.
Warning! Spoilers ahead for Beta Ray Bill #2.
In the latest issue of Marvel Comics' Beta Ray Bill, it's pretty much been confirmed that the Korbinite warrior has the coolest ship in the Marvel Universe. Period. In this new issue, an incredibly detailed cross-section of Bill's sentient battleship Skuttlebutt is shown, revealing all of its amazing rooms chock full of awesome amenities and Easter eggs for Marvel fans to discover. When all put together, it's pretty clear that Skuttlebutt is the most epic ship flying through the cosmos.
Ever since Beta Ray Bill's origins, Skuttlebutt has been there by his side. Created with the same technology used to turn Bill into a cyborg-horse warrior of the planet Korbin, he and his ship are essentially siblings. In recent issues, Thor broke Bill's mighty hammer Stormbreaker, which has motivated Bill to find a suitable replacement in order to regain the glory that he has lost, as well as the ability the hammer granted him to revert back to his humanoid form. Now, Bill has been traveling the stars aboard Skuttlebutt in order to try and find Odin for help, seeing as how the former All-Father was the one who forged Stormbreaker all those years ago.
Continue scrolling to keep reading
Click the button below to start this article in quick view.
Related: A Thor MCU Villain Makes The Best Wingman In The Galaxy
However, the interior of Skuttlebutt has never been fully explored until now in Beta Ray Bill #2 from Daniel Warren Johnson and Mike Spicer. Featuring an absolutely fantastic cross-section of the immense battleship, rooms and quarters can be seen such as navigation, a galley, sleeping quarters, an armory, and more of the usual chambers one would expect to see aboard an interstellar vessel. However, there's also a plethora of surprising spaces Bill has aboard such as a rec room with a ping pong table, a pinball machine room, a room full of vinyl records, a sports room with Red Sox banners on the walls, and some great Easter eggs as well.
Eagle-eyed Marvel fans will also be able to see a room for Marvel's editorial team, like a prayer shrine and altar to who appears to be Jack Kirby, as well as room with a man who looks a lot like Beta Ray Bill's creator Walt Simonson working at a drafting desk. Not only that, but one room even features Image Comics' Murder Falcon and Jake, both characters from Johnson's Murder Falcon series. Bill's cargo hold also features a large amount of what appear to be long boxes. Is Beta Ray Bill a comic book collector?
All in all, it's pretty evident that Skuttlebutt is pure awesome and is without a doubt one of the coolest ships in the Marvel Universe. How could it not be considering all of the cool stuff within its quarters? While Beta Ray Bill is clearly determined to find a new weapon to replace his mighty hammer, it's hopefully some solace that he has the coolest spaceships ever. Not only that, but it's recently been confirmed that a piece of Skuttlebutt is in every tool, weapon, and piece of technology Beta Ray Bill uses thanks to their shared cybernetics. Perhaps Bill just needs to embrace his connection with his ship more in future issues in order to feel more content with his life and standing in the Marvel Universe.
More: Marvel Reveals Beta Ray Bill's Favorite Movie, and It's Perfect
Marvel Meets The Magic School Bus With A Field Trip To Asgard
About The Author
Denial of responsibility!
TechCodex is an automatic aggregator of the all world's media. In each content, the hyperlink to the primary source is specified. All trademarks belong to their rightful owners, all materials to their authors. If you are the owner of the content and do not want us to publish your materials, please contact us by
email –

[email protected]
. The content will be deleted within 24 hours.