Editor's Note: The following contains spoilers for Ahsoka
On paper, the plan for an Ahsoka series had the ability to sound like a brilliant idea. In execution, the show seems to stray away from committing to its main character and introduces a new agenda: introducing Grand Admiral Thrawn (Lars Mikkelsen) into live-action. Star Wars is choosing to recycle its characters in different forms when continuing to grow its endless catalog of movies and shows. Ahsoka Tano sounded like an excellent choice to keep front and center, though the concept may be stronger than what the series has accomplished in some places. In reality, Ahsoka isn't really about Ahsoka at all. It's a hunt for Thrawn, and each episode continually teases his eventual appearance. The decision to partially follow Ahsoka's journey without fully committing to one angle could be a setup for Dave Filoni's movie. But what is the point of an Ahsoka series if the main character is set to the side?
Disney+'s stand-alone Star Wars series has really misunderstood the meaning of standing alone. The approach taken to The Mandalorian's first season is a prime example that the Ahsoka show should have followed. It was fresh and engaging, without feeling like it was a massive tie-in (at the time). While it's inevitable that these new-age takes on a series that has been around for decades may need to call back to some older characters to make a reprise, Lucasfilm has become far too comfortable sidelining its main characters for the sake of offering up a shared spotlight. Ahsoka is disabling itself by reshuffling its priorities when it comes to how the lead-up to Thrawn is played out. It feels as if the show is disguised as a way for Lucasfilm to introduce yet stepping stone towards another theatrical event, instead of using the streaming platform to let original content stay independent.
'Ahsoka' Is Stuck on the Idea of Thrawn
For the fans who desperately wanted a season 5 of Star Wars Rebels, congratulations. That wish was granted in a roundabout way. There's so much to love about what Rebels has achieved — including the introduction of Thrawn into the greater Star Wars universe, and depicting the initial hunt for him through the animated series. Now, Ahsoka is repeating similar plot points that are considerably redundant. The pursuit of Thrawn was already touched upon in prior Star Wars media, and using each episode to keep that chase on the back burner is keeping Ahsoka from moving forward. Star Wars has a history of having trouble letting go, and the inability to move to tell new stories with new villains keeps Ahsoka short of feeling unique. Even with the introduction to new villains, there's still a preoccupation of finding Thrawn by the end of the series. Ahsoka is continuously stuck on a narrative hook that feels like it's draining other potential angles for the show to take. Ray Stevenson's Baylan Skoll has proven himself to be a calculated, poignant, and captivating villain. There's no need for Ahsoka to look past how fascinating of an antagonist he is in order to favor a villain Star Wars has already spent time with.
Those who have committed to watching Star Wars Rebels have already met Thrawn. Timothy Zahn's fan-favorite novels have already explored what his time as a villain would look like. Why choose to recycle villains if it's already been done? Star Wars needs to improve its ability to take risks. Retaining the prominence of an antagonist that doesn't bring anything new to the franchise is cutting into Ahsoka's screen time. There are other means of looping Thrawn into the show without revisiting the same talking points concerning his whereabouts. At this point, is it worth meeting him in live-action? It can be argued that designing Ahsoka around characters in Rebels and insisting that Thrawn should take on a greater role is holding the show back from being more original. If Lucasfilm and Disney wanted to continue to profit off of Star Wars Rebels and its main villain, they should have committed to working on a fifth season instead of shoehorning Thrawn into something that doesn't really require his looming overhead.
Related: Star Wars Can't Let the 'Filoni-Verse' Become the New Skywalker Saga
'Ahsoka' Isn't About Ahsoka Tano Anymore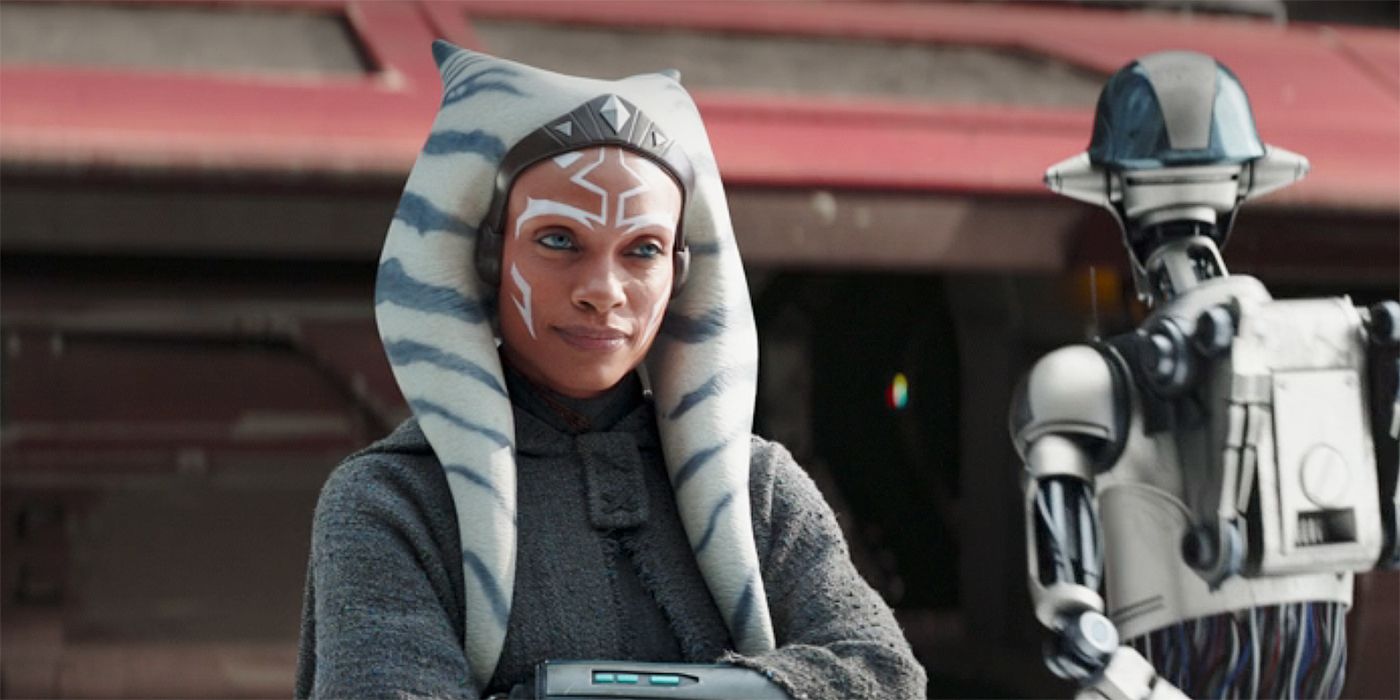 It truly is a shame that Ahsoka is so willing to overlook its titular character for the sake of rushing to build some sort of live-action multiverse. It's suspected that Thrawn being wrangled into Ahsoka as an impeding big bad will be instrumental for Filoni to move forward with his full-length feature film. Furthermore, it's been reported that Filoni's upcoming project will culminate past work such as The Mandalorian, Ahsoka, and The Book of Boba Fett while finding means of crossing these live-action shows over with animated Star Wars series. Star Wars really doesn't need a multiverse. Lucasfilm has already demonstrated what some of these crossover events would look like on the small screen, and the outcome has been uneven. It would be an even greater disappointment if Filoni used Ahsoka as a Trojan Horse-like mechanism to work towards his personal endgame without giving Ahsoka's stand-alone show the attention it needs. As a co-creator of the character, Filoni of all people should know how important it is for Ahsoka to have a prominent role in her own show with a storyline that's meaningful. Ahsoka has disguised itself as a stepping stone forward for other characters and has neglected to fully commit itself to keeping Ahsoka as the show's beating heart. Ahsoka is there, but this really isn't about her anymore.
If anything, Ahsoka makes Star Wars feel small when it limits what's possible for the saga. Thrawn and Ahsoka having yet to cross paths in live-action is a hindrance to the show altogether. It would be an even greater frustration if the show teased some grand final confrontation only for the show to end on a cliffhanger that requires Filoni's movie, yet there are still a few more episodes in Season 1 that have yet to unfold. It's still incredibly puzzling as to why the creative team would opt to set Ahsoka to the side if the show is literally titled Ahsoka; it's called Ahsoka, it should rightfully reallocate its focus on the main character. This isn't Ahsoka and Friends and it's not Ahsoka and Thrawn. Lucasfilm and Disney's ever-present need to make every project some grand tie-in event has damaged the importance of letting stand-alone media do just that — stand alone. There are infinite ways that Filoni could have continued to tell Ahsoka's story without feeling like he had to rely on other characters to be exciting, engaging, or meaningful. She deserves to be treated as a priority now, just as she was before. The show doesn't need Thrawn to make a statement, Ahsoka is at its best when it's about her.
The Big Picture
The Ahsoka series seems to deviate from focusing on its main character and instead prioritizes the hunt for Grand Admiral Thrawn, which undermines the purpose of the show.
The show's insistence on teasing Thrawn's appearance and recycling familiar villains hinders Ahsoka from moving forward and exploring new storylines.
By sidelining Ahsoka in favor of a larger multiverse and potential tie-ins with other Star Wars projects, the show fails to give its titular character the attention and meaningful storyline she deserves.
Denial of responsibility! TechCodex is an automatic aggregator of the all world's media. In each content, the hyperlink to the primary source is specified. All trademarks belong to their rightful owners, and all materials to their authors. For any complaint, please reach us at – 

[email protected]

. We will take necessary action within 24 hours.