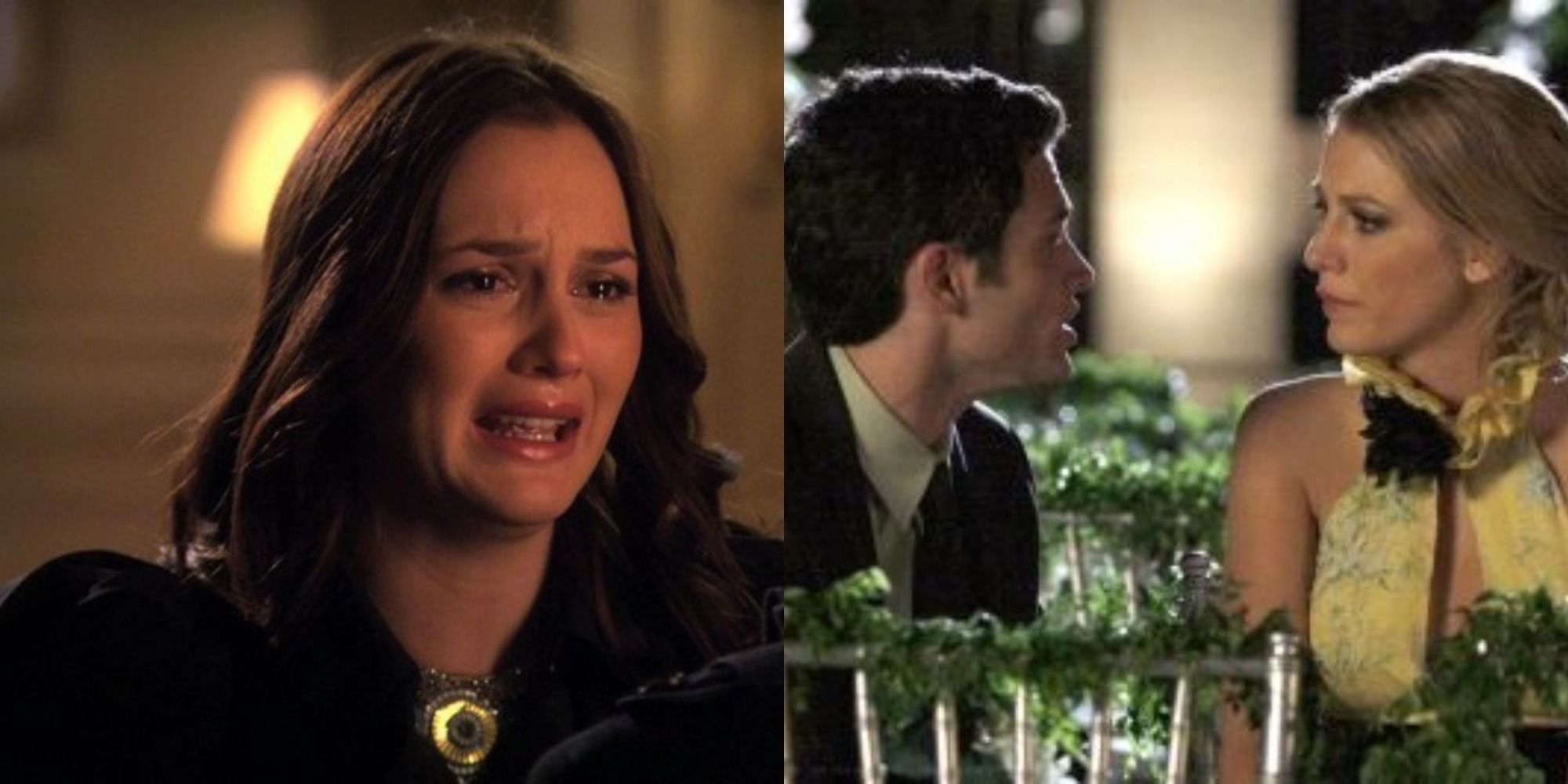 10 Most Painful Breakups In Gossip Girl
In a show like Gossip Girl, relationship drama was the order of the day. And in the Upper East Side, no breakup remained secret. Indeed, the mysterious Gossip Girl was more than happy to air the couple's problems for all of New York to see, being personally responsible for the deterioration of more than one relationship.
RELATED: Gossip Girl: 10 Fan-Ship Relationships We Wish Were Real
Some of the show's many couples, like Serena and Aaron or Blair and Louis, were doomed from the start, so fans didn't even bat an eye when they broke up. But what about those couples that fans actually loved yet still didn't make it to a happily ever after? The show had many of those, and some still hurt, even after all these years.
10

Nate & Vanessa
Vanessa never quite fits in the show's narrative. In the beginning, it seems like she might be part of a love triangle with Dan and Serena, but fortunately, that never happens. However, the show always struggled to make her integral to the plot, but it comes close two times.
The first is during her relationship with Nate. Her independent and strong-willed attitude provides a nice contrast with Nate's passive and conciliatory persona. They bring out the best in each other and are willing to compromise to make the relationship work. Alas, their backgrounds are too different, and they break up for good in late season 2.
9

Dan & Vanessa
The second time Vanessa really works in the context of the show is during her relationship with Dan. The two make sense not only on paper, but also in practice. They have many things in common, similar personalities, and move around the same crowds, both in the Upper East Side and during their time at NYU.
Ironically, one of Dan and Vanessa's strengths as a couple, their similar personalities, is also one of their fatal flaws. Their professional rivalry also proves too much to overcome, and they break up in season 3. It's a shame they couldn't make it work because they were pretty great together.
8

Nate & Blair
On paper, Blair and Nate are the perfect couple. They're young, rich, devastatingly good-looking, and with promising futures ahead of them. In reality, though, their relationship is flawed and tortuous. He never really loves her, and as soon as she gets involved with Chuck, her heart is someone else's.
As childhood sweethearts, they know each other pretty well. Their families are friendly, and they are the King and Queen of the Upper East Side. As they grow up, though, they realize they just don't work together, amicably break up, and remain friends for the rest of the series. Fans still feel a twinge of sadness, though, as they are literally a dream couple.
7

Eric & Elliot
Eric's love life is never a focus on the show. His relationships are always peripheral to the main plot, and whenever they get a chance to shine, they're always in the context of someone else's story. Eric and Elliot get together during Dorota and Vanya's wedding, shortly after first meeting.
RELATED: Gossip Girl: 10 Most Heartwarming Scenes Of The Entire Show
They stay together for a while, and Eric even takes Elliot to meet his family. Their relationship seems stable and happy, at least from the little glimpses audiences get. However, they break up off-screen somewhere in season four, leaving fans puzzled and disappointed at the end of their story.
6

Carter & Serena
Carter Baizen is a dubious and sleazy character, for sure. He does numerous reprehensible things during his time on Gossip Girl, but so does literally every other character. However, and despite his playboy ways, his love for Serena is always evident.
Carter's pride and complicated past bring an end to the relationship. Trust is also an issue, considering these two are so used to playing games, they don't even consider honesty a viable option most of the time. Still, and thanks to the chemistry between Blake Lively and Sebastian Stan, it was sad to see them part ways.
5

Eric & Jonathan
Eric's first serious boyfriend is the sweet and unassuming Jonathan Whitney. The two start dating in season two and stay together for quite a while. They have a quiet and intimate relationship, far from Gossip Girl's scandals. The two mostly keep to themselves unless they get dragged into their friend's schemes.
When Jenny becomes Queen and begins treating everyone like trash, Eric gets fed up and tries to take her down. His plan backfires and Jonathan, disappointed at his actions, breaks up with him. It's a shame to see their relationship come to an end because they are, by far, the show's most stable and healthy couple.
4

Nate & Serena
These two were perfect for each other. Pretty, laid back, somewhat vacuous, but always willing to help their friends in their time of need. Nate spends most of the series' first seasons in love with Serena, yet she always strings him along. She even dates his cousin before giving him a chance, but they eventually get together in season 3.
Their relationship is not without its problems, but it's clear the two love each other and are willing to work through the difficulties. Nate is always insecure, though, and believes she'll leave him at any moment. And while Serena does love him, she doesn't trust him enough to let him in, mainly because he isn't afraid to tell her when she's acting out. In the end, Serena dumps him and goes back to Dan, breaking Nate's heart, along with the fans'.
3

Dan & Serena
And speaking of Dan Humphrey, Serena spends most of her time in the series pining over Lonely Boy. She seems to think he's somehow a better person than everyone else in her world and thus holds him in high esteem, despite no proof to support her thesis.
RELATED: Gossip Girl: The 10 Saddest Things About Dan, Ranked
Dan and Serena break up and get back together more than any other couple in the show. And while they become tiresome by the show's end, their first break-up is actually quite sad. It takes place during Lily and Bart's wedding, and they share one last dance before saying goodbye, for the summer, at least, because they get back together in the next episode.
2

Rufus & Lily
Why didn't Rufus and Lily end up together? After being one of the most endearing parts of season one, they get together in season two and get married in season three. Their relationship is also full of deceit and problems, but in Gossip Girl, that's just the way things are.
They separate at the end of season five, but fans hoped they'd get back together by the end of the series. However, everyone cringed when the time jump occurs. Not only are they still separated, but they are with other people. Rufus randomly gets together with Lisa Loeb while Lily goes back to William. Out of all the endings in the show, theirs is the worst.
1

Chuck & Blair
Time hasn't been kind to Chuck and Blair's relationship. Indeed, nowadays, they are considered one of the most toxic couples in any teen show, ever. But back when the show was still on the air, seeing them break up at the end of season three was devastating.
After having a semi-stable relationship for most of season three, Chuck infamously trades Blair for his hotel. She leaves him and, after trying and failing to win her back, he sleeps with Jenny. A heartbroken Blair then tells him she doesn't want to see him again, seemingly ending their relationship for good.
NEXT: Gossip Girl: What Your Favorite Character Says About You

Next
10 Smaller Streaming Platforms That Are Worth Checking Out In 2021

About The Author
Denial of responsibility!
TechCodex is an automatic aggregator of the all world's media. In each content, the hyperlink to the primary source is specified. All trademarks belong to their rightful owners, all materials to their authors. If you are the owner of the content and do not want us to publish your materials, please contact us by
email –

[email protected]
. The content will be deleted within 24 hours.